Comic book retailer Jesse James reports from C2E2 for Bleeding Cool.
This year I decided to go to the Diamond Distributors Retailer Summit in Chicago. As most of you know I have spent my last 25 years in meetings for Corporate America. I'm not very fond of sitting in a meeting and find my self wondering off about some cool comic I read in 1985. So I was expecting the same going into this summit. I was pleasantly surprised that the presenters were pretty good. I have listed below some cool compiled from the summit.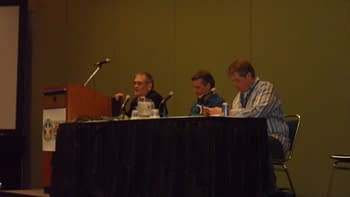 DC was really focused on Before Watchmen. The presenter held high a booklet for us to look at and gaze at some of the remarkably art work that you soon will see. It was sort of a secret showing and no pictures were allowed on it. The exclusive covers you will be very much in AWE as they start to trickle out to the public. Dan Didio was in the audience sprinkling some hints of some other cool stuff about this launch. There was a sense that a retail stores should have a very big reserve for this launch. I thought it was a cool meeting with DC. Though I would have like to hear about some more goodies coming out as well.
Dark Horse was my favorite meeting. They seemed to want to know more about what they could do to help the retailers. There was a strong emphasis on viral awareness throughout their meeting. They were asking for retailers to join them on Facebook and Twitter and in return they would try to pimp out your store as much as possible. Mass effect was a main topic for them on how to get it more to the gamers and in turn get the gamers to you. Its cool when you hear a publishers trying to really help expand your business by actually trying to be part of it.
Zenescope was highlighting their new Point of Sale display case. This allows you to highlight there book in a real cool way. They also did a presentation on their new Alice in Wonderland figurine. Their focus was on getting you your product on time and offering exclusive covers to those that wanted to be part of the program. They also talked about their new board game and a rundown on how their Kickstarter was doing and how you could be part of it.
Overstreet Price Guide was there as well. I like the fact they openly admit that their book isn't all that updated. To fix it they are asking retailers to be advisers on their team to get their prices updated more consistently. They are thinking of also going back to a binder form (they would still have the book) as well but wont know about it till September. They will be adding Avatar to the book soon and hopefully we will see publishers like Zenescope and Big Dog Ink to follow. It was kind of cool to know how the book was made and how they have some cool origin pages coming out soon.
Marvel was upfront and plainly said that if you talk, they will listen. Of course being retailers, digital comics were the main topic to come up first. It's very tough to listen to someone tell you digital is to help enhance in store sales. It is what it is. I had suggested putting the Comic Book Store Locator in the comic itself. I also had asked for a reduction in variant order levels so that all stores could be part of this coolness, that only a few select stores can partake in. Overall it was a tough meeting since the focus was really just on digital. I was asked not to write about a new secret release coming out soon. So I will tell you it deals with the Black Cat and the Russian language. I'm hoping to get a one on one interview soon to discuss Marvel as a whole without a store agenda involved.
Image, or should I say the Walking Dead panel, was just that. I don't know how much more info I can give on Walking Dead. So I won't. I asked about if the Image Expo was going to continue and it seems as if if WonderCon goes back to San Francisco next year or not. I personally hope they wait till the 25th year and not do this yearly. I think it's a unique convention and they should hold it in different cities when they do it. I will be posting the transcripts of a speech given by Image at the luncheon on Monday. It's very long but very interesting, with a new focus going forward.
If you have a store this is a must meeting to attend. I don't suggest to anybody that you go out to get a business license to sneak into this summit, as it all gets filtered out to the public and there are really no secrets. But it's a cool place to meet other retailers and talk about what they are doing well. I met a lot of people that have read my articles and really enjoyed putting faces to Facebook messages finally.
The really cool part of almost every meeting that I attended Bleeding Cool was mentioned as a source of information that is used almost by everybody. It was a moment of pride knowing that it has readers who rely on us to get them the news. As I get ready to attend C2E2 I'm excited to know that I took part in the retailers summit and made a difference no matter how small I participated its more then I could have done back at home reading a comic from 1985.
Enjoyed this article? Share it!