So, Diamond's Steve Geppi Will Be Voting For Donald Trump At Least…
In this election cycle, it has been hard to find prominent comic book industry types who are pro-Donald Trump. Pro-Hillary Clinton – or at least hold-your-nose-and-vote-for-Hillary supporters are a dime-a-dozen in comics. We recently posted an appeal to that end from ex-DC Comics President and Publisher, Paul Levitz.
But Trump? Not so much.
Marvel CEO Isaac Perlmutter donated two million dollars to Trump's campaign, which is a pretty big endorsement. But vocal supporters in comics are few. Indeed most who I know of, seem to keep their thoughts to themselves – or to their friends.
But not everyone.
Once upon a time, it was widely believed that Diamond Comic Distributor president, CEO and owner, Steve Geppi had major political ambitions, specifically to be Governor of Maryland. In 2010 he donated $500 to the Democratic Party. In 2003 he donated $1000 each to Democrats Dick Gephardt and $1000 for Dutch Ruppersberger. And in 1995, he was a fundraiser for Democrat Maryland Governor Parris Glendening. There were photos in his Overstreet Fan Magazine of him and Bill Clinton together.
Over recent days, he has continued to publicly post increasing number of anti-Hillary articles and videos to his Facebook page.
Some from the likes of Fox News.
And more Fox News.
But also from more blatant political sites.
Talking about polls going against Trump -specifically the African American community.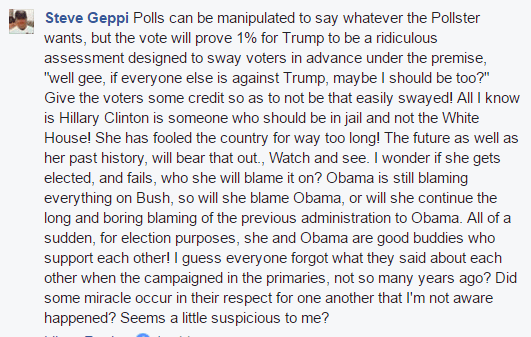 And for those who do defend Hillary, he has harsh words.
Talking of Bob…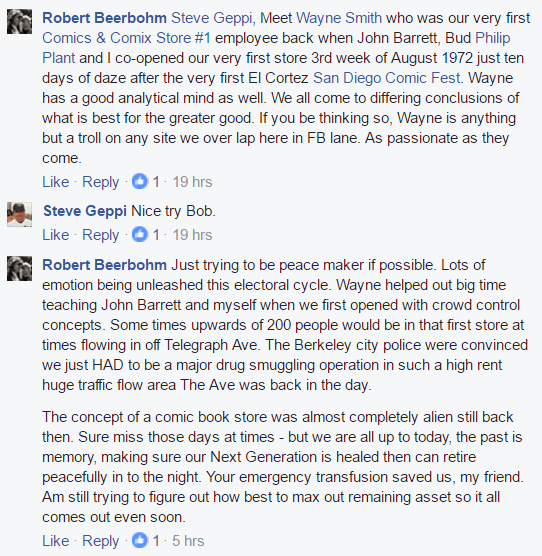 However, while he is very open about his dislike of Hillary Clinton and Barack Obama, he's avoiding posting about Trump, most of the time. Because he's not a big supporter of him – though he will vote for him.
The only solution? Give Hillary a billion dollars! Maybe Steve can help her out…