Dick Grayson To Be A Socialist Batman – Nightwing #83 Spoilers
Dick Grayson is Nightwing, the first Robin, sidekick of Batman, and a superhero in his own right, protecting the neighbouring city to Gotham, Blüdhaven in New Jersey, in the DC Comics Universe. Over the decades, Batman has been criticised by many for the way he deals with Gotham and its criminals. Possibly most eloquently by John Green of the Vlog Brothers,
I kind of hate Batman, like if I were a billionaire the first thing I would do would be to pledge 90% of my money to charity, then I would build my own racetrack that Sara Fisher could drive me around, then I would give AFC Wimbledon a bunch of money so they could build a new stadium. Then I would build a huge house with lots of secret rooms that you can only access by touching certain books on a fake bookshelf. Then I would still be super rich because a billion dollars is a lot of money but I'm getting slightly off-topic… one thing I wouldn't do is spend a gajillion dollars developing a Batmobile that only I am allowed to drive… Batman is just a rich guy with an affinity for bats who's playing out his insane fantasy of single-handedly ridding Gotham of crime. Can you really argue that Batman is good for Gotham? In the Batman universe crime is caused by 1) evil people who just want to see the world burn and 2) stupid people who follow the evil but charismatic Catperson/Joker/Penguin… Crime is not actually caused by evil, it's caused by systemic disenfranchisement and poverty and lack of access to job opportunities and education. And yet Batman continues on not funding Police Departments or schools or building low-income housing but tearing up the infrastructure of the city he claims to love while fighting villains who are only powerful because that city is already so blighted and dysfunctional. Does Batman understand how difficult it is for an underfunded city like Gotham to replace roads and bridges. Anyway it seems to me that one of the more realistic facets of the Batman sagas is that Gotham never gets better for long after Batman's villain destroying exploits like Batman saves Gotham over and over and over again but he never actually improves it all so why does no one ever call Batman out for devoting all of his resources to fighting crime in Gotham when he can also be fighting I don't know global poverty or habitat destruction or climate change… it's the question at the core of the Batman story, which still bothers me, why do we celebrate the vigilante ambitions of individual billionaires?
Well, I get the feeling that Nightwing, or his current writer Tom Taylor, may have been watching along. Maybe he took in the song version from The Gregory Brothers. And in today's Nightwing #83, it all happens as Dick Grayson talks to folk about his new situation. Alfred Pennyworth, murdered by Bane, was a secret billionaire after investing in Wayne industries and left the money to Dick Grayson. As portrayed by artist Bruno Redondo.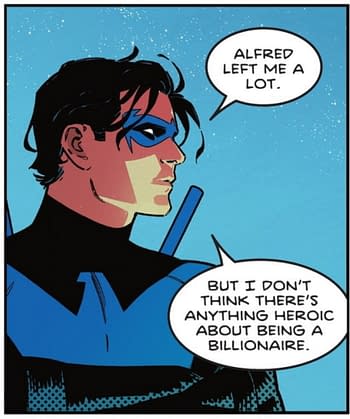 And so Nightwing has a plan above and beyond running around the rooftops of Blüdhaven looking for people being mugged. And talks to a number of other friends, superheroes, and advisors about what to do with the money,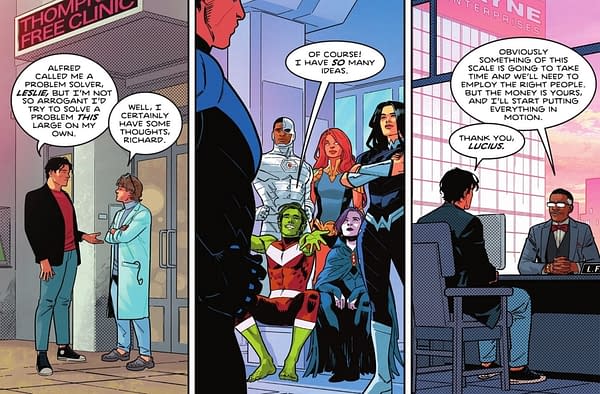 Although is Lucius Fox the best person to talk to, as he has all the Wayne Foundation money, a hundred billion dollars, and seems to be using it for the anti-vigilante fascist private police force The Magistrate on the street of Gotham? Moving on…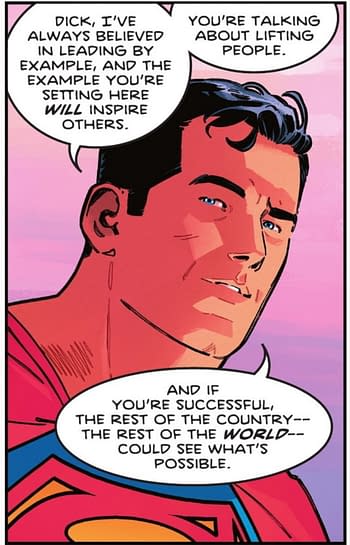 That's better. And so the morning comes when Dick Grayson, Blüdhaven's billionaire, has something to say.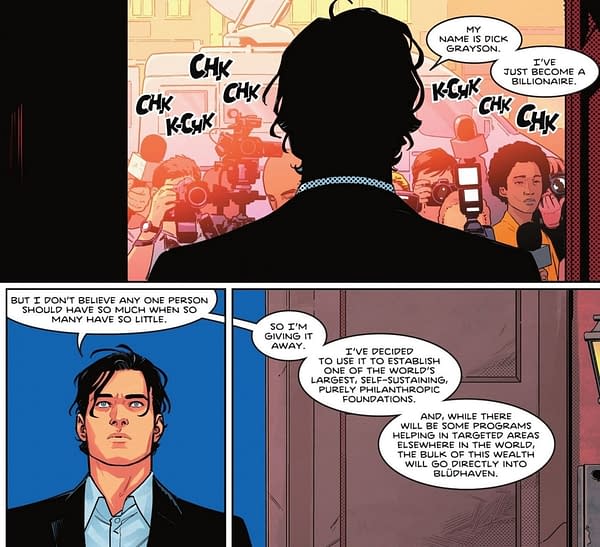 He starts by solving the city's homelessness problem and then moves on to talk more widely.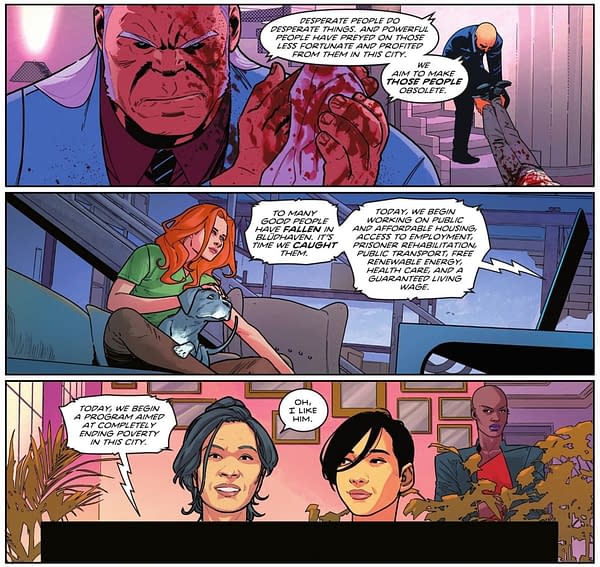 Solving the homeless issue, building public housing, employment, prisoner rehabilitation, public transport, free renewable energy, healthcare, and a guaranteed living wage. Nightwing is going to end poverty. In Blüdhaven, initially, but maybe something the world could copy. That's if the city lets him, of course, and its people. How long before Dick Grayson's nickname is Socialist Batman? Pinko Batman? Commie Batman? NightWarren? AOC-Wing? Mao Tse Nightwung? I am sure there will be plenty…
NIGHTWING #83 CVR A BRUNO REDONDO
(W) Tom Taylor (A/CA) Bruno Redondo
It's a fight for the soul of the city! Now that Dick Grayson has inherited more money than he could possibly need, he has an idea on how he can help the city with it—and it's time for him to announce it to the world! But with Blüdhaven's so beyond saving, what idea does he have that could possible save it? Meanwhile, an unexpected figure comes into play with a plan to buy the city (and all the power that goes with it) from Blockbuster. Things are about to get messy for new public figure Dick Grayson, but maybe he can enlist some help from his friend Nightwing! Retail: $3.99 In-Store Date: 08/17/2021