Disney Remix Graphic Novels Line Begins With Operation Parent Trap
Operation Parent Trap? The new editorial director of book publisher Disney Hyperion, Kieran Viola, is looking to create new versions of popular characters that have appeared in various Disney properties. Which includes a new line of graphic novels called Disney Remix, with each story based on a Disney live-action film.
The first graphic novel in this line will be written and drawn by National Book Award–finalist graphic novelist Victoria Jamieson. Operation Parent Trap, based on the Disney movie and remake, The Parent Trap. And there will be other graphic novels to follow. Any you'd like to suggest?
Operation Parent Trap creator
Victoria Jamieson is the creator of the Newbery Honor Prize-winning graphic novelist behind Roller Girl graphic novel and of All's Faire In Middle School about starting middle school, surviving your embarrassing family, and life at the Renaissance Faire from Dial Books, as well as the Great Pet Escape series. But it's the more recent When Stars Are Scattered, a graphic novel retelling of the story of Omar Mohamed, a Somali refugee in a Kenyan camp who told his story to Jamieson to adapt that hit the headlines.
Victoria Jamieson told Bleeding Cool that she had the freedom to change the story in any way she liked. "Some details in the story have changed (the twins aren't separated by divorcing parents, but rather adopted at birth), but I tried to stay true to the heart of the original films."
We asked her what other aspects she had updated to the modern-day, how working with existing Disney IP went rather than forging her own path as she has been used to.
She told us "It was great working with Disney on an existing IP! Disney gave me complete freedom to make the story my own. When discussing the project with my editors (first Rotem Moscovich, then Erin Zimring, and now Kieran Viola), the aspects I decided to focus on from the originals were twins separated at birth, and fun pranks throughout. In terms of updates, I wanted to show lots of different types of families, and celebrate love and family in different manifestations. I also wanted to show that being a family does not mean every day is happy and prank-filled; I was interested in exploring the confusion and pain that discovering a long-lost twin might bring about. Oh, and the families are not super-rich, either! (so no vineyards in California, sorry! :) )"
And any of her own child-parental deceits? "My dad was once eating chili in a restaurant, and he broke the tines off a plastic fork and told us the chili was so spicy it ate through his fork. My brother and I once hid in the car under a blanket after my mom forbade us to come to the grocery store with her. We waited until she was on the road and we popped out from the backseat yelling "SURPRISE!"… not a recommended prank for the youngsters out there."
As for the films… which does she prefer? "Contrary to most members of my age group, I prefer the Lindsay Lohan version!"
Original Parent Trap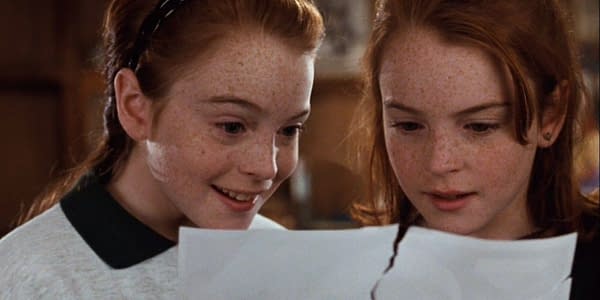 The Parent Trap was originally a 1961 Disney movie directed by David Swift which starred Hayley Mills as teenage twin sisters on a quest to reunite their divorced parents and based on the 1949 book Lottie and Lisa by Erich Kästner. The movie saw three television sequels, was remade in 1998 co-written and directed by Nancy Meyers with Lindsay Lohan in the role of the teenage twins. Joanna Barnes appears in both films, playing Vicky Robinson in the 1961 film, and Vicki Blake in the 1998 version.
The story of Disney Hyperion
Hyperion Books was founded in 1990 from scratch with no backlist under Disney's then-C.E.O. Michael Eisner and Robert S. Miller. Hyperion's strategy was to not purchase backlists, but to go after newer or lesser-known authors and to "capitalize on Disney talent and products." The Disney Publishing Group was incorporated in January 1992. In April 1999, Hyperion Books was transferred to Disney's ABC Group. In June 2013, Hachette announced that it would acquire Hyperion from Disney. Hyperion's books related to existing Disney–ABC Television Group properties and young adult titles joined the Disney-Hyperion imprint at Disney Publishing Worldwide.