Doctor Octopus Gets Woke in This Superior Spider-Man #5 Preview
The whole concept of the Superior Spider-Man — Doctor Octopus masquerading as Spider-Man, originally in the body of Peter Parker — lends itself easy to controversy. With Doc Ock engaging in romantic relationships, including one at first with Mary Jane Watson before he had second thoughts, and later with Anna Maria Marconi, while pretending to be someone he wasn't, it's not hard to understand why those women would feel tricked by Otto, removing their ability to give informed consent.
But, if nothing else, at least Otto seems to be learning… a little bit… as he now recognizes that what he did was wrong, as seen in this preview of Superior Spider-Man #5.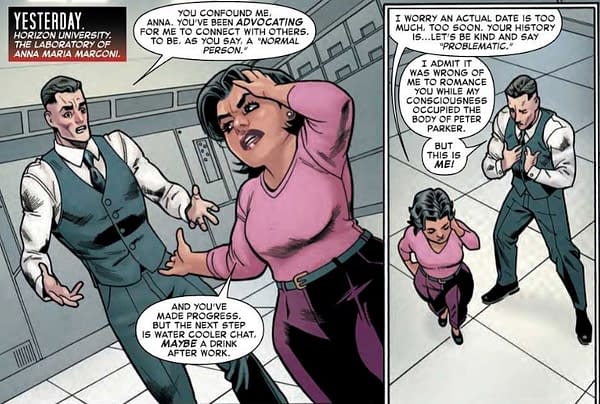 Doc Ock is so woke now, in fact, he has no problem calling out Nazis. Now that's progress! Even if the Red Skull is pretty low-hanging fruit on the Nazi scale…

But when it comes to telling his potential love interests the whole truth, it seems the doc may have a little way to go still…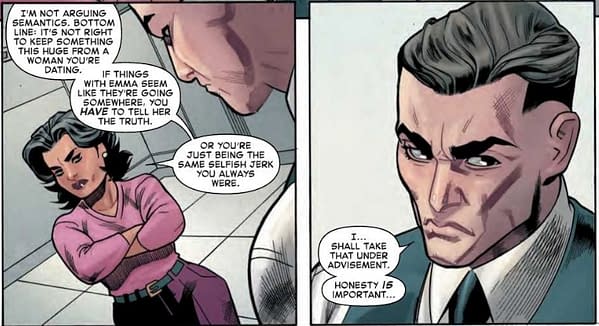 Superior Spider-Man #5 hits stores on Wednesday.
Superior Spider-Man #5
(W) Christos Gage (A) Mike Hawthorne (CA) Travis Charest
• After the cosmic threat of Terrax, Otto Octavius, the Superior Spider-Man, is ready for the usual Spider-Man fare of street-level villains.
• So he's none too pleased when a major magic threat rears its ugly head and he's forced to…ugh…ask for help…
• …from guest star DOCTOR STRANGE! But will Strange help Otto or take him down?
Rated T
In Shops: Apr 24, 2019
SRP: $3.99