Doctor Star and the Kingdom of Lost Tomorrows #3 Review: Painful Family Reunions
[rwp-review-recap id="0"]
Doctor Star signals the aliens he met long ago in the hopes that they can use their healing abilities to save his son from the cancer eating his body. One arrives with garb and wand similar to Star's, and this alien takes Doctor Star to an entire corps of "Star Sheriffs" modeled after him and his example. This leads to Star reminiscing about when we returned to Earth for the first time after fighting the black hole that stole his time and family.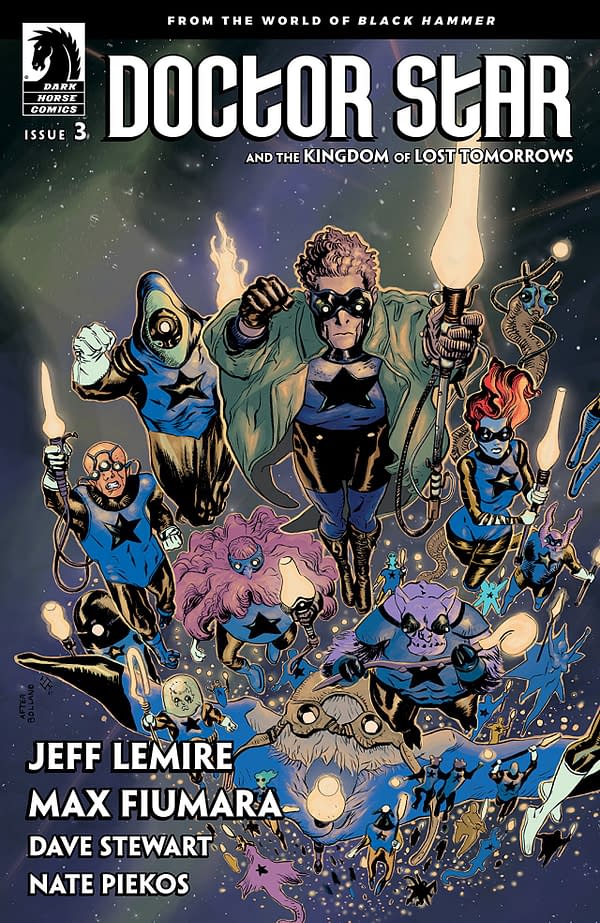 Doctor Star and the Kingdom of Lost Tomorrows #3 continues the heartbreaking tale of the hero who lost his family to time. This issue focuses on how Star's wife and son reacted to seeing him again after 18 years. It is an emotionally tense reunion full of tears and anger, and you can't help but feel for both sides involved.
As you may be able to guess, the Star Sheriffs are an homage to the Green Lantern Corps of DC comics, moving away from the Starman comparisons to the likes of Hal Jordan and John Stewart. This adds more complex emotionality to the comic; they know of Star's plight and wish to become his surrogate family. However, Doctor Star is reluctant to accept this, as he still wants more than anything to save his son.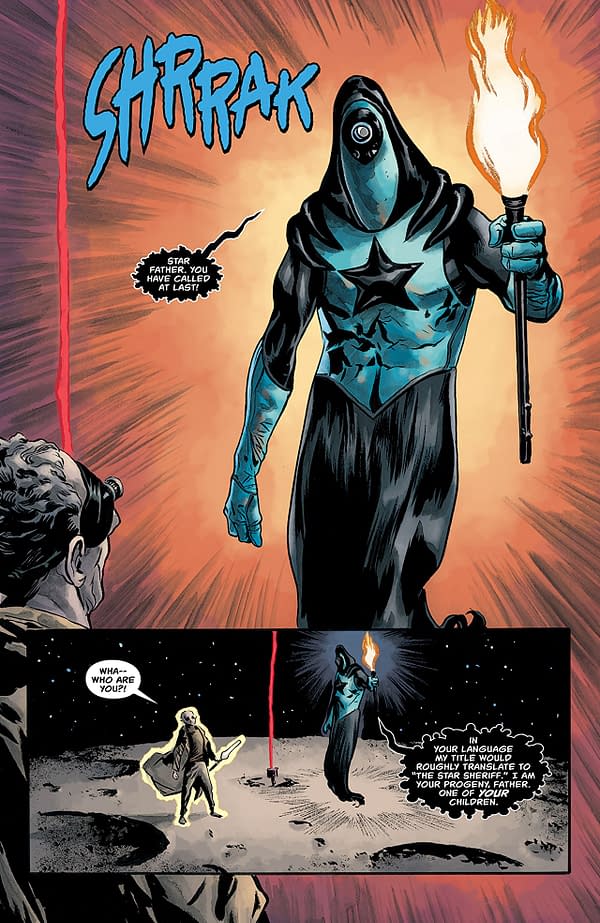 Max Fiamura brings all of this to life with his style which focuses on the severe angles of people's faces and the emaciation that can come with old age. It is art that evokes the feelings of sadness and the passage of time to match the same themes in Jeff Lemire's narrative. Fiamura may have just been the perfect choice for this story. Dave Stewart's color art matches it beat for beat with a colder and more faded palette displaying a world that has passed our hero by.
Doctor Star and the Kingdom of Lost Tomorrows #3 is another gut-punch of a comic with enough emotional catharsis and sadness to leave you drained for the rest of the day. In other words, I loved it. Lemire, Fiamura, and Stewart have crafted a thing of beauty, and I highly recommend it. Give it a read.
[rwp-review-ratings id="0"]
[rwp-review-form id="0"]