I absolutely love when a comic-book adaptation of a franchise property captures the "voice" of said franchise. Titan Comics' new Doctor Who series, based on the off camera adventures of Jodie Whittaker's thirteenth Doctor, manages to do exactly that.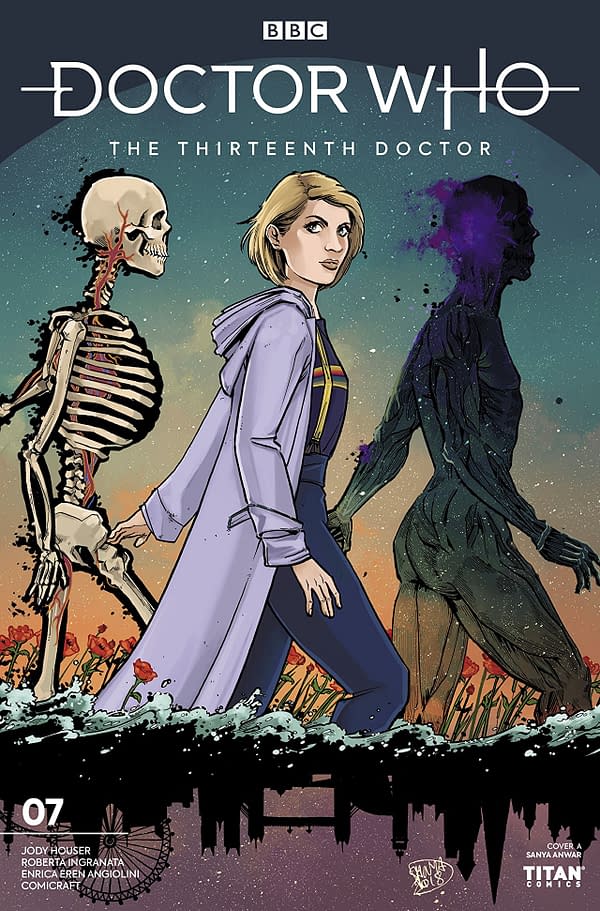 When confronted by Time Agency operatives Schulz and Perkins, the Doctor wonders aloud about why she hasn't been awarded with an honorary badge, lanyard, or I.D. card for all of her hard work. It's a running gag throughout the book, perfectly capturing the tone of Whittaker's Doctor. You can hear her voice when you read the dialogue, and you really can't ask for more than that.
So many times in the past, comic adaptations have fallen flat, largely because the writer couldn't capture a character's essential "voice". Jody Houser manages to capture not just the Doctor, but her companions as well.
The Time Agency wants to track down a race of fugitive, vampiric creatures called the Stilean Flesh Eaters. The Doctor is tracking them as well, but with far less lethal intent.
The group of creatures they do find have been stranded on Earth for several hundred years, and appear to be changing due to what they have been feasting on, leading the Doctor and the Time Agency to butt heads over how to deal with the monsters.
Roberta Ingranata does some lovely artwork in this issue, capturing a lot of the quirky facial expressions and mannerisms that Whittaker employs on the live action Who. The art is fun, vibrant, and quirky, and just feels like Doctor Who.
Even the monsters manage to feel like Doctor Who monsters- a little creepy, a little frightening, but not wholly terrifying. It's a lot of fun.
Will Doctor Who fans enjoy this comic? I've been watching Doctor Who pretty regularly since the Tom Baker days, and I had an awful lot of fun with this issue. It definitely carries the spirit and energy of the television series, which isn't as easy as one might think.
SUMMARY: Script: Jody Houser; Art: Roberta Ingranata; Colors: Viviana Spinelli; Letters: Richard Starkins; Editor: Jonathan Stevenson; Publisher: Titan Comics; Release Date: April 1, 2019; Cover Price: $3.99; 30 pages
Enjoyed this article? Share it!