Yesterday we told you that Donny Cates was to write Venom for his 30th anniversary year. And now Marvel PR have given the exclusive reveal to Comic Book: a new Venom #1 by Cates and Ryan Stegman for Marvel Fresh Start in May 2018.
Ah, I see. Yeah, look. VENOM is maybe my favorite Marvel character ever, and I would LOVE to write him someday. Honestly that'd be a dream come true.

But sadly, this is just a rumor. And an odd one at that.

BUT stay tuned for a cool announcement this week about my next thing! https://t.co/IUGdk3k0la

— DONNY⚡️CATES (@Doncates) February 19, 2018
— DONNY⚡️CATES (@Doncates) February 20, 2018
And part of the line-wide relaunch and abandoning of the Legacy numbers we told you was coming last summer.
And it has Eddie Brock's Venom fighting a 1000-year-old foe…
VENOM #1
Written by DONNY CATES • PencilS & COVER by RYAN STEGMAN
A VENOM NIGHTMARE 1000 YEARS IN THE MAKING!
A NEW SERIES BY DONNY CATES & RYAN STEGMAN!
In the wake of S.H.I.E.L.D.'s collapse, an ancient and primordial evil has been awakened beneath the streets of New York, and with it, something equally evil has awakened in that most Wicked of Webslingers – VENOM! Still a Lethal Protector of the innocents in New York, this never-before-seen threat could force Venom to relinquish everything it holds dear – including Eddie Brock! Join two of the hottest creators in comics today, Donny Cates and Ryan Stegman, for a VENOM adventure a thousand years in the making!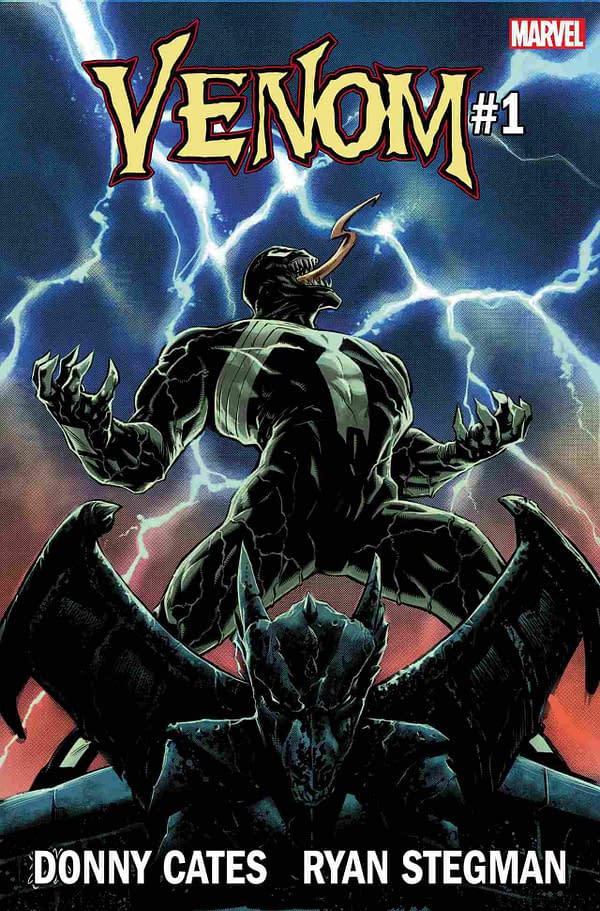 Enjoyed this article? Share it!