As everyone realises that The Joker's new girlfriend Punchline is hardly in Batman #89, and speculator attention shifts to Hell Arisen #3 (currently having sold copies on eBay for $40 each), her first cover appearance will be on Batman #94, out in May. And some people have been happy to pay $15 plus shipping for copies – one enterprising store managed to sell twenty-one copies at that price.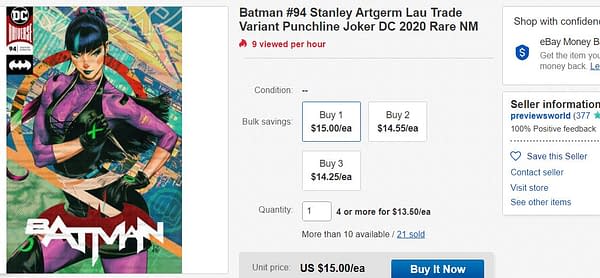 Except, here's the thing. Final Order Cut-Off is not for weeks. All stores will be able to get as many copies of that cardstock cover as they like for the usual store discount off the cover price of $4.99. All this means is that the store in question has just increased their profits fivefold.
Batman #89 and Hell Arisen #3 have risen in value because the news about Punchline came after FOC for both books and retailers couldn't increase their numbers sufficiently. This is not the case with Batman #94. Get a comic store to order it for you now, you'll get it at cover price.
As for those twenty-one people, sorry I couldn't get to you in time…
BATMAN #94
written by JAMES TYNION IV
art by GUILLEM MARCH
cover by TONY S. DANIEL
card stock variant cover by STANLEY "ARTGERM" LAU
The Designer's machinations have left Batman's life in tatters! Gotham City's ambitious rebuilding has skittered to a halt as new powers are rising to shape its destiny—and Batman is powerless to stop them! With no Alfred or Bat-Family to lean on, the Dark Knight stands alone against the ascendance of his greatest adversary!
ON SALE 05.06.20
$3.99 US | 32 PAGES
CARD STOCK VARIANT COVER $4.99 US
Enjoyed this article? Share it!