Gary Gray writes for Bleeding Cool;
Last Sunday comic's academics Chris Murray and Phil Vaughn held their annual Dundee Comics Day for what must be at least the seventh time. And one of the great things about the Comics day is each year they choose an entirely different theme. Last year was a celebration of Grant Morrison with Grant and his artists in attendance. This year the theme was Starblazers, focusing entirely on Sci Fi comics created by British creators. Starblazer for those under 35 or so was the sci fi comic launched by DC Thomson in the wake of the success of Star Wars and 2000AD and it gave many a comics creator their start in comics, including the aforementioned Grant Morrison, and at least one of the creators in attendance.
And while I personally think it's great that a theme is chosen each year I think that because the focus wasn't on a large name creator may have made a massive difference to the audience numbers, with I reckon only a tenth showing up compared to last year. Which is a shame as those not attending missed out on a really special day where some of the pioneers of sci fi comics got to talk. Right alongside some of the established current names and some up and coming young turks.
The day kicked off with semi-retired John Ridgway being introduced by Callum Laird Commando editor. Now you'll wonder why Laird was introducing Ridgway, well as Ridgway is semi retired he is still doing covers for Commando and Laird and Ridgway have LONG rambling conversations regularly so was actually a really good choice. And so the talk went with Laird only having to do a very short introduction before Ridgway just kept on talking about subjects he was really happy to talk about. I think Laird only got three questions in the whole session. But that mattered not, as it was amazing to see someone who has been working in comics for such a long time to still be loving the process. Now while Ridgway may say he is semi-retired he told me later that all that means is he draws what he wants ALL DAY instead of what makes him money. Ridgway talked us through how he is even working on a Kickstarter with James Hudnall on their Age of Heroes collection. Ridgway also revealed a new angle on comic's creation for me, where he brought his engineering background to play and when creating spaceships and other design elements to make them as realistic as possible, while marrying that up holistically with his artistic side.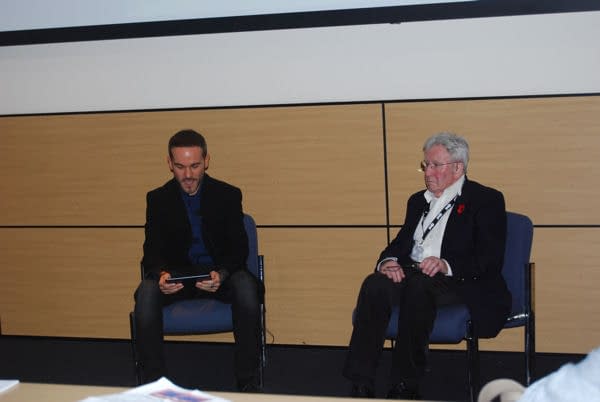 Following on from this was comics legend Ian Kennedy, who although into his 80's still held the small audience rapt as he discussed how he got into comics by copying DC Thompson artists who told him he was doing ok by saying "that's a beezer". And again Kennedy is 'semi retired' still doing the odd Commando cover. But the talk again took us through his long and distinguished career showing us many examples of his beautiful paintings he did. It's fair to say NO ONE can paint planes and sky like Kennedy. And although his spaceships and planes look totally real, he says he just let his imagination run wild painting the spaceships completely differently to Ridgway. And the wise old sage had some advice for up and coming artists in that he always bought himself time to make sure he hit his deadline in telling us that if he thought it would take 3 days, he'd tell his editor 4 or 5!
And for the final talk of the morning we had another comic's legend in the shape of Sydney Jordan creator of Jeff Hawke. Hawke ran for an amazing 19 years in the UK Daily Express from 1955. Big laughs were had at the start of the talk with Chris Murray introducing him, only for Jordan to put him right in that his biography on Wikipedia is not correct! Methinks Chris will be checking his research closer for future guests. And one of the great things about this talk was Jordan showing us one of his original strips for the Hawke strip which wasn't big at all, and was reduced even more. One of the other great stories was Jordan talking about his strip Lance McLane, which apparently didn't take off at all, but somehow managed to run for thirteen years. Jordan said he couldn't believe he was able to crank out a strip a day for that amount of time, and certainly wouldn't be able to nowadays. Which is totally fair enough as he is 85 years old, but Jordan looks so much younger. I reckon one every two days he'd be ok with!
Things then break for lunch and guests were treated to a signing by these comic legends and also a sketching from Tanya Roberts and Yishan Li. And how intimidating for these legends as the signings took place in a room that had a massive gallery of classic Cam Kennedy Star Wars artwork. After the break we then jump forward in time to the 80's for a talk by writer Simon Furman and artist Andrew Wildman. Now I think it's safe to say these two have done this talk and double act before as they were finishing each other's sentences! Not that it mattered as was all good clean fun, getting the audience involved in discussing their finishing of the Transformer series they started back in the 80's. Not that Wildman appears to be doing much on it, as he has the small matter of storyboarding Doctor Who to keep him busy.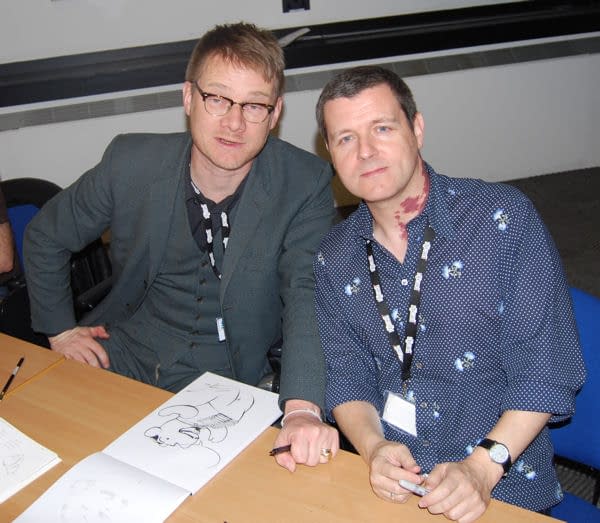 And the time machine kept jumping forward in time for the next talk for local heroes Robbie Morrison and Simon Fraser to talk to us about their sci-fi creation for 2000ad Nikolai Dante. Well when I say sci-fi , they soon out us right in revealing it's a science fantasy, a historical adventure story that they sold to 2000ad as they wanted to do something entirely differently to everything else that was in the mag at the time. Another great double act is Robbie and Simon, you can see how much of a bond the two had developed working on Dante together, telling us stories of the pitch made to 2000ad of it being Han Solo getting lightsabres and going off like Erroll Flynn. Great fun, and was topped off by them announcing they are working on a new project called U.F.P. Well that may not be the title as they explained that stands for Unidentified Future Project. No word on who this project will be for, but mention was made of image and the creator owned slot in 2000ad, which seems like a perfectly good idea to me.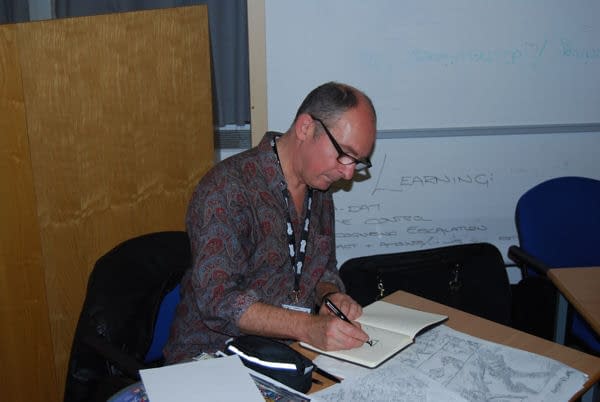 Next up we had Kev Hopgood talking us through his career. Now while Kev seems like a really nice guy, a public talker he is not, being probably the shyest most nervous talker of the day. Which was a shame as it made his talk quite slow going, with him showing us overhead projections of pages from his comics. But actually Kev you've got a lot of things we want to hear about as Kev created War Machine for Marvel, you know War Machine that featured in the recent Iron Man 3 movie! Maybe next time Kev get one of your writers to help you structure a talk as I'd love to hear a lot more detail about stuff like that.
We then had another break where I was able to check out the Saltire comic, which apparently features the very first Scottish superhero. I'm not certain about that, but it is certainly a timely comic with the upcoming independence referendum with feelings of patriotism and nationalism running high.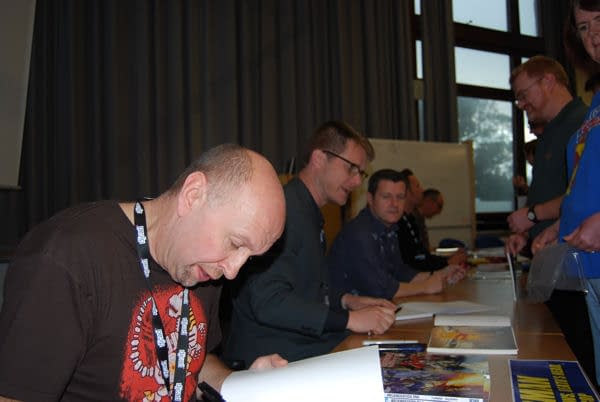 Unfortunately that's where I had to leave the Dundee Comics Day behind. Things were really running behind at this point and I really had to be away for a prior booked engagement. They really pack in the talks and signings but we'd only had 6 of the talks by 4pm with two talks and a roundtable discussion to go, oh and as well as the launch of the Saltire comic, announcement of the Dundee comic's prize and a wine reception. I'd have loved to have stayed and listen to Tanya Roberts talking to us about drawing Star Wars comics or Monty Nero guiding us through his soon to finally be finished Death Sentence comic. Yes it's a full day out and certainly deserves a much larger attendance next year. It just needs someone to watch the clock!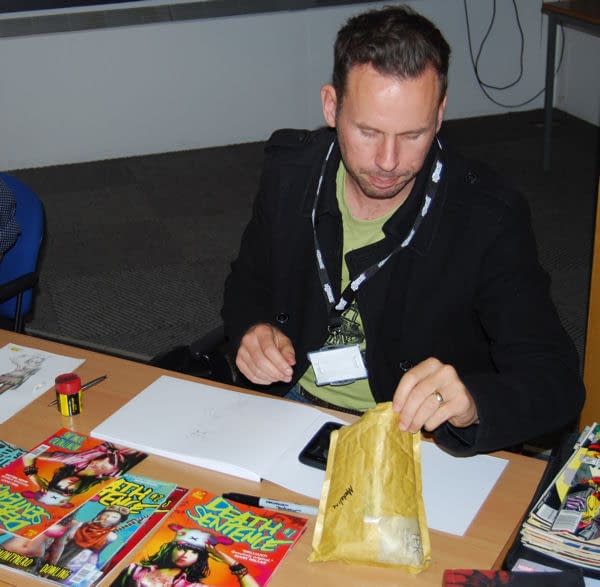 Enjoyed this article? Share it!