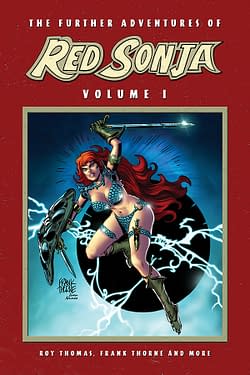 Dynamite Entertainment has announced The Further Adventures of Red Sonja Vol 1 as part of the 45th Anniversary of 'She Devil with a Sword'. The 200+ page collection features issues from the original Marvel Comics series The Savage Sword of Conan, an introduction by Red Sonja writer and former Marvel Editor-in-Chief Roy Thomas, and a cover by legendary Red Sonja artist Frank Thorne.
The collection features the work of writers Roy Thomas, Dann Thomas, Doug Moench, Clair Noto, Frank Thorne, Christie Marx, Charles Dixon, James Owsley, Bruce Jones, Peter B. Gillis, Jim Valentino, Sue Flaxman, Marie Javins, Steve Buccellato and artists: Frank Thorne, E.R. Cruz, Estaban Maroto, Howard Chaykin, Dick Giordano, Terry Austin, John Buscema, Pablo Marcos, Tony DeZuniga, Barry Smith, Ernie Chan, Neal Adams, Geof Isherwood, Luke McDonnell, Armando Gil, Bruce Jones, Steven Carr, Gary Kwapisz, Josef Rubinstein, Gavin Curtis, Keith Williams, Alfredo Alcala, Del Barras, Reggie Jones, Kirk Etienne, Howard Simpson, and Robert Quijano.
Red Sonja, the "She-Devil with a Sword", is a high fantasy sword and sorcery heroine created by Robert E. Howard and adapted for comics by Roy Thomas and Barry Windsor-Smith. She first appeared in Conan the Barbarian #23 (Marvel Comics) in 1973. Red Sonja has become the archetypical example of the fantasy figure of a fierce and stunningly beautiful female barbarian. The character now appears monthly in her own series, as well as a series of mini-series and one-shots, all published by Dynamite Entertainment.
The Further Adventures of Red Sonja Vol. 1 will be solicited in the June Previews catalog and scheduled to ship in October of 2018.
Enjoyed this article? Share it!