East Coast Comicon Founder Responds to Conservative Media Outrage Over Kevin Sorbo Snub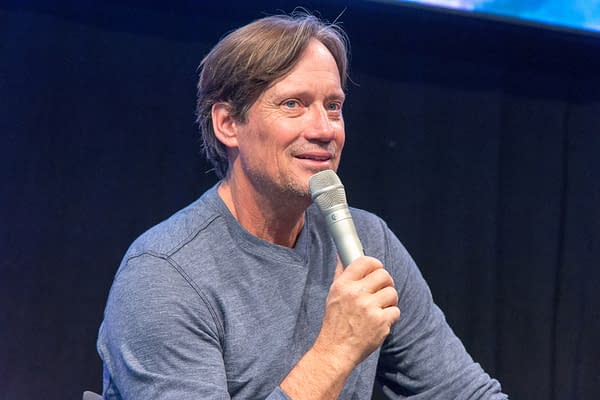 Conservative news outlets like Fox News and The Daily Caller have got themselves whipped up into a frothy lather this weekend over the reported Facebook comments of East Coast Comicon founder Cliff Galbraith. Galbraith reportedly banned Supergirl star Kevin Sorbo from appearing at the convention due to the actor's friendship with Sean Hannity, according to Fox News, writing on Facebook, "I turned down Kevin Sorbo for East Coast Comicon. He's pals with Sean Hannity. I just can't do it." The conservative media ran with headlines claiming the con had banned Sorbo for his conservative beliefs, creating outrage and, presumably, lots of clicks.
Sorbo fired back at Galbraith's Facebook post on the radio show of Todd Starnes, claiming to have never heard of East Coast Comicon and noting, "They don't have any A-Listers attending. I think they are looking for free publicity." Hannity used the opportunity to take a shot at comic book movies in general, claiming that Galbraith is "just mad that comic book movies are just boring formulaic Hollywood drivel that people are tired of." We doubt we need to look at the box office again to show that Hannity's claim is wildly inaccurate. Sorbo, for his part, doubled down on Twitter, writing, "This is so funny and ridiculous. What's even more odd is I have never heard of this con nor did my booking…"
Bleeding Cool reached out to Galbraith to clear the air on the issue and get his take on what happened.
"There are many third-party people in convention booking who 'knows a guy who knows a guy' kind of thing," Galbraith explained when we asked, as a clarification to Sorbo's comments about having never heard of the event, whether Galbraith was approached by Sorbo or his agents about appearing at the con. "People are trying to be helpful. They have a friend who's an agent or the met someone at a con and they're passing contact info on to me. So in this case, someone asked me if I were interested in Sorbo. I said, 'I'll pass.' Then I made a joke about it on my own personal Facebook page. I'm not a fan of Hannity, I'm not denying it. I'm in good company with the likes of John Cleese and Ted Koppel."
Hannity, it seems, financed Let There Be Light, which Fox News describes as "a hugely successful faith-based film that starred Sorbo." The movie made $7.2 million at the box office, making an average of $4,367 per theater in its limited opening weekend and $2,644 per theater during its wide opening in November. For comparison, Justice League, widely agreed upon to be a commercial failure, made an average of $23,167 per theater on opening weekend. Compared to other faith-based films, however, Let There Be Light blew away The Resurrection of Gavin Stone's $2.3 million box office total and $1,356 per theater opening weekend average despite opening in 200 more theaters than Let There Be Light, and also beat Kirk Cameron Saves Christmas's $2,420 per theater average and $2.8 million take. So the jury is out on the "hugely successful" claim, but respectfully successful for its genre would be accurate. A "hugely successful" faith-based movie would be The Passion of the Christ, which averaged over $27,000 per theater on opening weekend, crushing Justice League, and eventually bringing in $611.8 million at the global box office collection plate.
In any case, Galbraith took us up on our offer to respond to Hannity's claims that Galbraith was mad about the state of comic book movies and presumably jealous of Sorbo's faith-based movie success.
"Not sure where Hannity got his mind-reading superpowers from," Galbraith told us. "How would he know what I think? And I don't find the superhero films boring — but do I think there are too many. I can't watch all of them. These days we can choose what we want to see and it's an amazing time for all things super."
"While I didn't respond to a Fox News request for comment, I've responded to every mean, hateful, and odd Facebook message or email," Galbraith continued, touching on the results of the conservative media feeding frenzy over the weekend. But rather than engage in a flame war, Galbraith was able to find common ground with his would-be critics.
"I found if I explained to each person that we never banned anyone, that Sorbo was never scheduled for our show, and I wasn't anti-Christian or anti-Conservative, that we eventually began to dialogue," he told us. "Almost all of them turned out positive. What began with me being called horrible names, turned into conversations about family, pets, history, and in the end: Star Wars. What we found is we could always talk about Star Wars."
"It's been an incredibly positive experience," he revealed. "I learned a lot about my fellow Americans. I think dialog is key. We need to talk to each other. In our minds, we need to re-humanize the other side. We shouldn't paint people with a broad brush. I got painted with it on Friday through Monday and it wasn't a nice feeling at first. Maybe we should all spend a day in the social media barrel to see how it feels. We've got to stop yelling at each other with our fingers in our ears — clearly it's not working."
As for Sorbo's claims that East Coast Comicon has no "A-List" guests, it's true that the con's celebrity headliners include Antonio Fargas (Huggy Bear from Starsky and Hutch), Burt Ward (Robin from the 60s Batman TV show), and Butch Patrick (Eddie Munster). Even so, with no offense intended to the Hercules star or any of those fine actors starring in geek-favorite classics, it seems to us that Sorbo would fit right in. That may be beside the point, however, as the convention describes its focus not on A-List celebrity guests, but on comics.
"Well, we don't have A-Listers, but we have people who are popular with the fans," explained Galbraith. "And we are very committed to comics, look at our comic creators guest list." You can see East Coast Comicon's lineup of comics guests here.
However, Galbraith declined our offer to promote the convention, instead choosing to end our interview by promoting a lesson about the nature of clickbait media.
"I think what was surprising was that the whole time this was going on, there never was a dip in ticket sales or booth sales," Galbraith concluded. "But I'm not really interested in promoting the show in this interview. It would be bad form to take this opportunity to now say, 'and look at all the wonderful guests and here's the date, etc.' I think this should be about how a news outlet can change the word from "passed" to "banned" and cause a lot people to attack a promoter for something that never happened in the way a headline portrayed it."
East Coast Comicon takes place this year on April 27th, 28th, and 29th at the Meadowlands Exposition Center in Secaucus, New Jersey. You can buy tickets here, though if you're hoping to see Kevin Sorbo, it looks like, sadly, he won't be attending.