Real-life heroes can be found all over. During the global COVID-19 pandemic, regular people have realized that everyone from a grocery store worker to a doctor is a hero in their way. According to NBC News, fans asked the Mexican-American comic book creator Hector Rodríguez (El Peso Hero) to put these real-life superheroes into the hollowed pages of sequential art, and Rodríguez knew what he had to do.
"Comic books are a great way to help people connect," Rodríguez told NBC News. "But very few stories focus on the people who are feeding us."
El Peso Hero is a rogue hero standing up to Mexico's cartels, corrupt border officials, and human traffickers. The series has been praised by countless readers and reviewers alike, and Rodríguez is dedicating a special pandemic issue to honor the front line workers across the world.
"This is definitely a contrast from "El Peso Hero" fighting corruption, drug cartels, and racism on the [U.S.-Mexico] border," Rodríguez said. "Fans will see him in a supporting role to real-life heroes, helping a nurse bring medical masks to agricultural workers, and deliver a much needed message of solidarity and positivity to a community that is often marginalized in the shadows."
This will be a great issue for new and old readers, and Rodríguez hopes this series will help bring to light the hard work and dedication millions of invisible workers do every day. People from all backgrounds can find common ground with these workers, many of whom are just trying to create a better life for themselves and their families. Rodríguez himself comes from a family of immigrants — his grandfather moved from Mexico to Montana in the 1940s as a part of the Bracero Program, which brought in millions of authorized workers from Mexico to the U.S. to work on farms.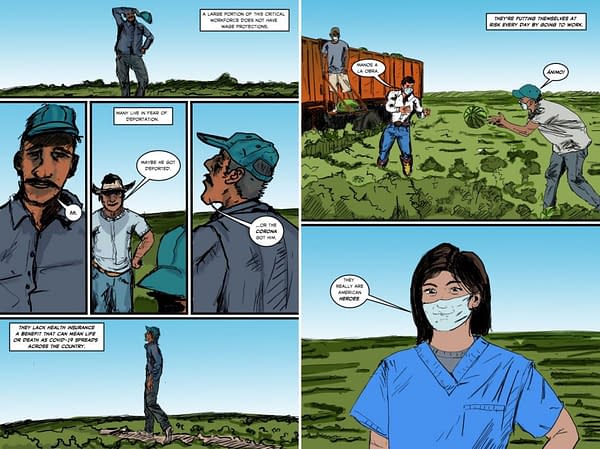 Enjoyed this article? Share it!