Empyre #1 Takes Its Climactic Scene From 1946 Parliamentary Speech
Hartley William Shawcross MP, later Sir Hartley Shawcross and later Baron Shawcross, was an English barrister and Labour Party politician who first served in the post-War Labour government of 1945, appointed Attorney General almost immediately upon being elected. He was also the lead British prosecutor at the Nuremberg War Crimes tribunal and served as Britain's principal delegate to the United Nations immediately after World War II. But it was in 1946 in a debate to repeal the Conservatives' "Trade Disputes Act" of 1927 in the House of Commons that Shawcross allegedly said "We are the masters now", a phrase that came to haunt him. It was a phrase interpreted as meaning that with the Labour Party enjoying its first full government, that the unions were now in charge of the country and would not brook a legislative restraint, and that the Labour Party were going to behave in a dictatorial fashion, even enacting revenge on those who had previously restrained them.
He didn't actually say it, of course, no one ever does. Following a quotation made in Parliament from Lewis Carroll's Alice Through the Looking-Glass in which Humpty-Dumpty observed that the question of definitions of words depended upon who was master: "'The question is,' said Humpty Dumpty, 'which is to be master—that's all.'", Shawcross actually added to that saying "We are the masters at the moment, and not only at the moment, but for a very long time to come." However, this has often been misquoted as "We are the masters now." Fifty years later, when elected Prime Minister, Tony Blair MP would echo this in his acceptance speech, rather saying "we are the servants now."
And so Empyre #1, where Quoi of the Cotati has revealed his true colours, faced with the assault by the Skrull and the Kree.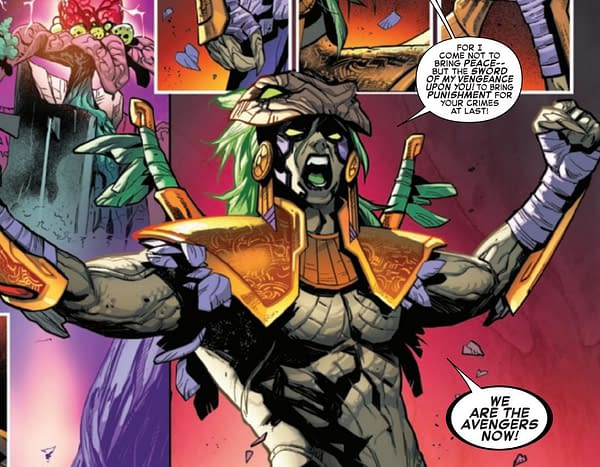 "We are the Avengers now". I think we can put that phrasing down to Al Ewing, yes? And the first time Harold Shawcross has had a misquote paraphrased in a Marvel superhero comic book.
EMPYRE #1 (OF 6)
MARVEL COMICS
FEB200753
(W) Al Ewing, Dan Slott (A) Valerio Schiti (CA) Jim Cheung
• The Kree and the Skrulls have united under a new emperor – and their war fleet is on a collision course for our world.
• On the moon, the Avengers are ready to strike with the full power of Earth's Mightiest Heroes. Approaching from outer space, the Fantastic Four are seeking a diplomatic solution.
• If the two teams can't work together to save the day, things can only get worse… Rated T+In Shops: Jul 15, 2020 SRP: $5.99