Ether Copper Golems #2 Review: Less Deep and More Nonsensical
[rwp-review-recap id="0"]
Boone and his crew escape with their recruit from the magical high security prison on Ether. They avoid the over-dragon and learn that the best chance they have of sealing the portals to Earth lies with a powerful wizard named Agrippa. This wizard as a reputation for killing less powerful wizards, so Boone's crew are understandably nervous. Plus, Agrippa's lair lies within a volcano.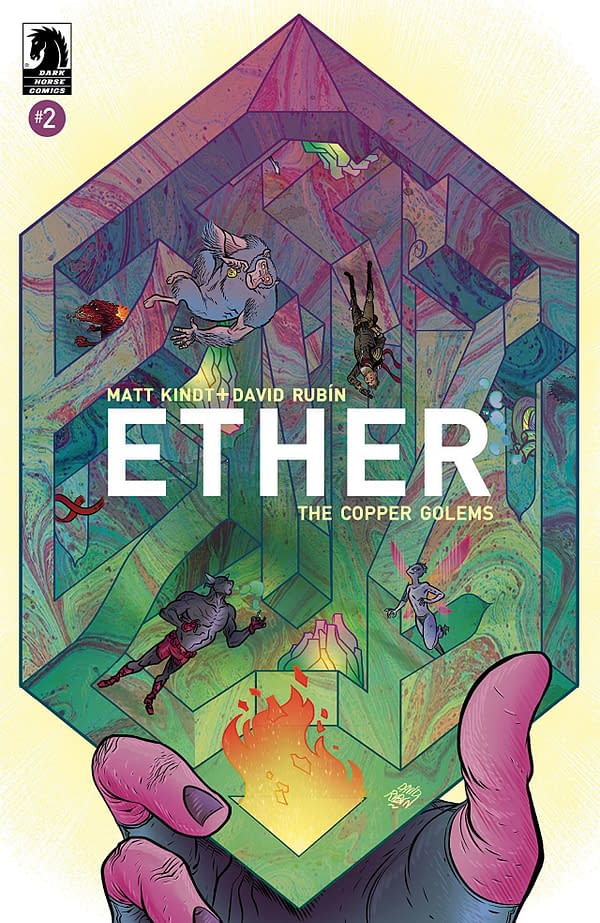 Ether Copper Golems #2 is a downgrade from the opening issue. Where the first comic was a relatable tale of a man who lost his family to his passion, this issue drops all painful subtext for a strange and anarchic romp across Ether.
That's not inherently bad, of course. However, the comic hits a lot of predictable and cliched plot beats that make this comic less enjoyable. To express how lame it gets, I will have to spoil some of the plot, so be warned.
Boone spends the entire time explaining how there is a scientific explanation for every bonkers and anarchic thing that happens in Ether. That grows old fast, even if the comic acknowledges its annoying through the other characters.
Boone coaxes Agrippa to help by presenting a full logic puzzle with an answer key at the back of the book and everything. He says she can kill them if she gets it wrong, but she must let them through if she gets it right. She knows the answer but wants to kill them. Boone says he wouldn't know how brilliant she is unless she gets the answer right. Agrippa acts like this is the cleverest thing imaginable and answers the question directly.
Not only is this an old trope (even if that's the point), the comic stopping for a lengthy logic puzzle explanation is not interesting. The rest of the comic offers little more of interest.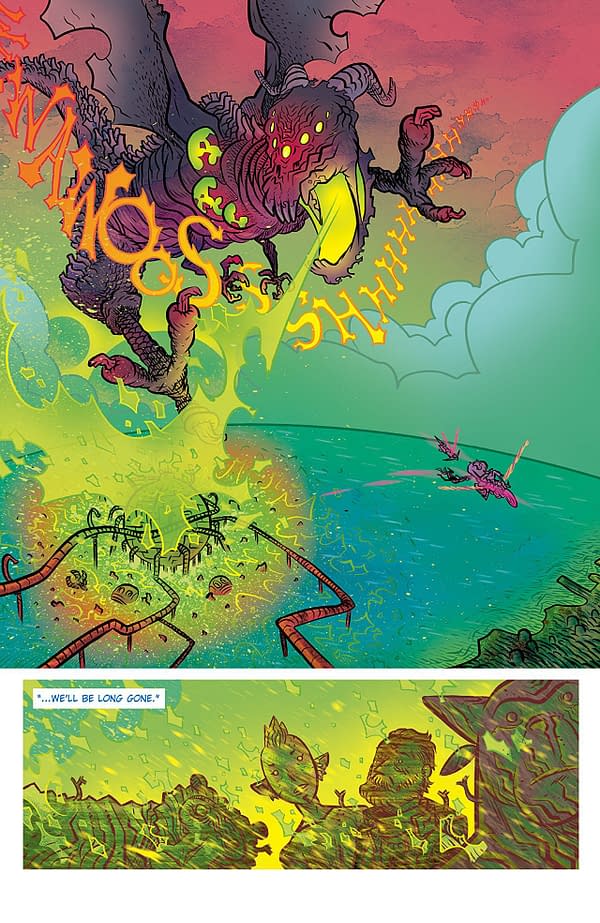 David Rubin's artwork is still good at least. It has the same otherworldly and strange aesthetic that fits world of Ether so well. There are some great-looking monster designs in this issue, even if little is done with the plot. The color art looks good too, giving the world an off-kilter palette fitting of the setting.
Ether Copper Golems #2 is a letdown after the compelling first issue. It focuses on being goofy as opposed to the internal character struggle of the first issue, and all the ways it tries to be different are really the bog-standard "alternative" fantasy story tropes of past comics. This one doesn't earn a recommendation. Give it a pass.
[rwp-review-ratings id="0"]
[rwp-review-form id="0"]