Exclusive Extended Previews For Evil Ernie: Godeater #4, Art Of Red Sonja And Xena: Warrior Princess – All Roads
Here we have our exclusive extended previews for three books shipping this week from Dynamite Entertainment. We've got the fourth issue of Evil Ernie: Godeater by Justin Jordan and Colton Worley, the trade of Xena: Warrior Princess – All Roads by Genevieve Valentine and Ariel Medel and the 2nd volume of the Art of Red Sonja with an introduction by Roy Thomas.
Evil Ernie: Godeater #4
writer: Justin Jordan, Keith Davidsen artist: Colton Worley, Cezar Razek covers: Lucio Parrillo (a), Kyle Strahm (b)
Hell has gone to hell with the arrival of the Godeater, and Ernie has one last chance to stop it before it's too late: he has to bring Heaven down to the pits! Justin Jordan, fan-favorite writer of The Strange Case of Luther Strode, continues his mind-blowing Chaos Comics epic! Meanwhile, in Chapter Four of our "Last Ditch Bitch" back-up story: How do you save death metal rocker Liv Halvorsen from the goddess Mistress Hel? Special guest star Chastity wrestles with the dilemma… while fighting tooth and nail against the Dead Onez!
Xena: Warrior Princess – All Roads TP
writer: Genevieve Valentine artist: Ariel Medel cover: Greg Land
To the thrill of rabid fans the world over, television's Xena: Warrior Princess is back for swashbuckling new adventures! After the Twilight of the Gods, the world is precariously uncertain, and Xena and Gabrielle have been missing for twenty-five years. The power of Rome is growing; Caesar is determined to conquer by lies what he can't conquer by force, and the people at its edges know what's coming. Our heroines return to stop him before they have to wage war against a man they once called a friend… but along the way, Xena will have to confront her past against a rogue band of women warriors, and Gabrielle, whose secret visions are becoming prophecy, will have to protect her partner at any cost.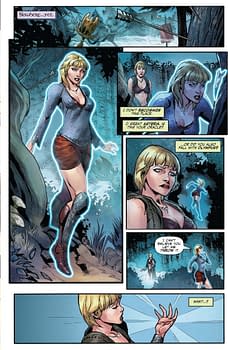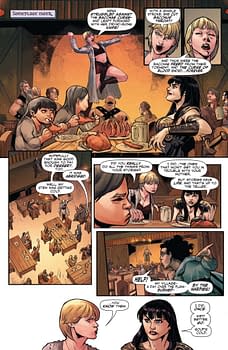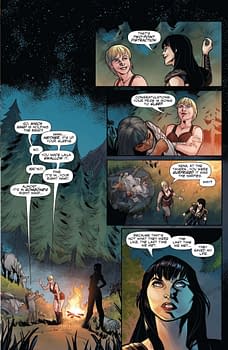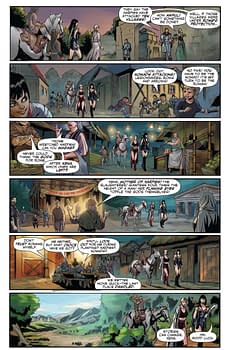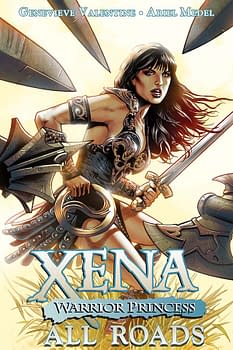 Art of Red Sonja Vol. 2
introduction: Roy Thomas artists: Alex Ross, Arthur Adams, Nicola Scott, Ed Benes, Jay Anacleto, Amanda Conner, Jenny Frison, Lucio Parrillo, Dan Breredon, Paul Renaud, Joseph Michael Linsner, and more! cover: Jenny Frison
Fiery in spirit, skilled in combat, lusty and bawdy in her revelry, the crimson-tressed heroine Red Sonja, known also as "The She-Devil with a Sword", is renowned as fantasy's most prominent female character. Since 2005, Dynamite Entertainment has been the proud home to Red Sonja, publishing hundreds of comics that have garnered critical acclaim and the devotion of a ravenous fan base. This second volume of the Art of Red Sonja showcases the fantastic illustrators and painters that have so perfectly captured the character's essence on cover artwork since 2010, including such comic book luminaries as Jay Anacleto, Ed Benes, Dan Brereton, Amanda Conner, Sergio Davila, Jenny Frison, Lucio Parrillo, Paul Renaud, Alex Ross, Mel Rubi, Marguerite Sauvage, Nicola Scott, and many more!