We've got three extended previews from Dynamite this week. First up is Turok: Dinosaur Hunter by Greg Pak and Mirko Colak as they wrap up the first story arc. Then we move on to the first issue of the new Chaos series by Tim Seeley and Mirka Andolfo just in time for the 20th anniversary of Chaos Comics! And Finally we've got Miss Fury as she continues the search for Captain Chandler by Rob Williams and Marcio Abreu.
TUROK: DINOSAUR HUNTER #4
Greg Pak (w) Mirko Colak (a) Bart Sears (c)
FC • 32 pages • $3.99 • Teen+
End of the first arc, by GREG PAK (Batman/Superman, Action Comics) and MIRKO COLAK (Conan)! Turok's out of options…He's learned how to tame some of the thunder lizards, but his tribe is in shambles and the invading dinosaurs will soon overwhelm everything he holds dear. Will Turok break a promise to himself, and delve further into the forest for help? CHAOS #1 (of 6)
Tim Seeley (w) Mirka Andolfo (a) J. Scott Campbell, Tim Seeley, Emanuela Lupacchino (c)
FC • 32 pages • $3.99 • Teen+
Celebrate Chaos! 20th anniversary and Dynamite Entertainment's 10th anniversary in 2014! The horror-heroes of the Chaos! Universe return in an epic event! A shared vision of the Apocalypse sets the blood goddess Purgatori, the supernatural serial killer Evil Ernie, the vampire assassin Chastity and the outcast teen heroes of the team known as The Chosen on a collision path with each other! As claws, blood and blades fly, only one outcome is assured: Total CHAOS! MISS FURY #10
Rob Williams (w) Marcio Abreu (a) Billy Tan, Ardinan Syaf, Colton Worley, Dennis Calero (c)
FC • 32 pages • $3.99 • Teen+
PHILADELPHIA 2 of 2. Miss Fury's search for the missing Captain Chandler continues, and US Naval Intelligence are willing to give her the top secret location of Schauburger's laboratory in Nazi Germany, but first she has to do something for them. A deal with the New York underworld to keep the docks safe from saboteurs and Axis agents has become a deal with the devil, as a new murderous costumed crazy has appeared calling himself The Mob. Miss Fury will have to return to her pulp roots in order to take down a super-villain who is all about respect…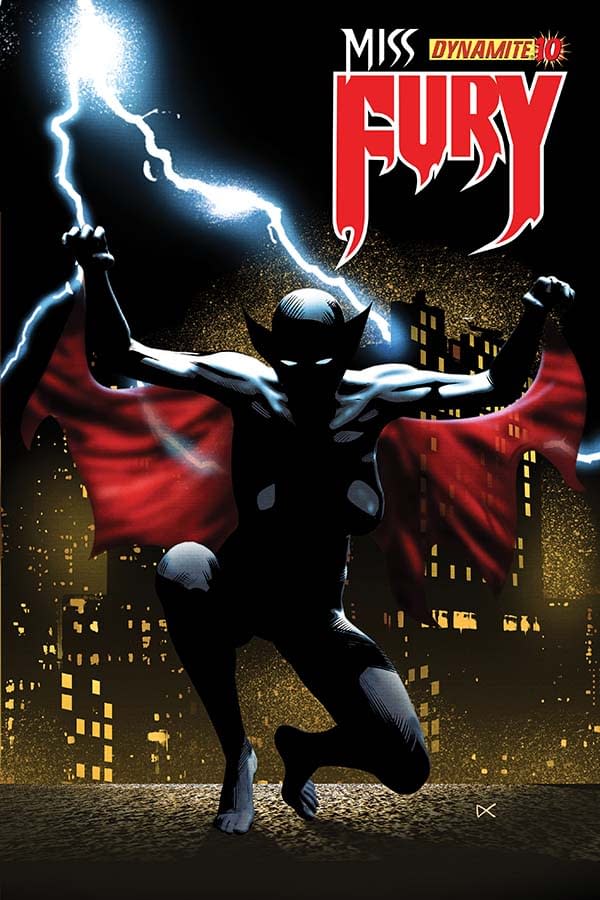 Enjoyed this article? Share it!