Extinction Parade's Max Brooks Visits Conan O'Brien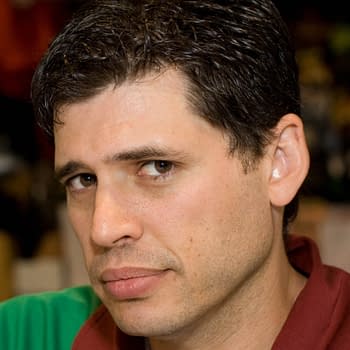 With the recent news of Extinction Parade getting optioned for television by Legendary Pictures and the announced second series Extinction Parade: War… I'm not sure how we missed this video of Max Brooks on the Conan O'Brien Show talking about where his love of Zombies comes from.
Not familiar with Extinction Parade? Here is the solicitation for the first series trade:
Max Brooks, the best selling Zombie writer in history, unleashes an all-new horror epic! As humans wage their losing fight versus the hoards of the subdead, a frightening realization sets in with the secretive vampire race: our food is dying off. This is the story of the vampire's decent into all-out war with the mindless, hungry hordes of the zombie outbreak as humanity tries to survive them all! This collected edition contains the entire first chapter of Extinction Parade (ssues #1-5) and a massive undead cover gallery!
The trade for Extinction Parade and Extinction Parade: War #1 will be available in comic shops this July and in Previews now from Avatar Press. The first series trade is available for pre-order now on Amazon.com.