Fan Expo HQ is one of the larger entertainment convention groups in the world. It is responsible for Fan Expo Canada, Fan Expo Dallas, Calgary Expo, Fan Expo Regina, Megacon Orlando, Fan Expo Boston, Edmonton Expo, Megacon Tampa Bay, Dallas Fan Days, Toronto Comicon, and Fan Expo Vancouver.
Bleeding Cool got the tip yesterday that, in response to comic book creators' increasing sense of frustration and annoyance and allegations regarding the origin of a number of Italian comics cover artist Francesco Mattina's published pieces, that the Fan Expo line of shows has decided to revoke their contract with the artist for future appearances,
A google for Fan Expo Canada and Francesco Mattina reveals this result:

But clicking on it gives 404 error message.
The same for Megacon in Tampa Bay.
Also removed. But with a google cache version available.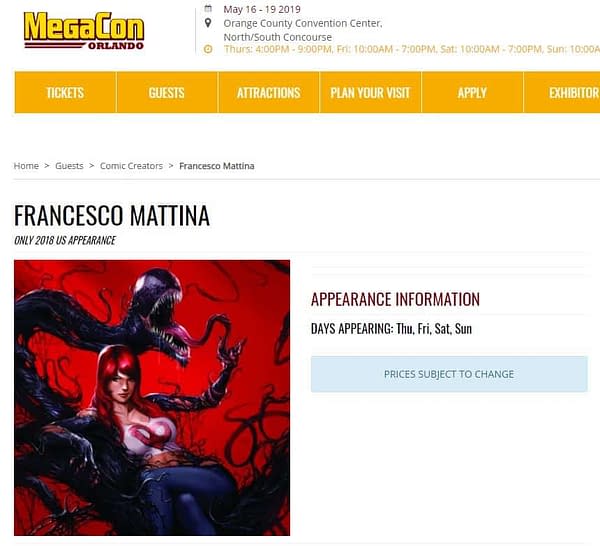 That image is one that was alleged to have been swiped from LeeJee Hyung a couple of years ago. Fan Expo did not respond to enquiries made yesterday.
Enjoyed this article? Share it!