Femme Fatales And The Big Lie – Anthony Del Col Talks Nancy Drew & The Hardy Boys
Dynamite will be starting out their new Nancy Drew & The Hardy Boys: The Big Lie this March and, much to writer Anthony Del Col's surprise, I got a copy of the first script. Anthony and I talk about some of the interesting creative choices he's made on the series and the elements of classic noir. This book is going to surprise some people in a very good way. Cover images by Faye Dalton, Emma Vieceli and Robert Hack.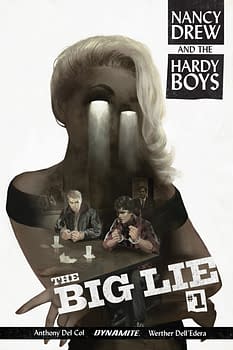 DAN WICKLINE: Let's start out with the source material. Some of our readers may not be familiar with the Hardy Boys. What was your experience with the properties going into the project and what about the existing work clicked for you as a writer?
ANTHONY DEL COL: Like a lot of North American-raised adults, I grew up reading Nancy Drew and The Hardy Boys. My mother gave me her old copies from when she was a child and I loved the concept of teenagers outwitting and foiling adult criminals. It was a sort of wish fulfillment fantasy – wanting to be smarter and better than everyone else.
And now that I'm an adult, I look to Nancy, Frank and Joe as a part of my childhood. There's some nostalgia there, and of course nostalgia's big right now (Stranger Things, Star Wars, the Archie comics, etc.). But now that I'm a creator I like to analyze characters and stories and dissect what works, and how I could improve upon them. And thus I came up with the idea of putting these three icons into a completely new adventure that could appeal to those that grew up with them.
Hopefully this story improves upon them. We'll let the readers by the judge of that, of course…
DW: You're going for a noir detective feel to the series, set in a small town. The first issue reads like something out of a Hitchcock for or a Chandler novel. What made you decided to go in this direction?
ADC: First off, how did you get a copy of the script, Dan? Did you have to team up with a Russian hacking group for that…?
Secondly, I hope you're comparing the first issue favorably to Chandler or Hitchcock. Both are inspirations for me in a lot of the stories I tell.
For this project, I relished the opportunity to take these teen detectives and thrust them into a completely new world. To take them out of their comfort zones. And to eliminate the safety parachutes of their family and friends. So that's why this is a story of these three icons entering the seedy underbelly of smalltown USA to clear their names – exactly what a lot of the classic noir tales would do with their protagonists.
DW: In the novels, Nancy Drew is another young detective, same as Frank and Joe Hardy. Why make her a femme fatale? What does that move do for you as a writer?
ADC: Well, Nancy Drew first appears to us as a femme fatale? But is she really? You'll have to read on to find out…
(And for those Nancy Drew fans that may be worried upon hearing that she first appears as a femme fatale… Don't forget that a lot of these characters in classic noirs are the smartest people in the room…)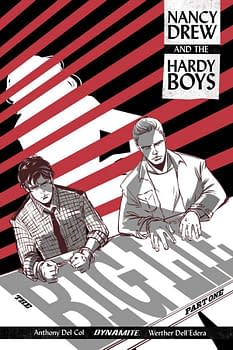 DW: I've seen a lot of writers fumble when trying to do noir in the modern day. Technology seems to change things quite a bit. But you embrace both in the first issue. Why do these stories set in 2017? And what advantages and disadvantages are you finding with that choice?
ADC: Nancy Drew, and the Hardy brothers are generally perceived to exist in a classic, simpler time and place, almost as though they're stuck in amber. Well, I want to break that amber and use their DNA to make them modern and current.
One of the things that intrigues me the most is that modern-day teenagers lead so many different lives. They have the life they're living in the real world, and then there's what they do online and on social media. They often show one side of themselves to some people, and another to others.
It's this sort of dual identities that I want to explore in this series, and to accomplish this technology is a must-have.
DW: You've got a lot of the key elements of noir in the first issue. You even got someone to use the word 'dame'. What are some of the elements we have yet to see but will be coming up as the series progresses?
ADC: My goal is over the run of the series to include a lot of classic noir elements: seedy clubs, illicit crime, duplicitous characters, etc. It'll all come as the story progresses.
And for those fans of the original series, we're also placing Easter Eggs and references to earlier Nancy Drew/Hardy Boys adventures. For instance, a secret tunnel behind a grandfather clock plays a big role in our first issue…
DW: You're working with Werther Dell'Edera on the series. What is it about his art that fits the noir feel and what how does your working relationship go? There are references to the character design and sample images in the script. Do you do that in all of your scripts?
ADC: Again, Dan, how did you get a copy of my script? I'm really going to have to stop posting them on Bit Torrent sites, aren't I…?
Werther's got a fantastically unique and crisp style. He really knows how to capture a noir feeling in every panel. More importantly, he's an amazing storyteller on the page – his panel and page layouts are incredible, and make my writing actually look good. (As someone who has apparently gotten a hold of the script, I'm sure you can confirm this…).
I'm also excited to have UK artist Fay Dalton as the lead cover artist for the series. She brings a great retro feel to every cover and makes them feel like they're both something from the '50s as well as from today.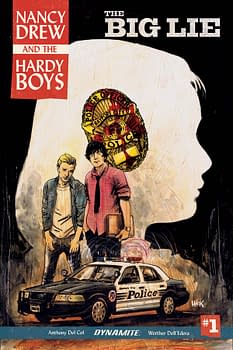 DW: Taking a step back from the series and looking at it from the point of view of a reader. What do you think is the thing that will get fans most excited about the new take on these classic characters? What will get them to come back for more?
ADC: For those that are fans of the original Nancy Drew and Hardy Boys adventures, you'll have fun re-exploring these characters. Do not be afraid by the marketing: these are the same characters as before, but shed in a new (noir, moody) light.
And on top of that, it's a fun adventure through the seedy underbelly of modern-day, small town crime. I've done a lot of research and the stuff that's being incorporated into this series actually does happen today so it's great that these characters will be a gateway for some.
And finally, as someone who's read the first script, Dan, you can confirm it's good, right? You want to keep reading, right? Right? Right?
DW: I don't normally do reviews within an interview… but yes, it's very good and I definitely want to read more.