The new Dynamite series Legenderry: Vampirella has kicked off and Byron Brewer sat down with writer David Avallone to talk about working with the iconic vampire in such a different setting and about bringing in the most famous of vampire hunters. BYRON BREWER: David, there is a lot going on in this steampunk Vampi saga. You must really be enjoying getting your fangs … er uh, teeth … into this one, eh?
DAVID AVALLONE: I'm having a lot of fun. I set out with a plan for the five issues but as it unfolds it starts to transform into something else, as stories always do. Joe and Molly at Dynamite have given me a lot of freedom and I'm trying to indulge myself while still telling an entertaining story.
BB: What is it like handling a steampunk femme fatale vampire AND this incarnation of Van Helsing?
DA: I think I first discovered the character of Van Helsing through Peter Cushing in Hammer horror films, and I've always been a fan. A man of science, but fighting with the tools of faith and superstition… there's something compelling about that. He's a great, iconic character and he's survived a lot of different interpretations.
Given that, I felt I'd have been remiss if I didn't bring him into the series. Since we're in Vampirella territory, I'm using Conrad and his son Adam but – as with all the characters – they've been transformed a little bit. I'm working in a completely new world, which gave me the license to start from scratch and show her first encounter with the Van Helsing family… and that encounter provides a dramatic setting to reveal a little bit about my Vampirella's origins. BB: So we have a romance with Rassendyll ongoing here? Is this a character move or is there, as I suspect, something of heavier import to this relationship?
DA: Tricky… because even if I say "spoilers" that's an indication that there's something secret going on I could spoil. But I will say this: that Rassendyll is a charming and heroic rascal, ain't he?
BB: Hey, what's up with Kurtz?
DA: Kurtz is, of course, the character from a certain famous novella (now public domain) who went into the jungle, lorded it over the locals, and died. Our Kurtz, in our world of Legenderry, had a different outcome. He returned from the jungle a rich man and turned into something a little bit like a certain other fictional character whose name starts with a K.
We haven't spent as much time with Kurtz as I want to: there's been too much fist shaking and yelling, and he's way more interesting than that. One of my favorite things about writing this series has been the freedom to pack it with a bunch of characters I love. The downside is five issues just fly by.  That said… issue #3 we get to see what Rupert had in mind for Kurtz in some background details. Issue #4 we'll get to see it come to the foreground.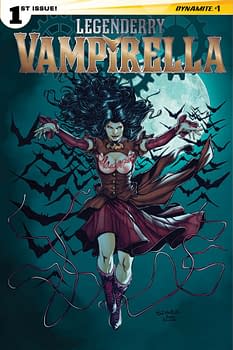 BB: Has artist David Cabrera, in your opinion, been "bringing it" for your Vampi mini?
DA: David C. is doing amazing work. His compositions are fantastic, the action is clear and exciting, and our leading lady looks gorgeous. I'm kind of a research nut, so I provide him with a lot of visual reference, and he makes great use of it while still giving everything a unique look. I couldn't be happier.
BB: Would you like to work with more of the Legenderry universe's characters?
DA: Absolutely. I'm a longtime fan of Flash Gordon and Ming (and I think Bill Willingham's Legenderry spin on them is really fascinating). Steve Austin and Oscar Goldman were huge heroes of mine when I was a kid.  Zorro is always fun. And honestly, I would love to do more with the characters I've brought it, like Jones, Rupert, Kurtz, Rassendyll, Mercy, etc. Providing they survive past Chapter Five.
For more on Legenderry: Vampirella, click here.
Enjoyed this article? Share it!