Exclusive First Look at Dynamite's Action, Horror, and Fantasy Titles Shipping in May 2018
We have an exclusive first look at the action, horror, and fantasy titles shipping from Dynamite in May or 2018. These include Battlestar Galactica vs Battlestar Galactica #5, James Bond: the Body #5, Pumpkinhead #4 and Swashbucklers: the Saga Continues #2.
BATTLESTAR GALACTICA VS BATTLESTAR GALACTICA #5
Cover A: Adam "Mojo" Lebowitz | Cover B: Johnny Desjardins | Cover C: Michael Adams | Cover D: Roberto Castro | Writer: Peter David | Art: Johnny Desjardins
The ultimate showdown has begun! When a compromise can't be reached, distrust has reached its peak, and the crews of the Galacticas square off in battle, pitting hero against hero! The fury of the Battlestars unleashed upon each other unless the treachery set against them can be discovered in time!
GEORGE R.R. MARTIN'S A CLASH OF KINGS #11
Cover A: Mike Miller | Cover B Subscription: Mel Rubi | Writer: George R.R. Martin, Landry Q. Walker | Art: Mel Rubi
George R.R. Martin's epic A Song of Ice and Fire series continues with this latest installment of A Clash of Kings!
GREEN HORNET #3
Cover A: Mike McKone | Cover B: Stephane Roux | Writer: Amy Chu | Art: German Erramouspe
In Istanbul, Mulan and Daily Sentinel reporter Tai reunite with Britt Jr. But he refuses to take the mantle of the Green Hornet back! Meanwhile, things get complicated when the mysterious hero The Oko reappears and blames the Green Hornet in Sebastian's death.
JAMES BOND: THE BODY #5
Cover A: Luca Casalanguida | Writer: Aleš Kot | Art: Hayden Sherman
The beatings. The virus. The assassin. The secrets. Everything comes together during a terror attack that may not even exist.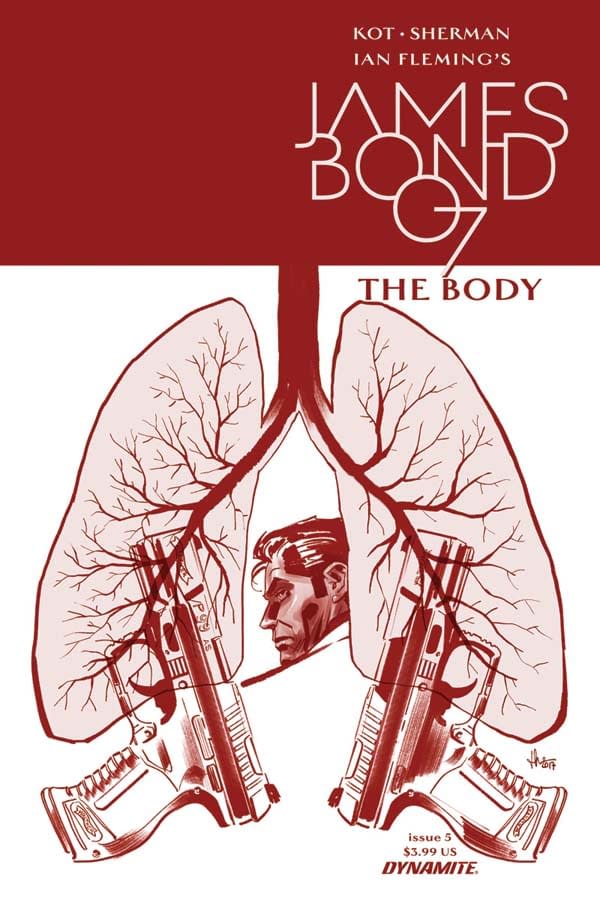 JEEPERS CREEPERS #2
Cover A: Kelley Jones | Cover B: Kewber Baal | Cover C: Photo Cover | Writer: Marc Andreyko | Art: Kewber Baal
As Devon dives into his research on the mythical "Creeper", he has no idea how long this evil has existed! Will he uncover the true history of the seemingly immortal monster before the Creeper finds him? Plus: The Aztec Empire!?!?
KISS/ARMY OF DARKNESS #4
Cover A: Kyle Strahm | Cover B: Goñi Montes "Spaceman Necronomicon" | Cover C: Ken Haeser "Catman" | Writer: Chad Bowers, Chris Sims | Art: Ruairí Coleman
With Ash under the spell of the Necronomicon and its deadite army, it is up to KISS to rock faces and take names! These intergalactic rock'n'roll warriors are dressed to kill and ready to make the middle ages hotter than hell as they help Sheila and her crew save Ash and their home from the evil scourge that has taken over the land!
PATHFINDER: SPIRAL OF BONES #3
Cover A: Marco Santucci | Cover B: Diego Galindo | Cover C: Tom Mandrake | Writer: Crystal Frasier (Main), Rob McCreary (backup) | Art: Tom Garcia (main), Diego Galindo (backup)
As Valeros struggles to defend his immortal soul in the courts of the hereafter…. Valeros fights tooth and nail in the dungeons below ancient Kaer Maga?! Is twice the Valeros twice the fun? Or are the Pathfinders now in double jeopardy? The Spire of Bones story continues in this tale written by Pathfinder developer Crystal Frasier with art by Tom Garcia (Mercy Thompson, Pathfinder: Hollow Mountain). Contains an ongoing Starfinder bonus story, a Pathfinder RPG rules appendix, and pull-out poster map!
PUMPKINHEAD #4
Cover A: Kyle Strahm | Cover B: Blacky Shepherd | Writer: Cullen Bunn | Art: Blacky Shepherd, Kyle Strahm (backup)
Pumpkinhead has been called up from Hell to exact vengeance against a cruel backwoods crime cartel. But his would-be victims have a few tricks of their own. They have summoned a group of their own restless demons with very specific instructions: destroy Pumpkinhead!
SWASHBUCKLERS: THE SAGA CONTINUES #2
Cover A: Butch Guice | Cover B: Andrea Mutti | Writer: Marc Guggenheim | Art: Andrea Mutti
Facing the consequences of your actions is not always easy to do, as Raader is about to learn. She must come to grips with the way she has upset the balance of power, but even more devastatingly, how she has affected the lives of her crew. Meanwhile, a devastating and ancient force rears its ugly head to fill the vacuum of power!