He does like to eke things out, doesn't he, that Tom King. After issues of City Of Bane that were set in deserts, on mountaintops, or wandering along beaches clearing up stray continuity caught in the dunes, we actually get an issue of City Of Bane set in a city. And Gotham to boot.
Bane is still as absent as in previous issues, where he has only momentarily popped up to kill a butler, but then this is about his city, not Bane. The Batman rogues gallery, transformed into a fascist police state that has brought peace and presumably the trains running on time, but at great cost. Batman's dream of a peaceful Gotham has been achieved, without him, but with means he would never countenance.
But his father would. Of late the narrative of Thomas Wayne has transformed from philanthropist into a philanderer in Batman Damned, an elitist snob with a mean right hook in Joker and a Batman with a gun in Flashpoint, one happy to go along with Bane's plans as long as they suit his own.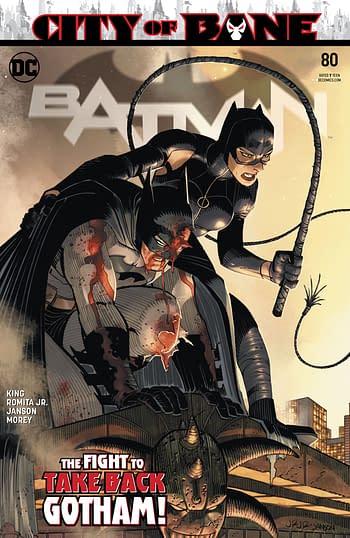 And as these threads begin to pull together in Batman #80, he is going up against everyone he has always gone up against, and in Tom King's run on Batman he has literally used them as a gallery, rolling them out in the same order to be beaten by Batman, by Bane and now… Batman again. This time they get more than a panel.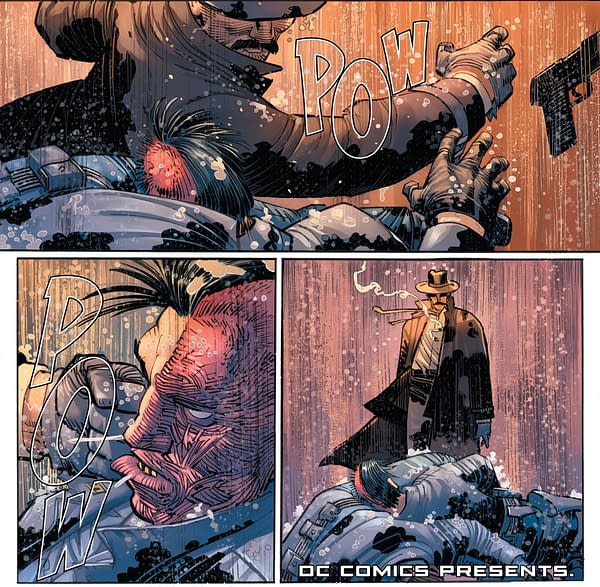 Mostly. And as the POWs fly, we get to meet another of Bane's men, Hush. The boy who grew up wanting to be Bruce Wayne (another one) and a constant quoter of Aristotle. Which, as every rogue plays to their tropes in this issue, he does right here.
'The wise man must not be ordered but must order, and he must not obey another, but the less wise must obey him' – a reference to Bane taking Gotham, and Hush's acquiescence to this?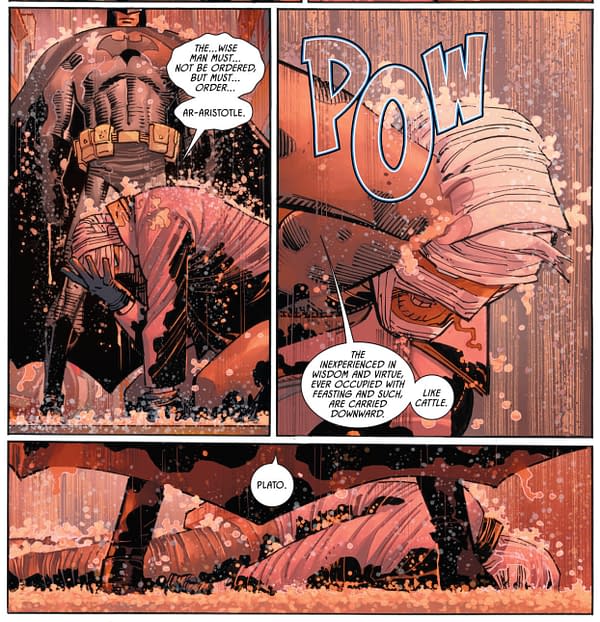 And answered by Batman, quoting Plato:
The inexperienced in wisdom and virtue, ever occupied with feasting and such, are carried downward, and there, as is fitting, they wander their whole life long, neither ever looking upward to the truth above them nor rising toward it, nor tasting pure and lasting pleasures. Like cattle, always looking downward with their heads bent toward the ground and the banquet tables, they feed, fatten, and fornicate. In order to increase their possessions they kick and butt with horns and hoofs of steel and kill each other, insatiable as they are.
Aristotle was Plato's student and though he revered his teacher, his philosophy eventually departed from Plato – Aristotle investigated areas of philosophy and fields of science that Plato did not seriously consider. Plato's philosophy is seemingly more abstract and utopian, whereas Aristotle's is empirical, practical, and commonsensical.
Batman is the dream of what can be. Hush – and Bane – are a practical and pragmatic solution to that dream but has lost the reason behind those actions.
And, also hitting each other in the face with big POW sound effects, and gloriously kinetic noodly detail from John Romita ensuring that everything lands and you can feel the crunch.
Tom King's Batman, ladies and gentlemen. You'll miss him when he's gone.
BATMAN #80
(W) Tom King (A/CA) John RomitaJr, Klaus Janson
The bad guys thought they had it made with Bane in control, but with Batman back in Gotham they'll be reminded what justice feels like… and how it hurts when it hits you in the face. With Catwoman at his side, the Caped Crusader is looking to take down Bane's army and reclaim his city. But what happens when old allies like Gotham Girl also stand in his way? The legendary art team of John Romita Jr. and Klaus Janson join BATMAN for two action-packed issues that will rock Gotham City to its foundation.In Shops: Oct 02, 2019
SRP: $3.99
Enjoyed this article? Share it!