"Make new things". Well at least two of these count… from Dark Horse's November offerings, five new series. But which will be the next Mind MGMT?
And why do I think it will be the first one? Clown Fatale #1 (of 4)
Victor Gischler (W), Maurizio Rosenzweig (A), Moreno DiNisio (C), and Tim Seeley (Cover)
On sale Nov 13
FC, 32 pages
$3.99
Miniseries
Sexy female clowns are mistaken for contract killers and abandon their shabby traveling circus for a world of violence and cruelty—with clown makeup.
• Featuring covers by Tim Seeley (Hack/Slash, Revival)
• By Victor Gischler (Buffy the Vampire Slayer: Spike—A Dark Place, Punisher MAX, X-Men)!
"[Victor Gischler]'s proven . . . to be a writer that can balance humor, drama and action in an entertaining, fast paced package."–Bleeding Cool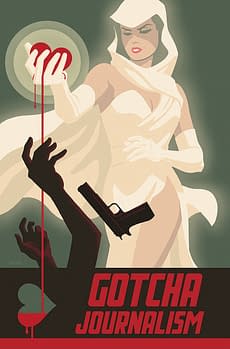 Ghost #1
Kelly Sue DeConnick (W), Chris Sebela (W), Ryan Sook (A), Terry Dodson (Cover), and Paolo Rivera (Variant cover)
On sale Nov 6
FC, 32 pages
$2.99
Ongoing
Ghost, the hero trapped between two worlds, fights to protect Chicago from extradimensional demons disguised as humans. When a familiar stranger destroys an el train, Ghost makes a deal with a devil for the chance to uncover her own mysterious past. The perfect issue to join this action-packed superhero title!
• Ryan Sook on interiors!
• Cover artist Terry Dodson!
• Chris Sebela (High Crimes) joins the fray!
• Kelly Sue DeConnick (Captain Marvel) continues her hit run on the Dark Horse hero.
"DeConnick has a strong sense of dialogue and the rhythms that sound right; the end result is a script that isn't just natural but hard to pull yourself away from."–Comic Book Resources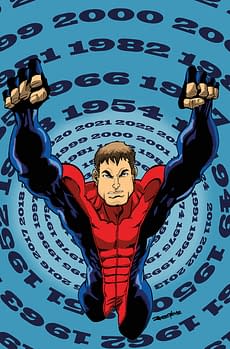 NEVER ENDING #1 (of 3)
Adam Knave (W), D. J. Kirkbride (W), and Robert Love (A/Cover)
On sale Nov 27
FC, 32 pages
$3.99
Miniseries
Fighting crime isn't superhero Charles Baxter's main problem—it's fighting time! Trapped for decades in a superpowered body that never ages but is now driving him insane, Chuck's only hope for a "permanent cure" is to team up with his archnemesis Archibald Crane. He just needs the evil scientist to stop hitting him first!
• The writers behind Amelia Cole deliver a strange, stunning superhero adventure!
• Robert Love's superheroic follow-up to Number 13!
How do you kill an unkillable man? Sledgehammer 44: Lightening War #1 (of 3)
Mike Mignola (W/Cover), John Arcudi (W), Laurence Campbell (A), and Dave Stewart (C)
On sale Nov 27
FC, 32 pages
$3.50
Miniseries
After the classified, advanced airplane known as the Flying Wing is hijacked by the Nazis, Sledgehammer is sent on a special recovery mission that pits him against the deadly Black Flame!
• Cover by Mike Mignola!
• From the pages of Hellboy!
• Laurence Campbell takes the reins of Sledgehammer!
"Sledgehammer 44 has been an entirely enjoyable look into a heretofore unexplored portion of both the Hellboy universe and Mike Mignola's storytelling." – Weekly Crisis
"Laurence Cambell's art is fantastic…The monsters look creepy as always and overall the art is a big highlight of the issue." – Unleash the Fanboy
Star Wars: Dawn of the Jedi—Force War #1 (of 5)
John Ostrander (W), Jan Duursema (P), Dan Parsons (I), Wes Dzioba (C), and David Michael Beck (Cover)
On sale Nov 20
FC, 32 pages
$3.50
Miniseries
The fearsome Rakata have invaded the Tython system, and war rages on every world. With Forcesabers in hand, the Je'daii have aligned themselves with unlikely generals: Daegen Lok, the mad Je'daii, and the stranger, the Force Hound Xesh—one the devil they know, the other the wild card they don't!
• The battle that will decide the future of the Jedi!
• John Ostrander and Jan Duursema pull out all the stops!
Enjoyed this article? Share it!