The Flash #47 Review: A Clumsy Start to 'Flash War'
[rwp-review-recap id="0"]
Older Wally West and Barry Allen are still on edge with one another when the Renegades, a future-based law enforcement organization based upon the Rogues of Central City, arrive to arrest Iris West for the murder of Eobard Thawne. Barry wants to talk it out and discern what is happening, but Wally is ready to fight without a second thought.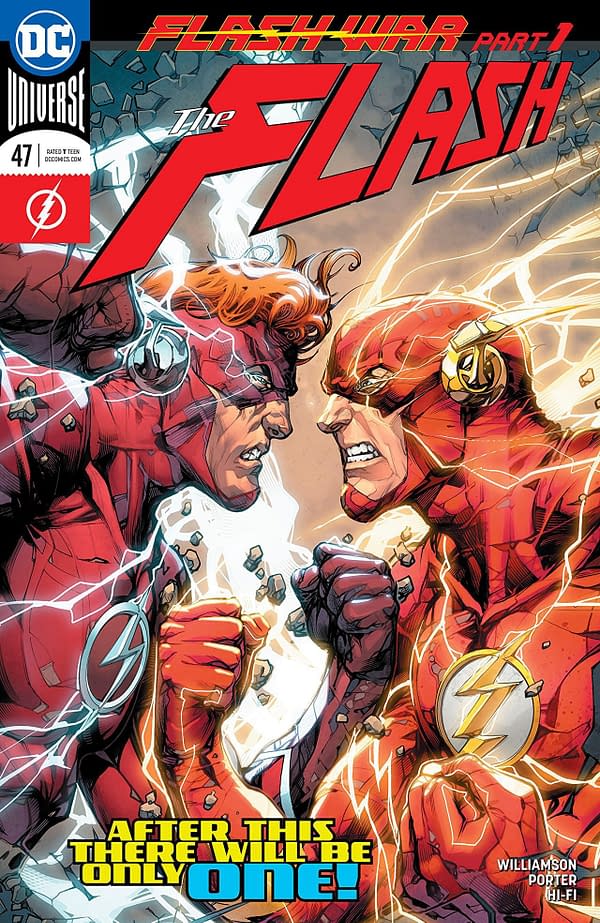 Flash War kicks off this issue with minimal fanfare this issue. While there are plenty of references to things not seen since Flashpoint, this issue brings little we haven't seen in recent issues of the comic.
Unfortunately, it falls into the trap of melodrama, as Iris, Barry, and older Wally all seem ready and willing to devolve into gnashing of teeth and rending of garments at the drop of a hat. Wally comes off as the obvious one at fault for any conflict to come, as he seems to go at Barry's throat at the drop of a hat.
While that may be "the point," as his mind has been assailed with memories of pre-Flashpoint DC Universe, it provides little solace given how outright annoying it is to read any scene with him in it — which is pretty much the entire comic.
The conspiracy with Hunter Zolomon/Zoom and the Renegades could provide some intrigue down the line, but the former is barely in this issue and the latter just comes off as a band of jackasses.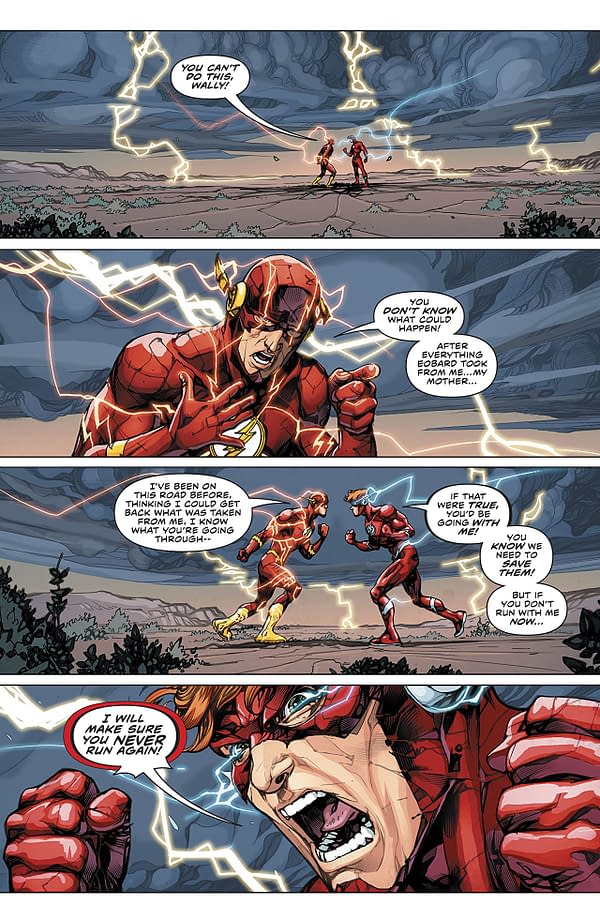 Howard Porter's artwork is the highlight of the comic with its focus on heavy lines and shading to exhibit detail. It comes off as a bit heavier than this comic should warrant, but that's more of a fault of the narrative itself in this case. Hi-Fi's color work is a well-balanced mixture of lighter and darker shades, and the overall visuals are left quite appealing.
Flash #47 is another misfire, especially given the build-up to Flash War. While it's not among the worst issues of the series, it is a step-down in quality since last issue. The melodrama and frustrating dialogue isn't salvaged by the solid artwork of Porter and Hi-Fi. I can't say stay away from the comic, but it's not recommended either. If you're a fan of the series and are hyped for Flash War, then I can tentatively say to check it out.
[rwp-review-ratings id="0"]
[rwp-review-form id="0"]