Frankensteining Marvel Comics April 2019 Solicitations – Princess Leia, Thanos and War Of The Realms
We've stitched together what we could find of Marvel Comics' plans for April 2019, titles ahead of this week's solicitations…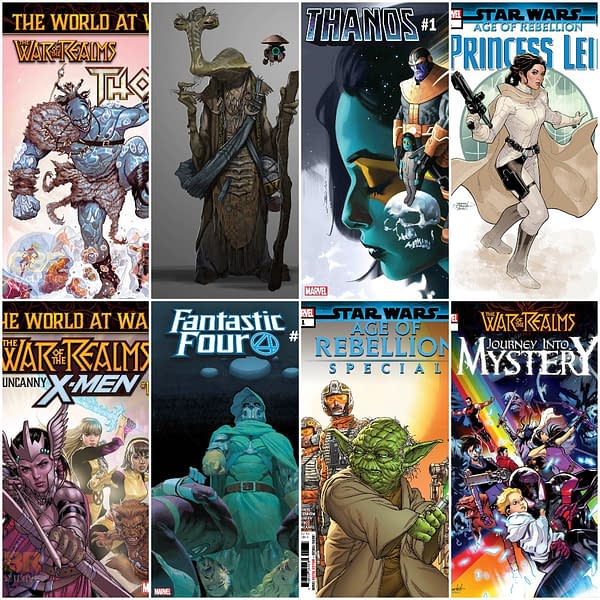 Take a look at what's coming.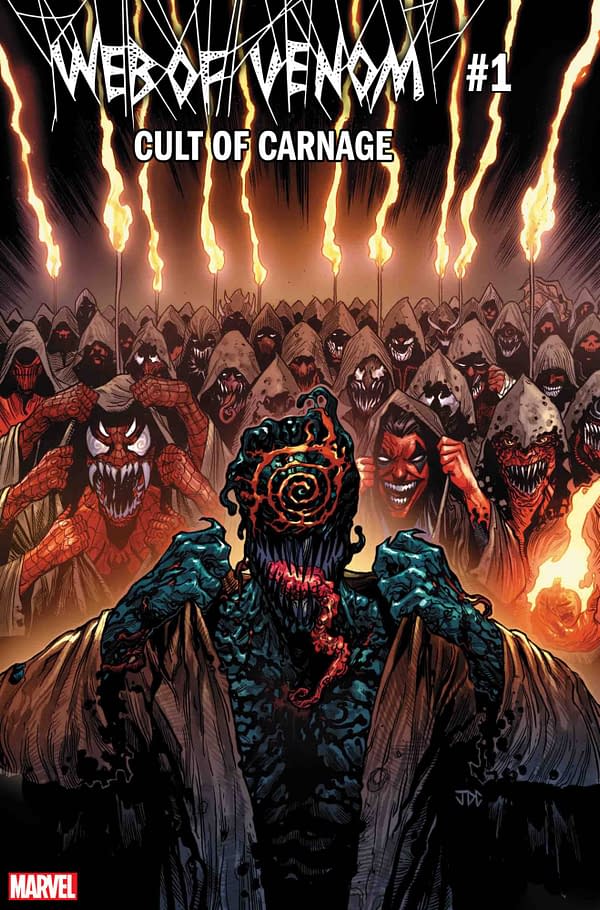 Web Of Venom: Cult Of Carnage by Frank Tieri and Danilo S. Beyruth.
A new terror rises on the fringes of the Marvel Universe, stirring in the depths of space…and on Earth, evil is rising in the name of the killer called Carnage.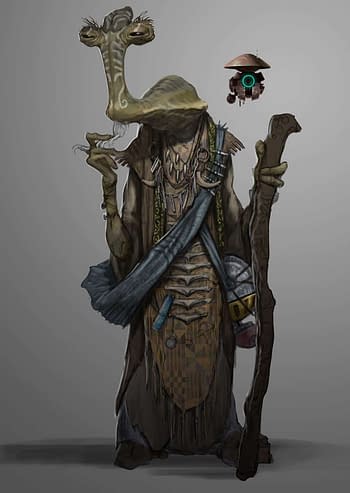 STAR WARS: GALAXY'S EDGE #1 by Ethan Sacks and Will Sliney

Pirates, smugglers, merchants, and wanderers from across the galaxy have traveled to make their score or sell their wares at the infamous black market located at Black Spire Outpost on Batuu.

In April, journey to this locale in the Outer Rim in the new Marvel Star Wars comic series Star Wars: Galaxy's Edge, which ties into the new lands opening at Disneyland Resort and Walt Disney World Resort later this year.

Readers of the five-issue miniseries will be the first to meet the infamous Dok-Ondar, the Ithorian collector of rare antiquities, and find out what happens when the First Order reaches the edge of wild space. The key to saving this lawless outpost might just involve a job pulled long ago by none other than Han Solo and his cohort Chewbacca.

Concept design variant cover art featuring Dok-Ondar, designed by Karl Lindberg and Iain McCaig


Star Wars: Age of Rebellion – Princess Leia #1, by Greg Pak and Chris Sprouse. Cover by Terry and Rachel Dodson.

Set following the events of Star Wars: The Empire Strikes Back, the story tells of how Leia prepares for the rescue of Han Solo by taking on the identity of bounty hunter Boushh, and must earn the trust of Bossk.


Star Wars: Age of Rebellion – Grand Moff Tarkin #1, by Greg Pak and Marc Laming. Cover by Giuseppe Camuncoli and Guru-eFX.

Explores how the Imperial mastermind ensures that the Death Star lives up to its name.


Star Wars: Age of Rebellion Special #1 by Si Spurrier and artist Caspar Wijngaard, Marc Guggenheim and Andrea Broccardo, and Jon Adams

A tale of droid bounty hunter IG-88; a Yoda story set during the Jedi Master's exile on Dagobah; rebel pilots Biggs Darklighter and Jek Porkins.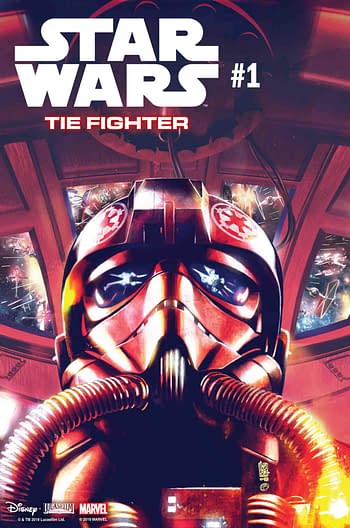 STAR WARS: TIE FIGHTER #1 (of 5)

Written by JODY HOUSER

Art by ROGE ANTONIO & More

Cover by GIUSEPPE CAMUNCOLI & ELIA BONETTI

The war against the Rebellion has put the entire galaxy at risk, but elite squadrons of TIE fighter pilots still fight to defend the Empire and bring fury down upon the Rebel Alliance! Just how far will the Imperial SHADOW WING go to win the war? Find out this April in an all-new mini-series from Jody Houser (Thrawn, Age of Republic) and Roge Antonio (X-Men Red), as they weave a TIE fighter tale that chronicles the struggles and triumphs of the heroes of the Empire!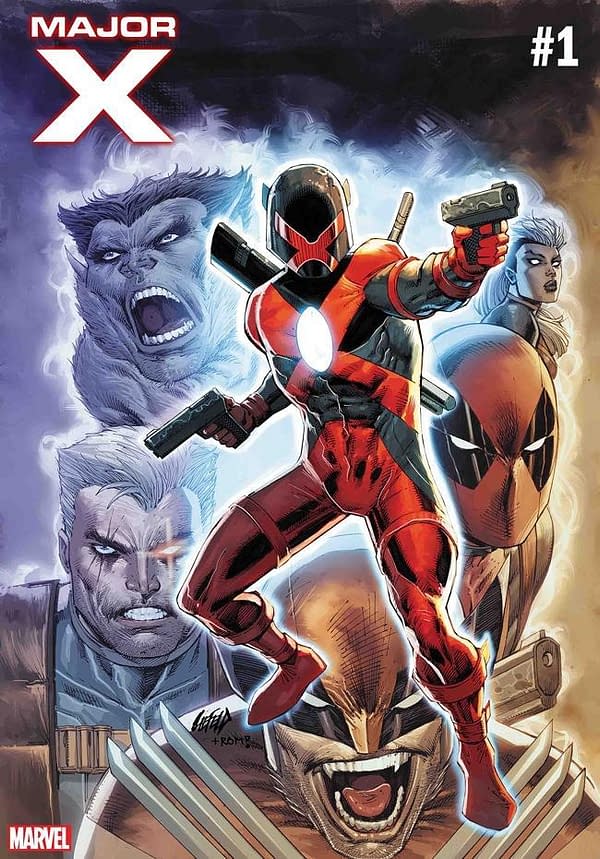 Major X #1 by Rob Liefeld

The creator of Deadpool, Cable, Domino, and some of the most storied X-Men comics in recent memory returns to the House of Ideas with a character that he's had in mind for over 25 years. And now it's ready to be unleashed.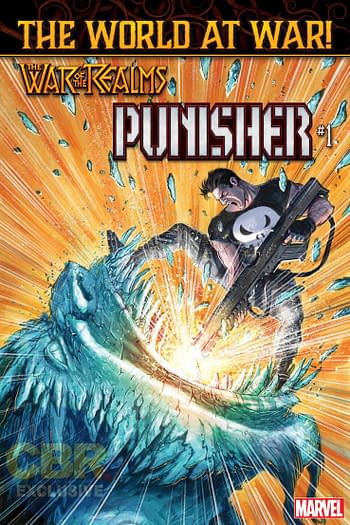 War Of The Realms : PUNISHER #1 (OF 3)
GERRY DUGGAN (W) • MARCELO FERREIRA (A)
Cover by JUAN FERREYRA
CONNECTING REALMS VARIANT COVER BY MARKO DJURDJEVIC
VARIANT COVER BY TBA
VARIANT COVER BY TBA
PUNISHER: AVENGER OF MIDGARD!
The War of The Realms has brought monsters to the streets of New York City, but New York has a monster all its own…Frank Castle, A.K.A. THE PUNISHER! And he'll be damned to Hel if he's going to let a bunch of Ten Realms tin-pot tyrants terrorize his town. But given he's one man against an army of monsters, Hel might soon have him! The War of Realms is about to meet Marvel's One Man Army. Expect Punishment!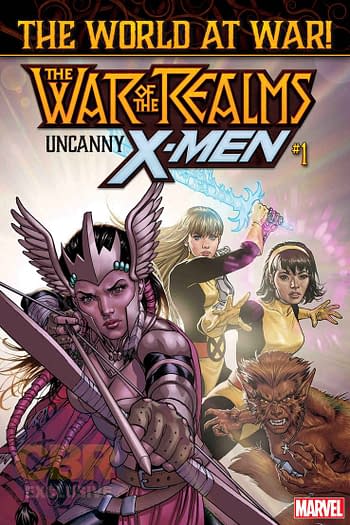 War Of The Realms : UNCANNY X-MEN #1 (OF 3)
MATTHEW ROSENBERG (W) • PERE PEREZ (A)
Cover by DAVID YARDIN
CONNECTING REALMS VARIANT COVER BY MARKO DJURDJEVIC
VARIANT COVER BY WHILCE PORTACIO
VARIANT COVER BY John Tyler Christopher
The War of the Realms has come to Midgard…and Westchester! Malekith's forces are invading Earth, and the heroes of Earth are joining with the heroes of Asgard to fight them back! Who better to lead the X-Men into that war than their very own Valkyrie, Dani Moonstar?
LEGACY #635


THOR #12
JASON AARON (W) • MIKE DEL MUNDO (A/C)
ASGARDIAN VARIANT COVER BY TBA
WAR OF THE REALMS TIE-IN!
Fatherly love is not something with which Loki Laufeyson is terribly familiar. Still, you'd think that with the Frost Giants invading New York in Malekith's WAR OF THE REALMS, he'd find some quality time to spend with dear old deadly Dad. And he will. But not in the way you'd think…


ASGARDIANS OF THE GALAXY #8
CULLEN BUNN (W) • MATTEO LOLLI (A) • Cover by GERARDO SANDOVAL
ASGARDIAN VARIANT COVER BY TBA
WAR OF THE REALMS TIE-IN!
Bit by bit, the Dark Elf King Malekith has been taking over the Ten Realms. Now at last every realm has fallen save one: Midgard. The invasion has begun, and Earth's Mightiest Heroes will need all the help they can get. The Asgardians of the Galaxy join the battle for the Tenth Realm!


War Of The Realms #1 by Jason Aaron, artist Russell Dauterman, and colorist Matt Wilson

Asgard. Alfheim. Heven. Jotunheim. Muspelheim. Niffleheim. Nidavellir. Svartalfheim. Vanaheim.

All of the Ten Realms have fallen to Malekith and his army…except one: Midgard. Home to Thor's beloved humans. Home to heroes and gods alike. Now, at last, it burns. And Thor won't even be there to see it.

All hell breaks loose in New York City as Malekith and his allies begin their invasion—and the greatest heroes of the Marvel Universe watch as Earth falls…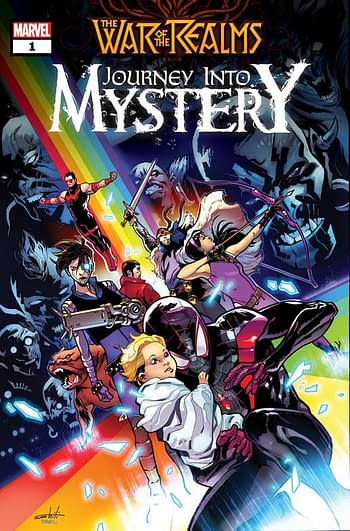 War Of The Realms: Journey Into Mystery #1 by the McElroy Brothers andAndré Lima Araújo

Earth is at war, besieged by an army of Frost Giants, Trolls and Fire Goblins—and the mighty Thor is nowhere to be found! But could it be that the key to turning the tide is…Thor's baby sister? Journey into mystery with Spider-Man (Miles Morales), Hawkeye (Kate Bishop), Wonder Man, and Balder the Brave as they go on an epic quest to save Earth's only hope! (And, yes, deal with diaper duty.)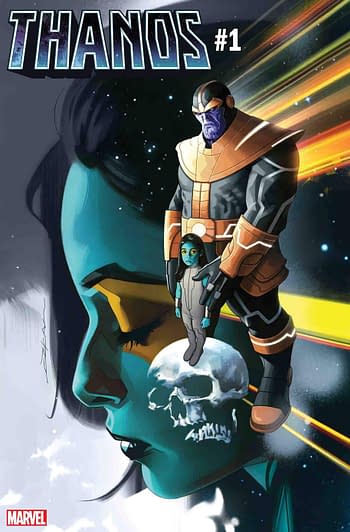 THANOS #1 by Tini Howard and Ariel Olivetti

Infinity Wars saw the death of Thanos at the hand of his own adoptive daughter Gamora. This April, Marvel fans will go back to the beginning of that rocky relationship in THANOS, a new limited series.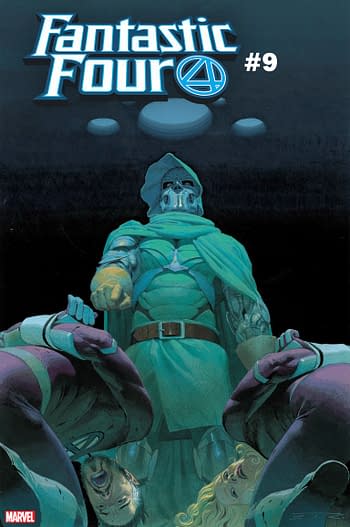 FANTASTIC FOUR #9

Written by DAN SLOTT

Art by AARON KUDER

Cover by ESAD RIBIC

On Sale 4/24/19

This April, the fate of Latveria, the world, and the balance of Cosmic Power in the Marvel Universe all rests on one big decision – and one cruel act will forever change the relationship between the Fantastic Four and Victor Von Doom! It's the terrifying, epic, and final chapter of "Herald of Doom," coming this April, and Marvel is excited to reveal a brand-new cover from series artist Esad Ribic!

"This isn't about heroes or villains," teases series writer Dan Slott. "This is about justice. Reed Richards and his team were warned what would happen if they illegally entered Latveria. The word of Doom is final. This is out of his hands. For their crimes against this sovereign state, the sentence is…DEATH TO THE FANTASTIC FOUR!"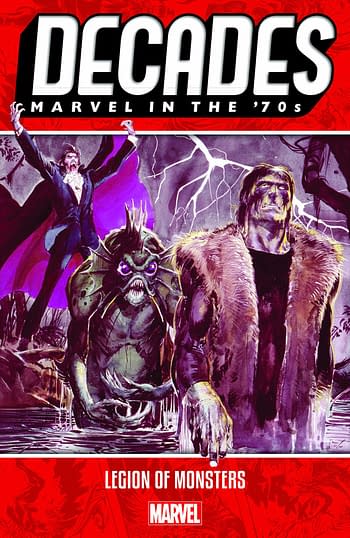 Decades: Marvel in the 70s – Legion of Monsters

Celebrate 80 years of Marvel Comics, decade by decade – together with the groovy ghoulies of the Supernatural Seventies! It was an era of black-and-white magazines filled with macabre monsters, and unsettling new titles starring horror-themed "heroes"! Now, thrill to Marvel's greatest horror icons: The melancholy muck-monster known as the Man-Thing -whosoever knows fear burns at his touch! Morbius, the Living Vampire! Jack Russell, cursed to be a Werewolf-by-Night! And the flame-skulled spirit of vengeance, the Ghost Rider! But what happens when they are forced together to become…the Legion of Monsters? Plus stories starring Dracula, Frankenstein's Monster, Manphibian, the vampire-hunter Blade…and never-before-reprinted tales of terror!

COLLECTING: LEGION OF MONSTERS (1975) 1; MARVEL PREVIEW 8; MARVEL PREMIERE 28; MARVEL SPOTLIGHT (1971) 2, 5; FRANKENSTEIN (1973) 1; TOMB OF DRACULA (1972) 10; MATERIAL FROM SAVAGE TALES (1971) 1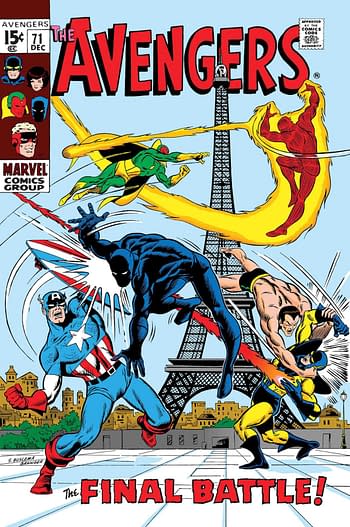 TRUE BELIEVERS: AVENGERS – ENDGAME! #1: Reprinting material from Avengers (1963) #71

TRUE BELIEVERS: AVENGERS – THE GATHERER'S SAGA #1: Reprinting material from Avengers (1963) #343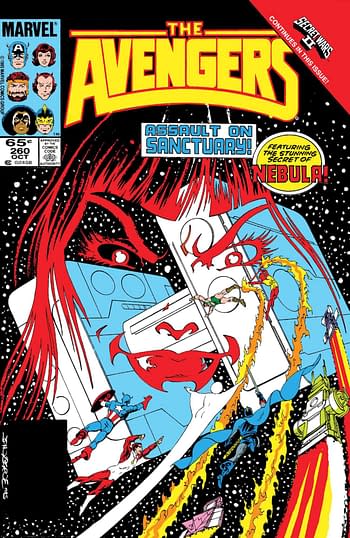 TRUE BELIEVERS: AVENGERS – NEBULA #1: Reprinting material from Avengers (1963) #260 #35, #49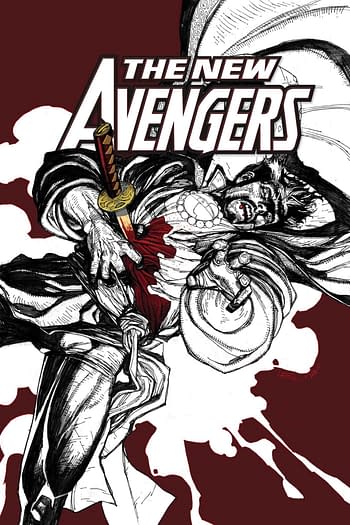 Reprinting material from New Avengers (2005) #30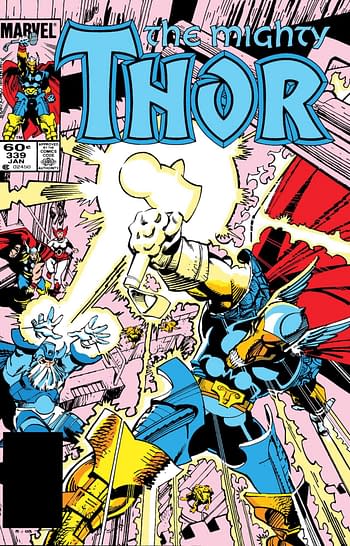 TRUE BELIEVERS: AVENGERS – STORMBREAKER #1: Reprinting material from Thor (1966) #339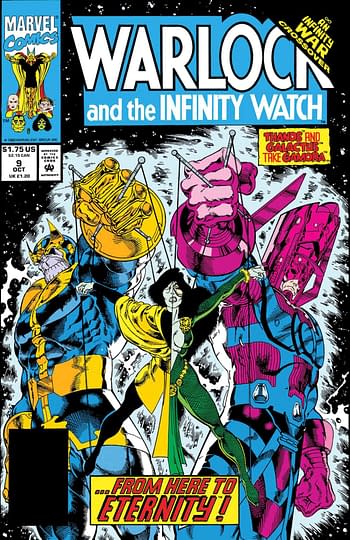 TRUE BELIEVERS: AVENGERS – THANOS & GAMORA #1: Reprinting material from Warlock and the Infinity Watch #9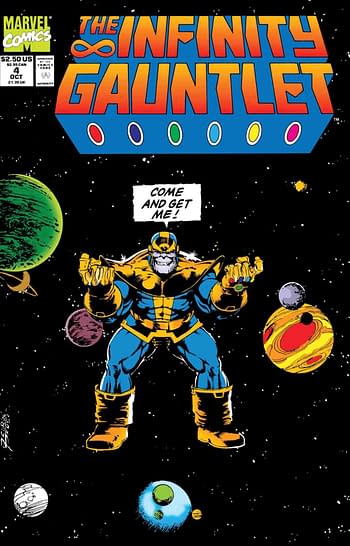 TRUE BELIEVERS: AVENGERS – THANOS VS. THE MARVEL UNIVERSE #1: Reprinting material from Infinity Gauntlet (1991) #4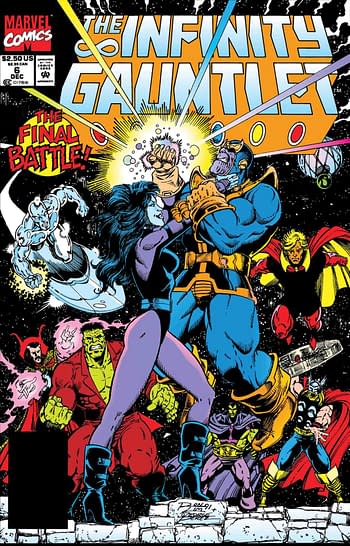 TRUE BELIEVERS: THANOS: THE FINAL BATTLE #1: Reprinting material from Infinity Gauntlet (1991) #6

And to be revealed at a later date…

TRUE BELIEVERS: AVENGERS – CLASSIFIED A
TRUE BELIEVERS: AVENGERS – CLASSIFIED B