We've stitched together what we could find of Marvel Comics' plans for May 2019, titles ahead of this week's solicitations…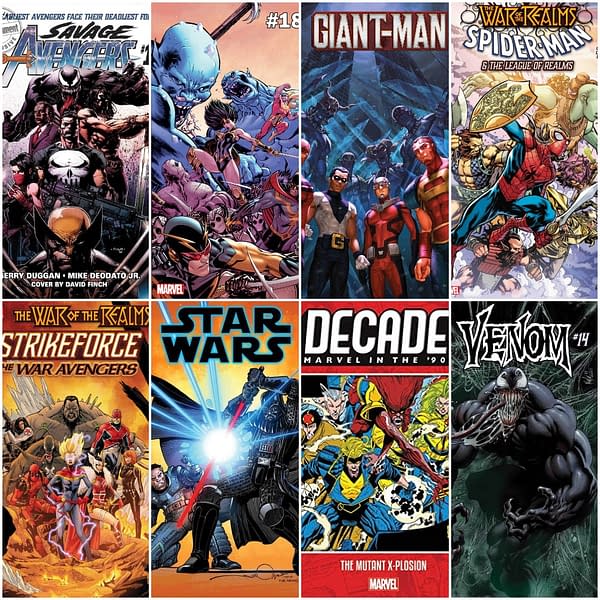 Take a look at what's coming.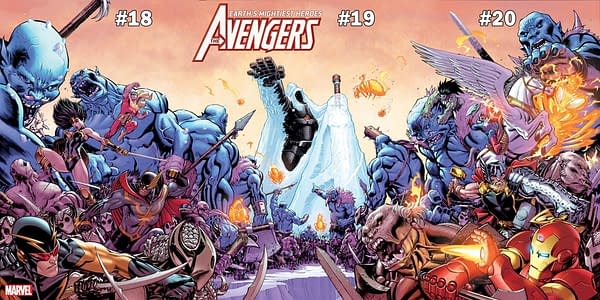 AVENGERS #19
Written by JASON AARON
Art and Cover by ED MCGUINNESS
On Sale 5/22/19
Avengers Mountain reigns as the last stronghold for Earth's Mightiest Heroes – but can it stand the wrath of Malekith's powerful forces, as they seek to destroy our realm once and for all?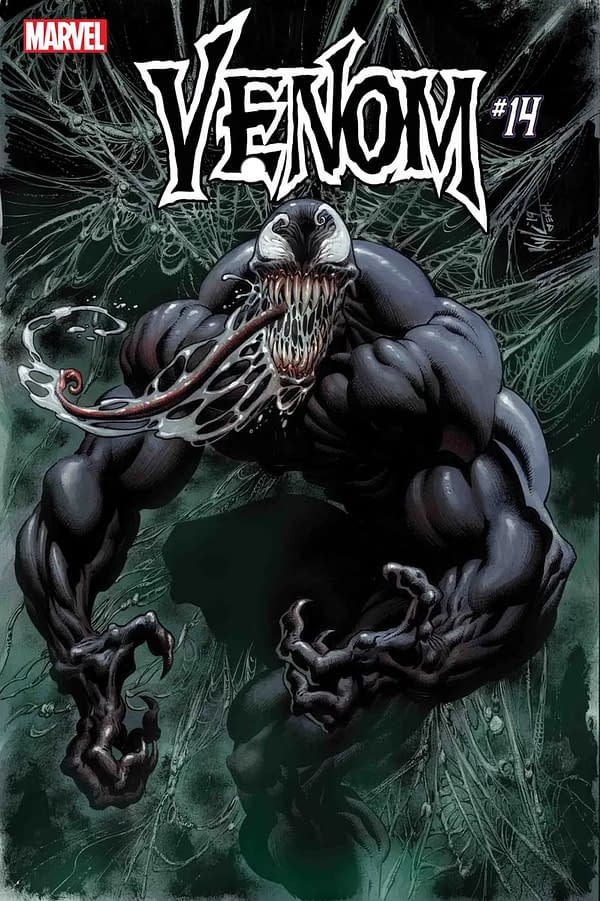 VENOM #14
CULLEN BUNN (W) • IBAN COELLO (A)
WAR OF THE REALMS TIE-IN!
• Chaos reigns as Malekith's campaign to take over the Nine Realms sweeps through Manhattan.
• With desperate battles raging all around them to quell Malekith's horde, Venom has teamed up with an unlikely group to try to stop Malekith…
• …or die trying.
32 PGS./Rated T+ …$3.99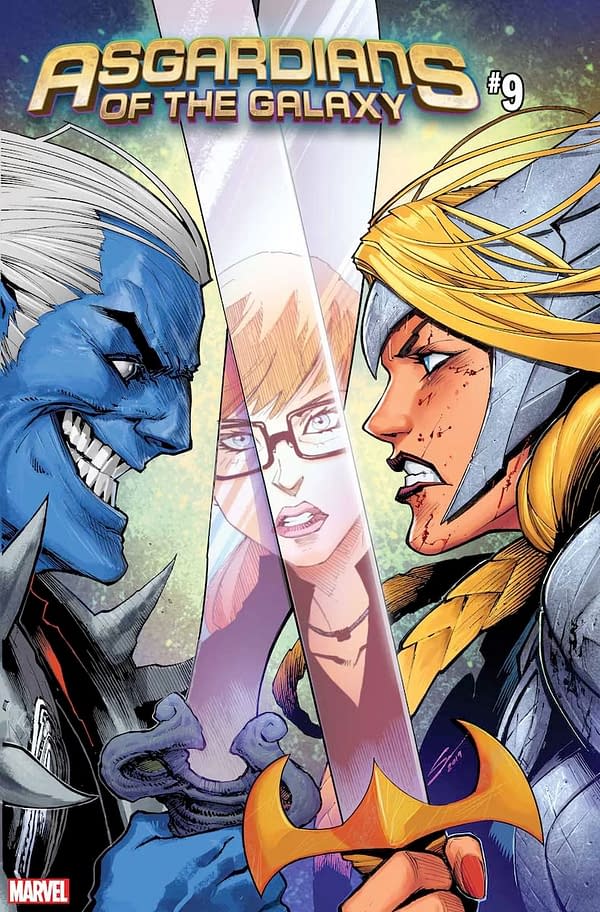 ASGARDIANS OF THE GALAXY #9
Cullen Bunn (W) • TBA (A)
New York City is overrun with Malekith's invasion forces. Earth is inches from falling to the Dark Elf King. And with Thor missing in Jotunheim, All-Father Odin injured and All-Mother Freyja about to embark on a mission of her own, Valkyrie is one of the few gods left to face the onslaught. But her fate is intertwined with another. What of Annabelle Riggs, the mortal girl who shares the body of a god? THE RIDE OF THE VALKYRIE begins here!
War of the Realms: New Agents of Atlas #1
By Greg Pak and Gang-Hyuk Lim. Cover by Billy Tan.
After a shock-and-awe invasion, the Accursed splits the globe into provinces set to be ruled by his dark and damned collaborators. As Sindr, Immortal Queen of Muspelheim, and her legions of Fire Demons march on Asia, a new band of heroes must unite to protect the Pacific Rim…
Introducing the NEW AGENTS OF ATLAS!
Featuring the Marvel Comics debut of the Super Heroes called Wave, Aero, and Sword Master, the story sees Amadeus Cho reassemble his "protectors" to save the world from incineration. Cho has successfully led a ragtag team of heroes to defend the Earth from an alien invasion in the past, but can he do it again this time?
Shang-Chi, Silk, and Jimmy Woo quickly join Brawn in the fight…but where is Kamala Khan? Meanwhile, new heroes Crescent, Io, and Luna Snow are making their own entrance into the Marvel Universe, so how will they impact the global conflict?
Get to know this brand-new union of Super Heroes as Marvel's newest heroes from China, Aero and Sword Master, team-up with a mysterious new Filipino heroine named Wave in the crazed crucible of WAR OF THE REALMS!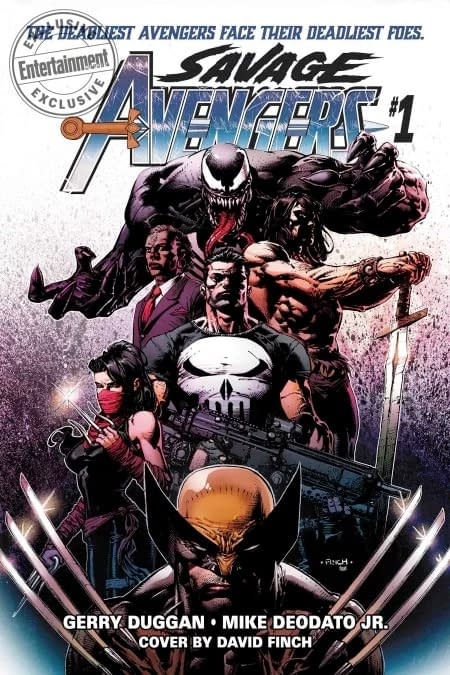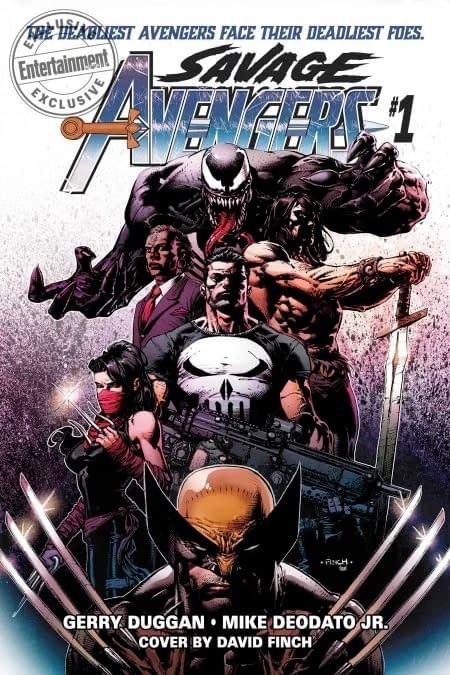 Savage Avengers #1
By Gerry Duggan, Mike Deodato Jr., cover by David Finch,
This is an unsanctioned team of heroes. It has to be something that visually makes sense to you, and I think it does. [Artist] Mike Deodato Jr. is illustrating this book in both worlds. We envisioned a threat, a magical green zone where the evil wizards of Conan's world are trading spells with the Hand in Japan. Conan is on a very Conan-like mission; he's heard a tale of an amulet so he's chasing it, and the evil magic sorcerers are doing something that would be a Marvel Avengers problem. It feels like we have found some very fertile ground that is a Venn diagram between those two worlds.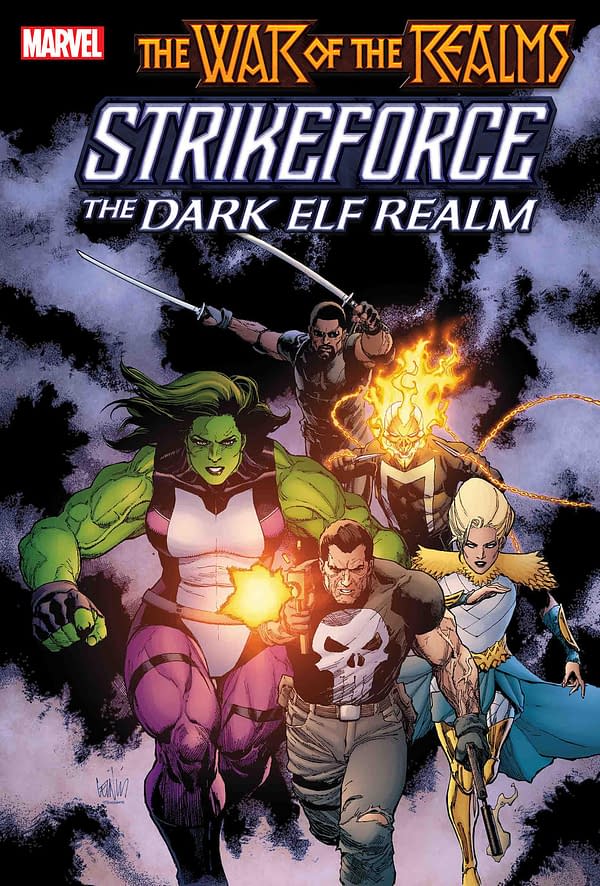 WAR OF THE REALMS STRIKEFORCE: THE DARK ELF REALM #1, written by Bryan Hill with art by Leinil Francis Yu, sees the Punisher leading a charge to shut down the Black Bifrost!
Deep in the swamps of Svartalfheim stands the Black Bifrost, Malekith's corrupted Rainbow Bridge and the only reliable means of travel between the realms with the true Bifrost still in pieces. If the gods are going to stop Malekith's invasion, the Black Bridge must fall.
With her son missing and husband injured, Lady Freyja must take up the challenge herself…but she won't go alone. Jen Walters, the Punisher, Blade, and Ghost Rider follow the All-Mother of Asgard straight into Malekith's home territory!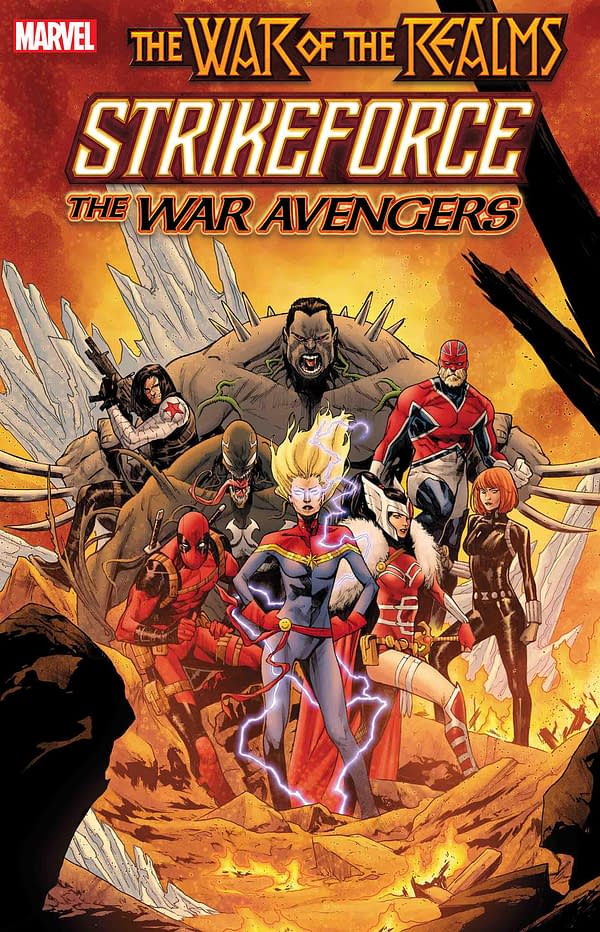 WAR OF THE REALMS STRIKEFORCE: THE WAR AVENGERS #1, Captain Marvel and her War Avengers hold the frontline in the cosmic battle…
Writer Dennis "Hopeless" Hallum and artist Kim Jacinto tell the tale as Carol Danvers leads the fight to reclaim the Earth! But even with a crew of heavy hitters (Weapon H, Captain Britain, Venom, Deadpool) and two of the best spies on the planet (the Winter Soldier and the Black Widow), Carol's fighting a losing game.
Malekith's allies are without number—and the battlefield is bigger than any Carol's commanded before. Time to lay it all out on the line—and fight for a miracle.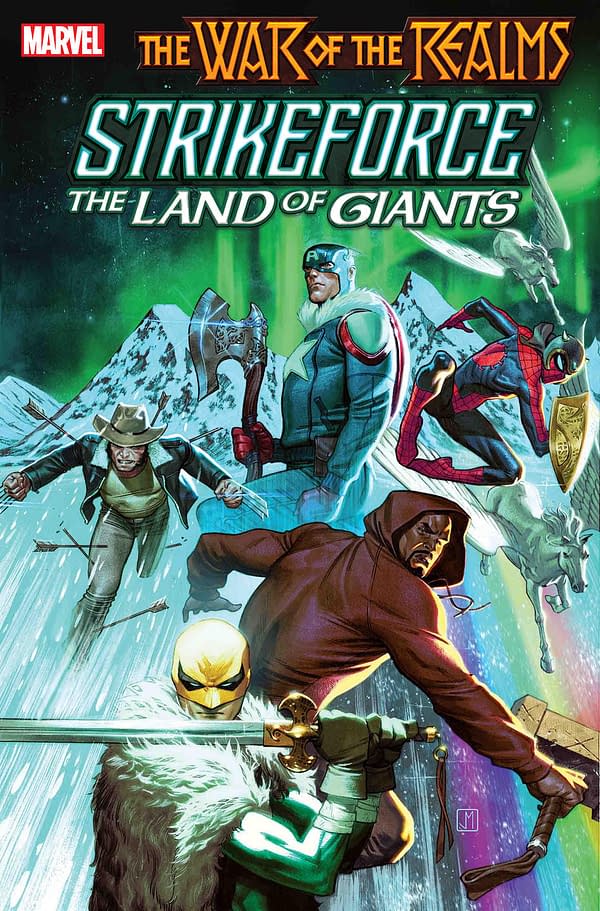 WAR OF THE REALMS STRIKEFORCE: THE LAND OF GIANTS #1, writer Tom Taylorand artist Jorge Molina trap the God of Thunder in the land of ice and snow.
…And it's up to Captain America to rescue him before all is lost!
Taking up Thor's ax, Jarnbjorn, Cap and his team—Spider-Man, Wolverine, Luke Cage and Iron Fist—invade the Frost Giant realm in search of their fellow Avenger. But this rescue mission will cost far more than they expect…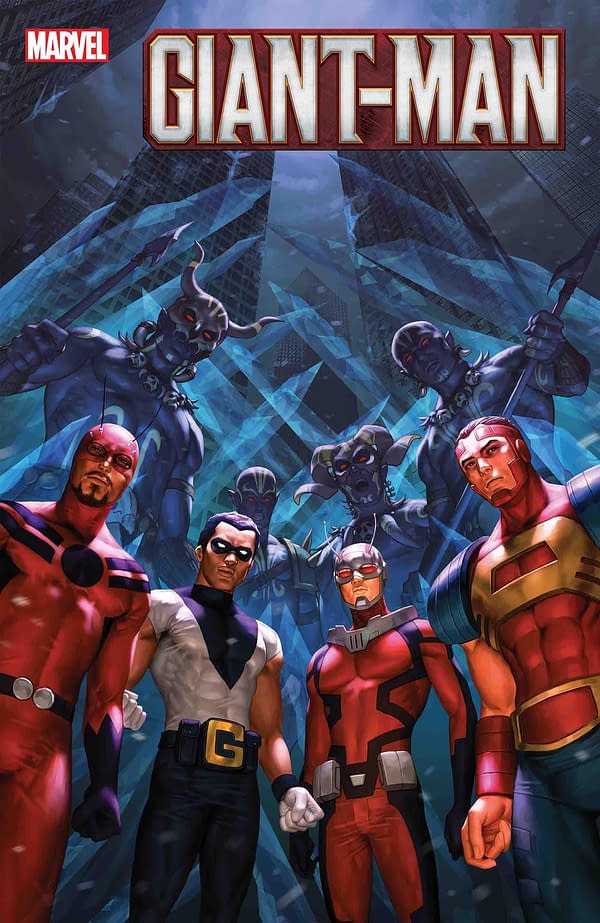 Giant Man #1 (of 3)
By Leah Williams and Marco Castiello
Scrambling to respond to the existential threat, new forces must emerge to meet the conquering forces of Malekith… the tale of four of the biggest heroes in the Marvel Universe coming together for a common—and urgent—cause. At the behest of All-Mother Freyja, these Super Heroes must infiltrate the most savage territory of New Jotunheim: Florida! And in GIANT-MAN #2, the mission to the Frost Giant territory gets even more complicated as the heroes must kill the patriarch of all Frost Giants himself, Ymir. But how exactly will they penetrate Laufey's forces? By becoming masters of disguise!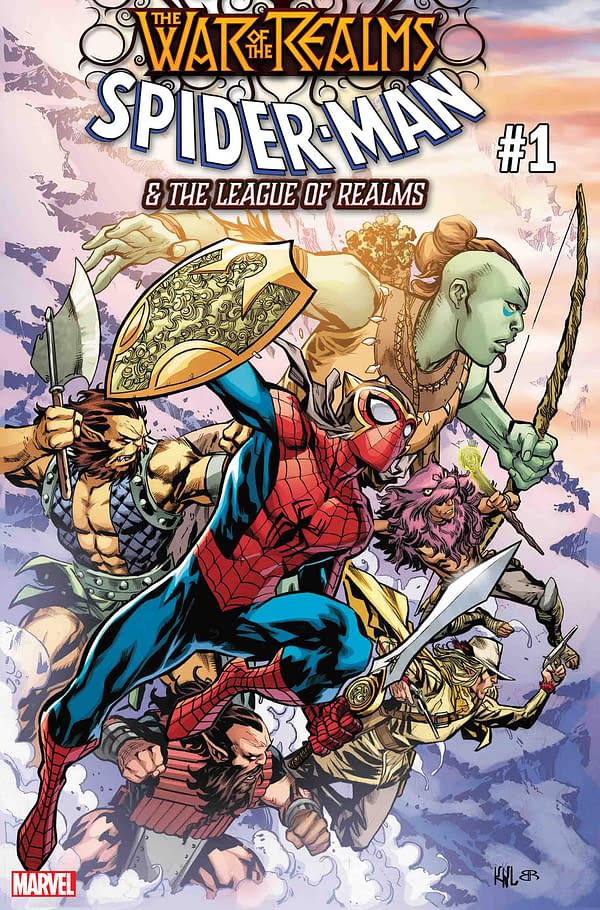 Spider-Man & the League of Realms #1 (of 3)
Written by Sean Ryan with art by Nico Leon and covers by Ken Lashley
In order to win the WAR OF THE REALMS, the heroes of the Marvel Multiverse need a League of Realms!
Thor once led this team, comprised of one representative from each fantastical realm, but the League now has a new leader and representative of Midgard: Spider-Man! The web-head must do the unthinkable and lead Screwbeard the Dwarf, Ud the Troll, Ro Bloodroot the Wizard, Sir Ivory Honeyshot the Light Elf, and the Mountain Giant into battle!
The ragtag group has assembled…but who will represent Asgard? And since Spidey is such a terrible leader, does this cross-realm team-up have any chance at survival, let alone success?!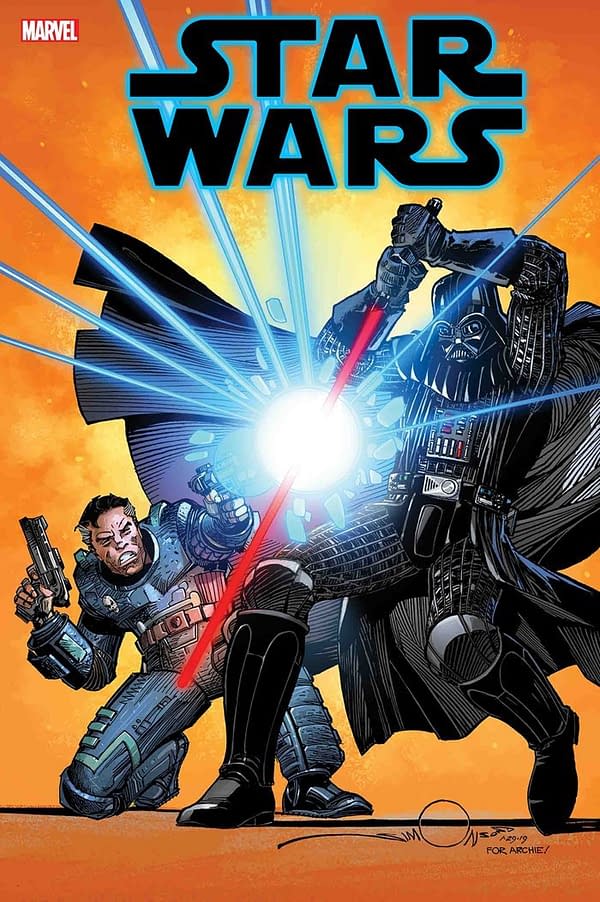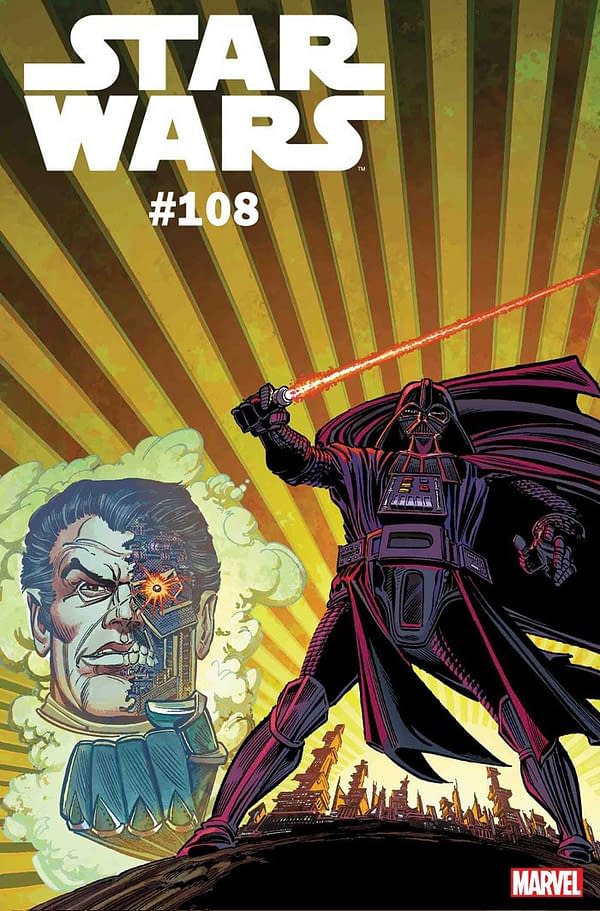 Star Wars #108
Writer: Matthew Rosenberg
Artists: Giuseppe Camuncoli, Luke Ross, Kerry Gammill, Andrea Broccardo, and more
Cover: Walter Simonson
A long time ago on a spinner rack far, far away…Star Wars comics were a LOT different than they are now! With wild and intricately plotted storylines, Marvel's historic original run introduced an array of unique heroes and villains to play alongside George Lucas' incredibly popular science-fantasy characters. In celebration of Marvel's 80th Anniversary, this Legends-era sequel to legendary comic book writer Archie Goodwin's 'Crimson Forever' reunites Han Solo, Luke Skywalker, Princess Leia, Chewbacca, C-3PO, and R2-D2 with Jaxxon, Amaiza Foxtrain, Domina Tagge, and Valance the Hunter in a galaxy-threatening, nostalgic roller coaster! Strap yourselves in!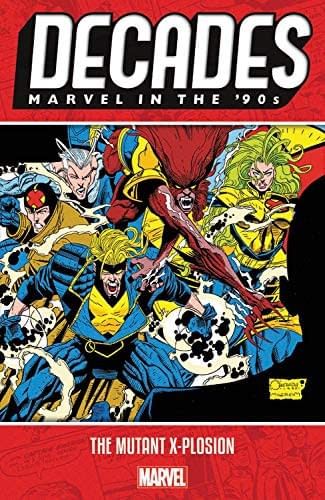 Decades: Marvel in the 90s – The Mutant X-plosion Paperback – June 25, 2019
Celebrate 80 years of Marvel Comics, decade by decade – and see how Marvel's mighty mutants dominated the Notorious Nineties! As the X-Men's popularity exploded, the X-books were the place to be – and there sure were a lot of them! From Excalibur to the radically revised X-Factor, to two (count 'em, two) books for the X-Men alone! Generation X learned the ropes, while X-Force kicked butt! Wolverine searched for secrets of his past, Cable struggled with his destiny, X-Man explored our strange new world, and Deadpool began his rise to superstardom! But which '90s nemesis would prove most deadly – the Legacy virus, or the mansion's latest inhabitant…Sabretooth?!

COLLECTING: EXCALIBUR (1988) 42, WOLVERINE (1988) 48, X-FACTOR (1986) 87, X-MEN (1991) 27, GENERATION X (1994) 4, X-MAN 5, UNCANNY X-MEN (1981) 328, X-FORCE (1991) 55, DEADPOOL (1997) 2, CABLE (1993) 64
Enjoyed this article? Share it!