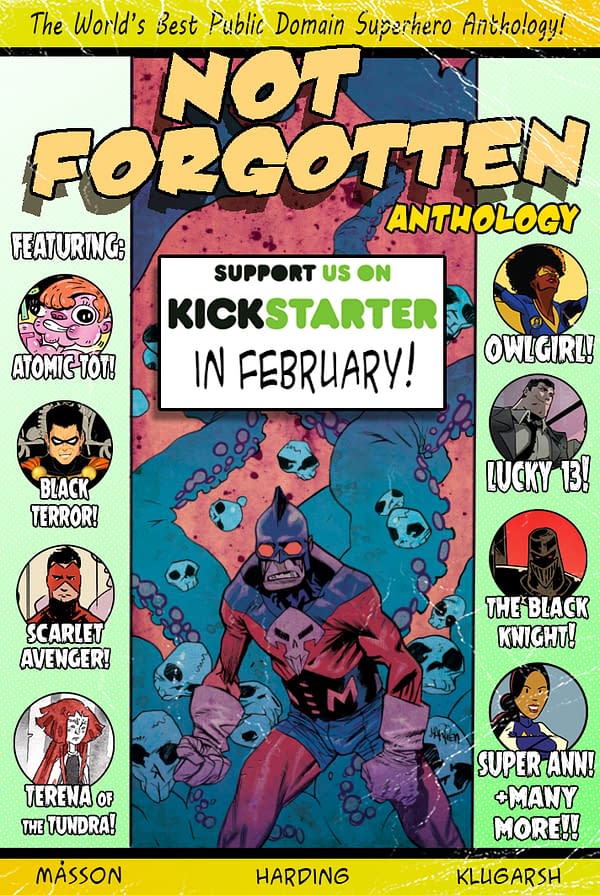 Omar Morales writes,
A motley band of comics creators from all over the world are joining forces for a humdinger of a Kickstarter – the Not Forgotten anthology of public domain superheroes! If their campaign reaches $12,000 by 11:59 p.m. Pacific Time on Valentine's Day, the project's Bay Area-based creators have plighted to do a group cosplay … of Bleeding Cool's Rich Johnston.
That's right kids, the likes of Matt Harding, Sinclair Klugarsh, Malcolm Johnson, Ricardo Lima, Casey Desilets, Matt Harvey, and more, will don wigs and glasses in the fashion of BC's head honcho! If you back it, they will come … dressed as ol' Johnston himself. The costumed creators shall descend on the world famous Flying Colors Comics in Concord, inventors of Free Comic Book Day, on Saturday, May 6, 2017. That is Free Comic Book Day, if you're scoring at home, true believers. The courageous cosplay will be commemorated by random smartphone photos and a live post on the Not Forgotten anthology social media page, Facebook.com/NotForgottenAnthology.
The incredible indie collective is a superlative celebration of golden age heroes that have been lost to time. These are the lesser known capes and tights that never quite caught on like Cap, Supes, Bats and the rest of the WWII-era gang we know and love. The heroes of Not Forgotten are now resurrected and refreshed by the passion and crackling energy of over 50 creators who combined for over 20 stories and over 200 pages of content. All of the short stories are completely original, putting new twists on the heroes of the yellowed pages of yesteryear. Ladies and gents, if you love thought bubbles, domino masks and ray guns, this bonanza of a book is for you!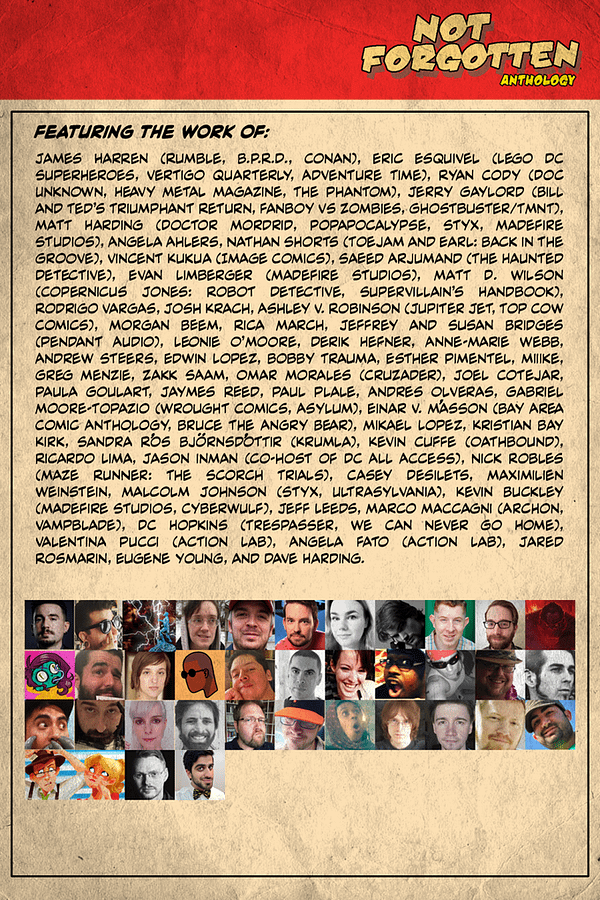 Not Forgotten is a tantalizing triumph of diversity and variety in storytelling in all aspects: from narrative style and tone; from black and white, to Ben-Day color dots; from whimsical to photo realistic art and everything in between. The amazin' anthology features cover art by James Harren (Rumble, B.P.R.D., Conan) and a crack line up of characters including Atomic Tot, Black Terror, Lucky 13, Owlgirl, Marvelo, Moon Girl, Mr. Monster, Ozmar the Mystic, The Iron Skull, The Scarlet Avenger, The Atomic Man and many more.
So don't blow your wig, Johnny, this book is within your grasp! Get in on this here clambake and help show the world that these characters might have been buried under layers of dust, but they are NOT FORGOTTEN! Rich reward options include digital and print packages, pins, stickers, prints and more. Best of all, hitting the BC challenge mark by the stroke of midnight on Valentine's Day unlocks a lovely and sweet treat in the form of a costumed tribute to Johnston.
Don't delay – pledge this Kickstarter by Valentine's Day and wait for the luscious locks, specs and facial hair on FCBD 2017.
See ya in the funny pages!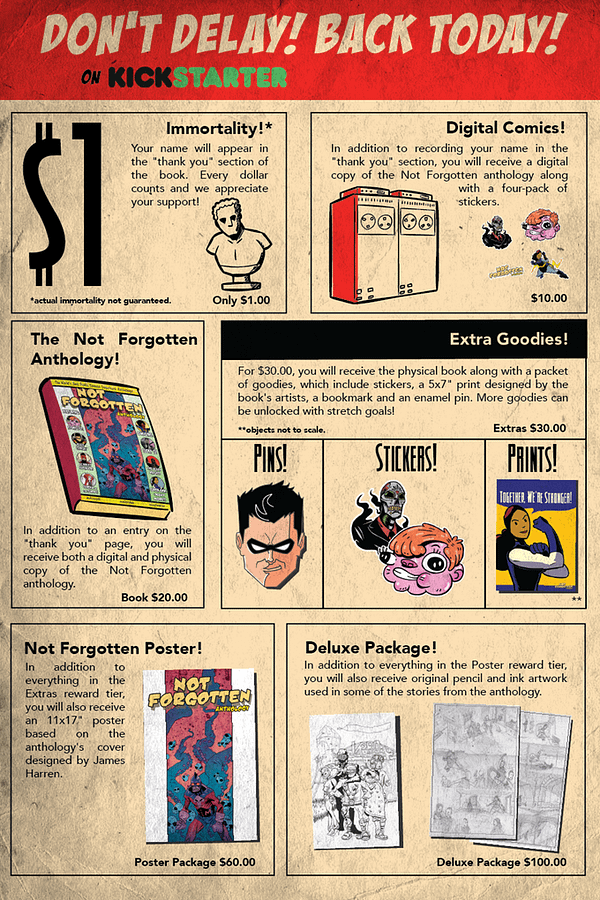 Enjoyed this article? Share it!