Tomorrow is Game Of Thrones For DC Comics – Last Knight, Doomsday Clock, Heroes In Crisis, Leviathan
Four comic books are published by DC Comics tomorrow that, any other week, would be the best-selling comic of the week. None of them are Batman. And each represent one of the main four power houses, currently at work within DC Comics, at war with each other, divided against each other, trying to get the upper hand. As the recent Tom King stories revealed, especially with the infighting that happened, these four are at war, and all trying to either get prominent books within their sphere of influence. And you thought Game Of Thrones finished last weekend? Not a bit of it,
It's handy because aside from those books, DC Comics have a rather light week. But with these four, will anyone notice?
The four contenders
From House Snyder, by Scott Snyder and Greg Capullo, we have Batman: Last Knight On Earth #1.
From House Johns, by Geoff Johns and Gary Frank, we have Doomsday Clock #10.
From House King, by Tom King and Clay Mann, we have Heroes In Crisis #9.
And from House Bendis, by (breathe in) Brian Michael Bendis, Matt Fraction, Greg Rucka, Marc Andreyko, Steve Lieber, Mike Perkins and Yanick Paquette we have Superman: Leviathan Rising #1.
Four titles out of the only nine new titles that DC Comics is publishing tomorrow. There are also Detective Comics and Catwoman annuals, the Dog Days Of Summer Special, the penultimate issue of The Wild Storm, and new DC Super Hero Girls graphic novel. Where their fealties lie is not definite.
One can win by print orders (next month's Diamond stats), store sales (this Sunday's Bleeding Cool Bestseller Lists) or digital sales (this Friday's ComiXology List).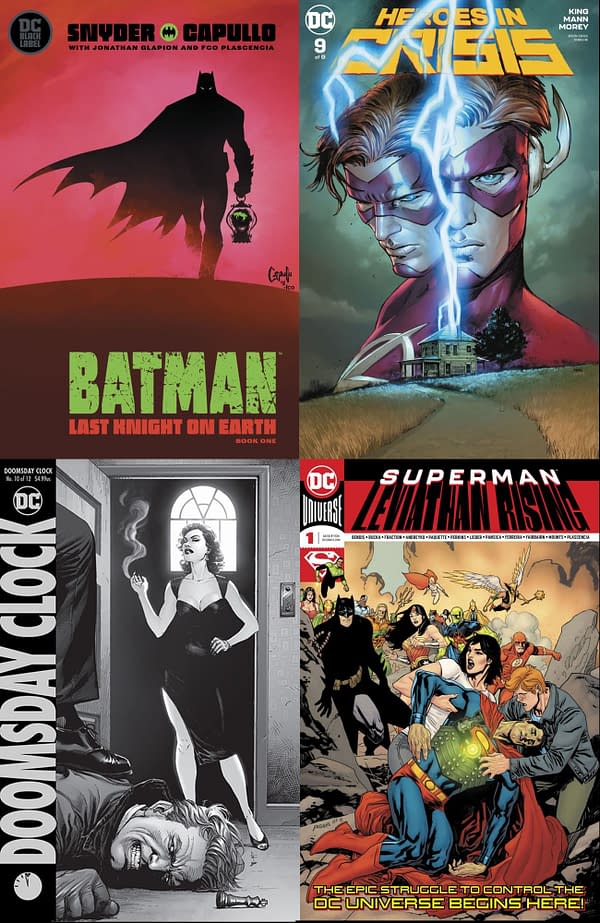 What does Marvel have?
But this intercine rivalry pays dividends for DC Comics. This week Marvel has a new Amazing Spider-Man without the. HU, a new Immortal Hulk, a new Major X, a new Spider-Man: Life Story, a new Star Wars comic that follows on from Marvel's original run from the 70s and 80s, and a long-awaited X-Men Grand Design X-Tinction, and more besides. All of these should do well, but will any of them be able to touch the Big Four of DC Comics this week?
Place your bets, ladies and gentlemen, place your bets.
Oh and on top of all that we have Peter Cannon: Thunderbolt #5 finale from Kieron Gillen and Caspar Wijngaard. See how this unauthorised sequel to Watchmen compares to Doomsday Clock #10…
The solicits…
SUPERMAN LEVIATHAN RISING SPECIAL #1
(W) Brian Michael Bendis, Matt Fraction, Greg Rucka, Marc Andreyko (A) Steve Lieber, Mike Perkins (A/CA) Yanick Paquette
An all-star roster of writers and artists highlight the new threat of Leviathan, but also tees up new ongoing series for Jimmy Olsen by writer Matt Fraction and artist Steve Lieber, and Lois Lane by writer Greg Rucka and artist Mike Perkins, coming in June! As Leviathan enacts a plan to take down Superman, it's up to Lois, Jimmy and the heroes of the DC Universe to rescue the Man of Steel.In Shops: May 29, 2019
SRP: $9.99
HEROES IN CRISIS #9 (OF 9)
(W) Tom King (A/CA) Clay Mann
The most-talked-about miniseries of the year reaches its stunning finale! The mystery behind the murders at Sanctuary is solved, but the mind behind it is one the heroes never expected. With their deepest secrets exposed, the Trinity has to consider how to carry on. Should the tragedy cause them to redouble their efforts to help their hurting comrades, or will they need to close up shop? The answers will be found in the ashes of this final showdown, and the fates of Booster Gold, Harley Quinn and the rest hang in the balance.In Shops: May 29, 2019
SRP: $3.99
DOOMSDAY CLOCK #10 (OF 12)
(W) Geoff Johns (A/CA) Gary Frank
This stunning issue of the critically acclaimed hit maxiseries reveals the secrets behind Dr. Manhattan and his connection to the DC Universe.In Shops: May 29, 2019
SRP: $4.99
BATMAN LAST KNIGHT ON EARTH #1 (OF 3) (MR)
(W) Scott Snyder (A) Jonathan Glapion (A/CA) Greg Capullo
Bruce Wayne wakes up in Arkham Asylum. Young. Sane.
And…he was never Batman.
So begins this sprawling tale of the Dark Knight as he embarks on a quest through a devastated DC landscape featuring a massive cast of familiar faces from the DC Universe. As he tries to piece together the mystery of his past, he must unravel the cause of this terrible future and track down the unspeakable force that destroyed the world as he knew it…
From the powerhouse creative team of writer Scott Snyder and artist Greg Capullo, the team that reinvented Batman from the emotional depths of "Court of Owls" to the bombastic power of DARK NIGHTS: METAL, DC Black Label is proud to present the bimonthly, three-issue miniseries BATMAN: LAST KNIGHT ON EARTH, published at DC's standard comic trim size.
This could be the last Batman story ever told…
Prestige FormatIn Shops: May 29, 2019
SRP: $5.99