Garth Ennis And Alan Moore Are All Over Avatar Press' Septermber Solicitations
Taking a look at the September solicitations for Avatar Press, two names apear over and over… Alan Moore and Garth Ennis. There is a new printing of the Crossed Vol 1 trade by Ennis and Jacen Burrows and issue 21 of War Stories with Tomas Aira. There is a special cover of Providence #10 from Moore, Burrows and Michael DiPascale and then there is Cinema Purgatorio #5 with Moore, Ennis, DiPascale as well as Max Brooks, Kieron Gillen, Christos Gage, Kevin O'Neill, Raulo Caceres, Ignacio Calero and Gabriel Andrade.
Bleeding Cool is a subsidiary of Avatar Press.
CROSSED Vol 1 TPB (new printing)
Retail Price: $24.99 US
Cover & Art: Jacen Burrows
Writer: Garth Ennis
MR, Color, 240 pages, TPB
The best-selling horror series begins right here! Crossed is Ennis' horrifically visceral exploration of the pure evil that humans are truly capable of indulging and collected here are all ten heart-stopping chapters. This gut-wrenching vision is brought to vivid (and more than a little disturbing) life by his partner in crime Jacen Burrows. Imagine, for a moment, the worst crimes against humanity. Picture the cruelest affronts to decency. Conjure your darkest nightmares… and then realize it could all be so much worse. When civilization crumbles in one terrifying moment; when people are gleefully breaking into unthinkable acts of violence all around you; when everyone you love has died screaming in agony: What do you do? There is no help. There is no hope. There is no escape. There are only the Crossed.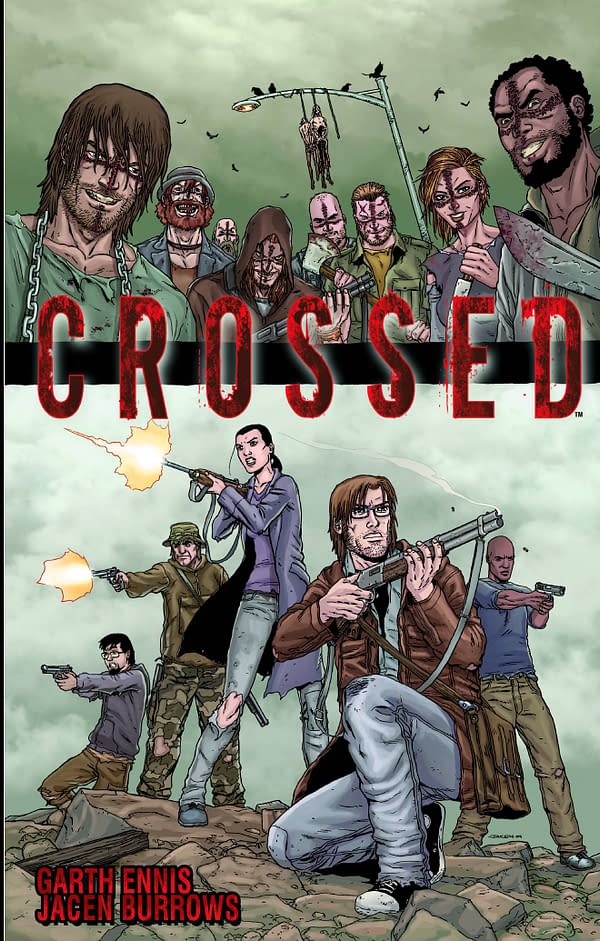 CINEMA PURGATORIO #5
Retail Price: $6.99 US
Cover: Kevin O'Neill
Writers: Alan Moore, Garth Ennis, Max Brooks, Kieron Gillen, Christos Gage
Artists: Kevin O'Neill, Raulo Caceres, Michael DiPascale, Ignacio Calero, Gabriel Andrade
MR, B&W, 48 pages, ongoing monthly, no ads
They've taken your ticket and ushered you to a seat. You know something is wrong here. You can feel it in the very fabric of the dingy and smoky theatre you sit in. It's an almost palpable dread you feel as the lights go down and the first reel begins to play… This issue continues Cinema Purgatorio by Alan Moore and Kevin O'Neill, A More Perfect Union by Max Brooks and Michael DiPascale, Code Pru by Garth Ennis and Raulo Caceres, Modded by Kieron Gillen and Ignacio Calero, and The Vast by Christos Gage and Gabriel Andrade. Each story has its own cover by the series artist and there is also an Ancient Tome Premium edition limited to 1000 copies.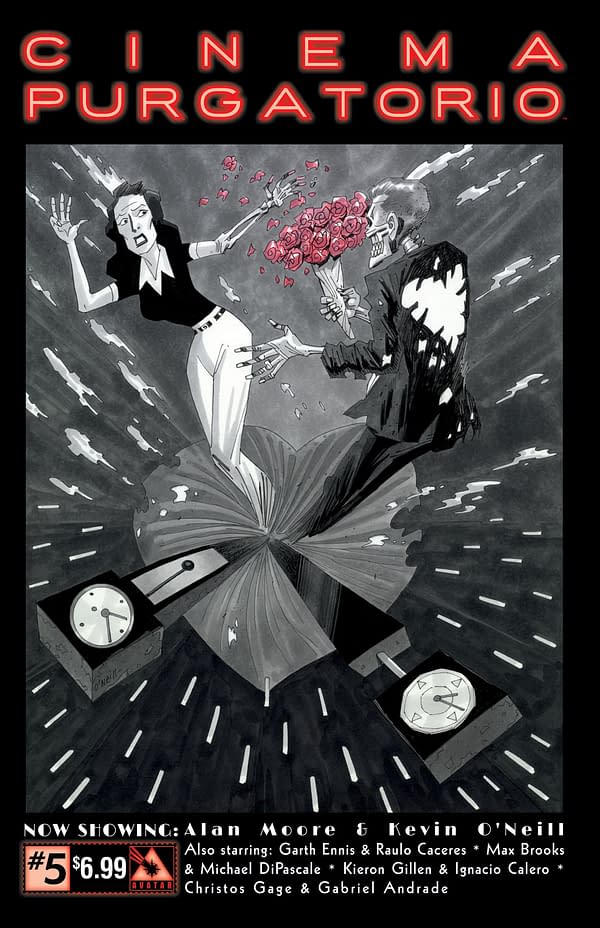 CINEMA PURGATORIO #5 A MORE PERFECT UNION CVR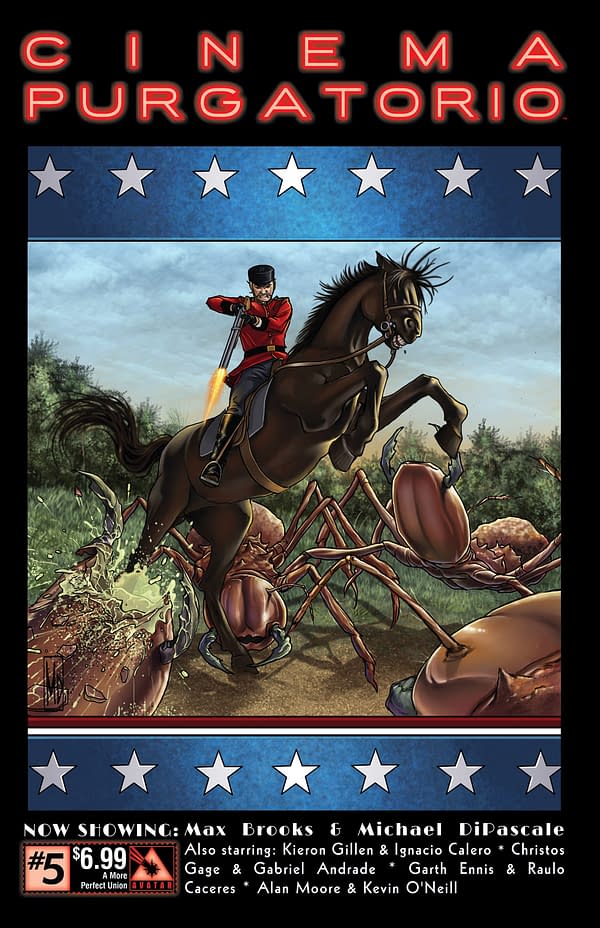 CINEMA PURGATORIO #5 CODE PRU CVR CINEMA PURGATORIO #5 MODDED CVR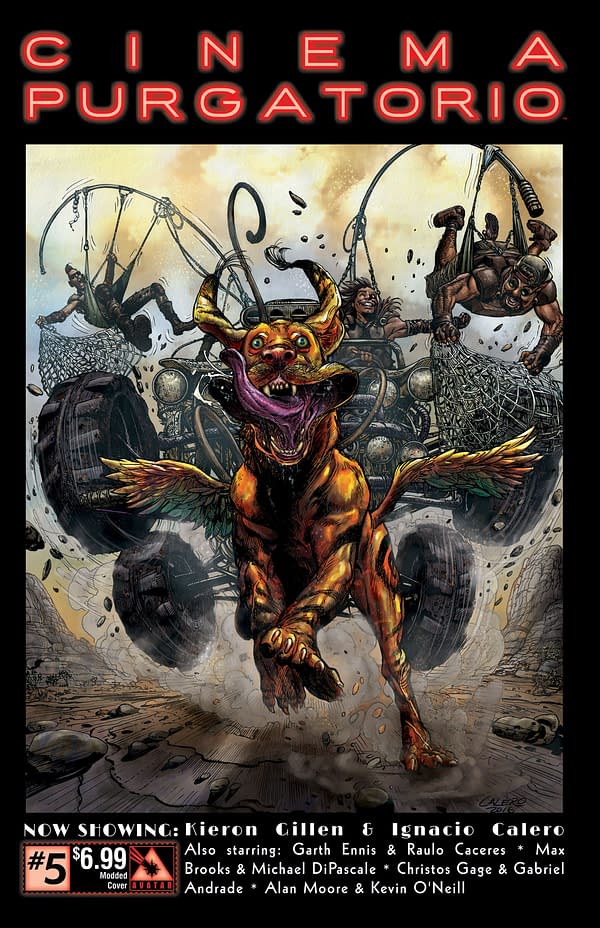 CINEMA PURGATORIO #5 THE VAST CVR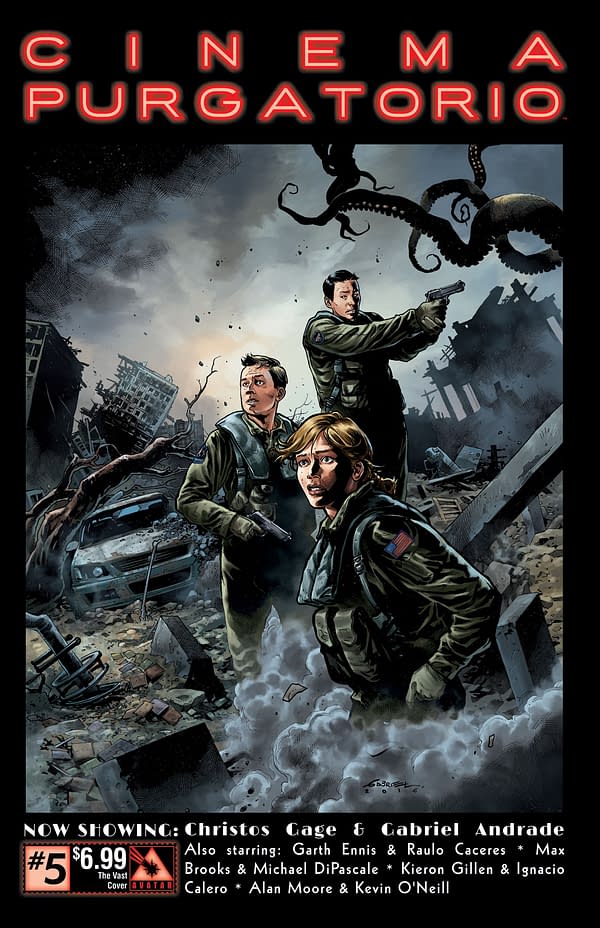 CINEMA PURGATORIO #5 ANCIENT TOME PREMIUM CVR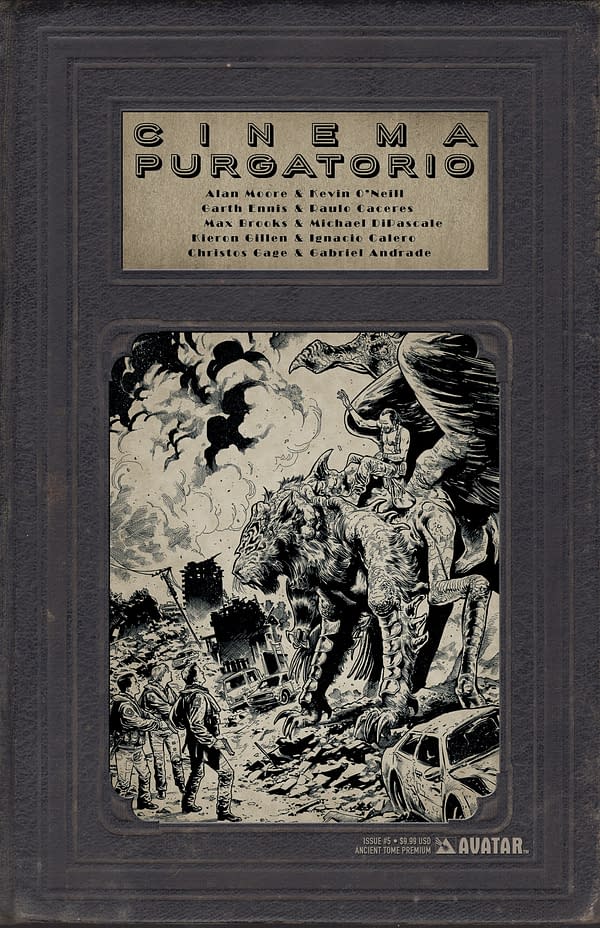 WAR STORIES #21 REGULAR CVR
Retail Price: $3.99 US
Writer: Garth Ennis
Cover & Art: Tomas Aria
MR, Color, 32 pages, bi-monthly
The squadron enjoys its first success over enemy territory, but intruder operations in occupied France bring hazards of their own. Terry finds love, while Donnelly and McKellar find anything but. Meanwhile, Stenberg can't figure out what he's found with Wozniak at all. But all the time the German bombers keep coming, and high explosive keeps raining down on London… Part three of the four-part Vampire Squadron, by Garth Ennis and Tomas Aira. Available with Regular, Wraparound Covers by Thomas Aria, Good Girl Nose Art, and Battle Damage Retailer Incentive Covers by Matt Martin.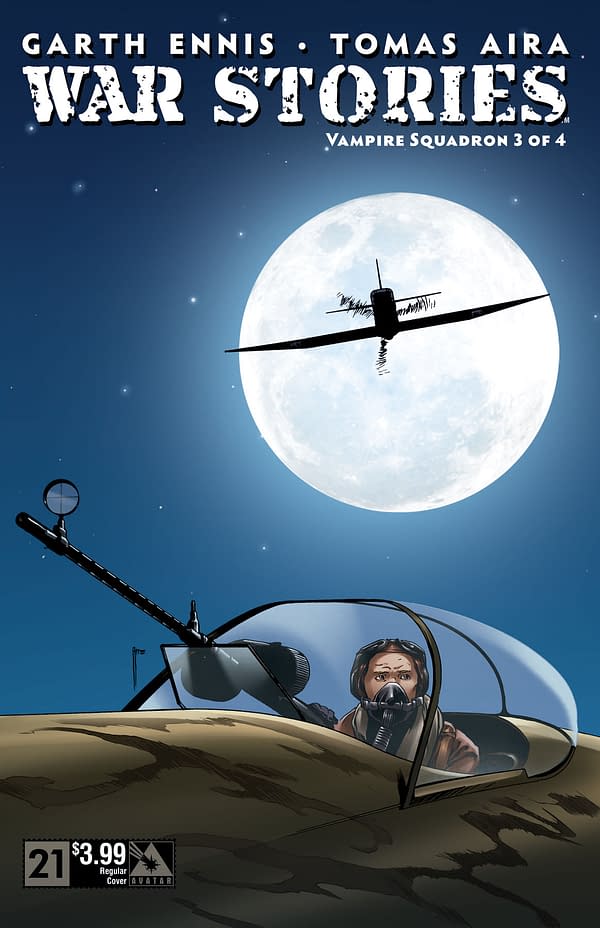 WAR STORIES #21 WRAPAROUND CVR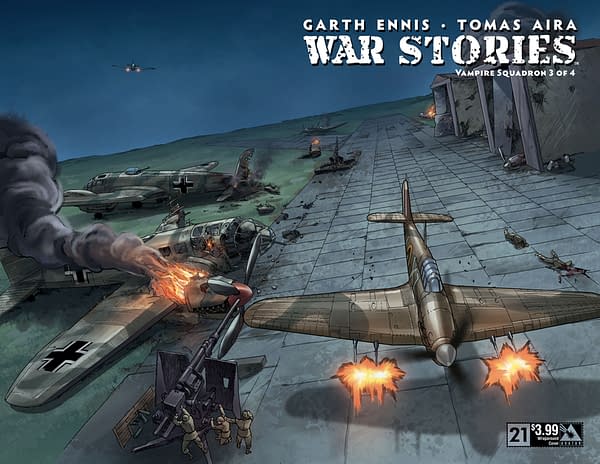 WAR STORIES #21 GOOD GIRL NOSE ART CVR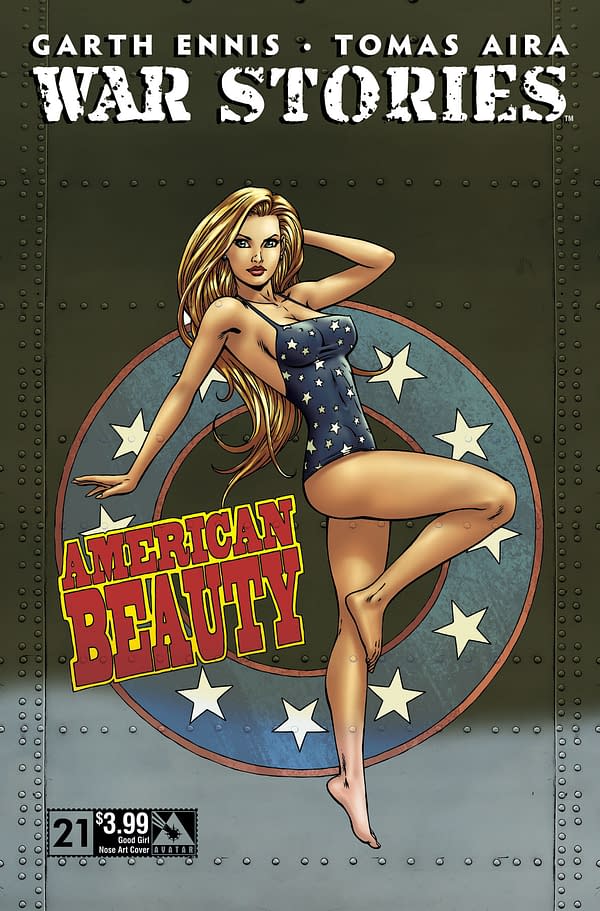 WAR STORIES #21 BATTLE DAMAGE PREMIUM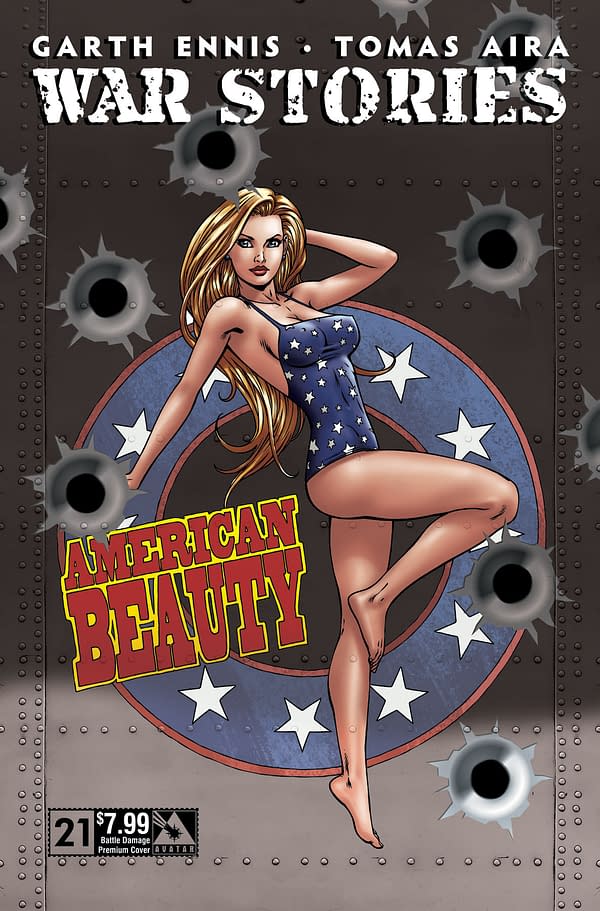 PROVIDENCE #10 WEIRD PULP CVR
Retail Price: $9.99 US
Cover: Jacen Burrows & Michael DiPascale
MR, Color, 40 pages
Painter Michael DiPascale delivers another uniquely terrifying vision of Alan Moore's Providence over pencils by collaborator Jacen Burrows! Limited to just 750 copies.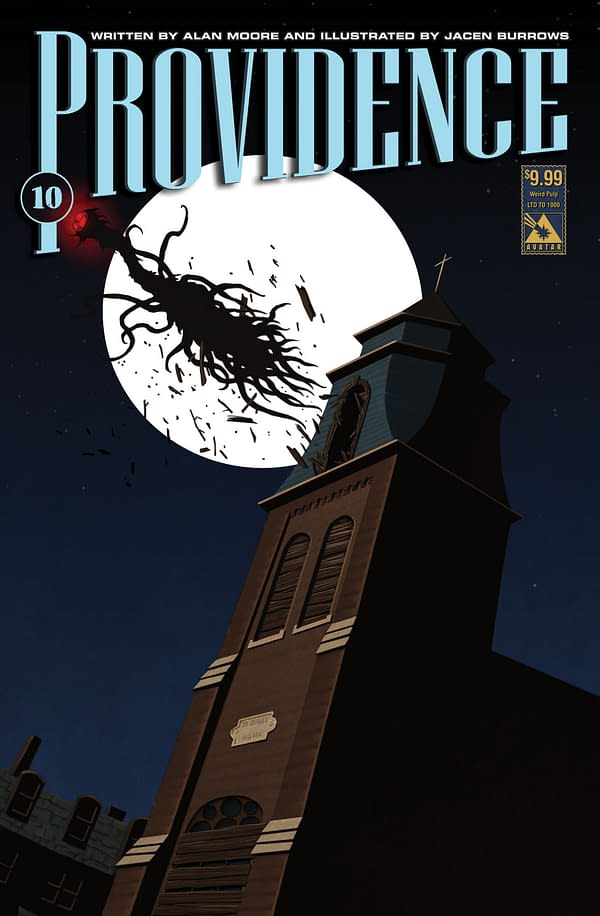 CINEMA PURGATORIO #1 ALAN MOORE PHOTO CVR
Retail Price: $9.99 US
Cover: Mitch Jenkins
MR, B&W, 48 pages
Renowned photographer Mitch Jenkins captures Alan Moore in character from the Cinema Purgatorio promo film on this special edition that is limited to just 1000 copies.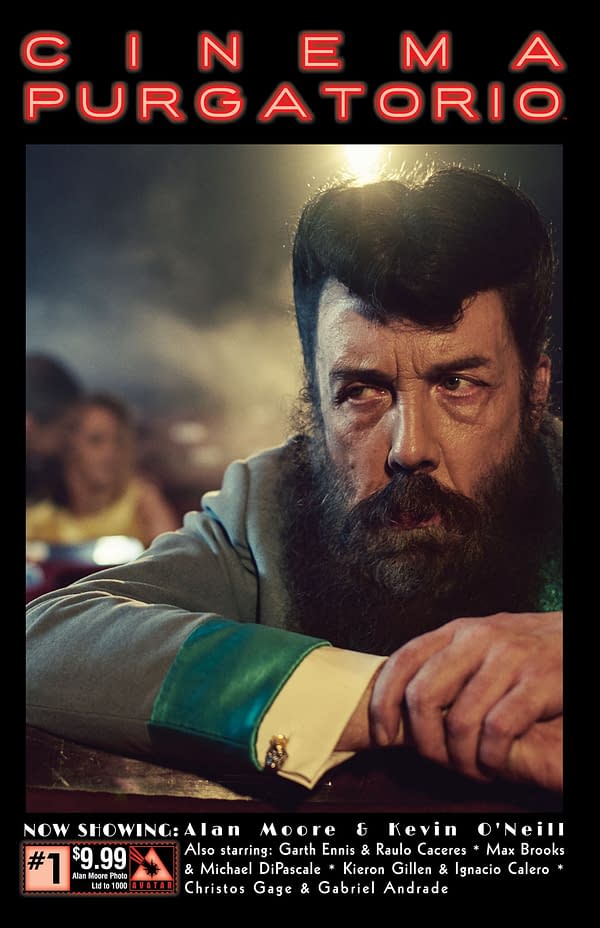 PROVIDENCE ACT 1 COMPLETE BOX SET
Retail Price: $149.99 US
MR, Color, 25 comics in a box
An amazing set for fans who are wanting to grab a complete set of covers to Providence #1,2,3,4, what we call Act 1. We have all six covers on each of the four issues included, all original first printings. This is the Regular, Wraparound, Women of HPL, Pantheon, Ancient Tome and Weird Pulp covers for all four issues! To top it off, we include the Providence Act 1 hardcover, with the limited cover that is signed by Alan Moore and Jacen Burrows! This amazing set is limited to just 100 boxes, so act fast as we expect a prompt sell-out!