DC Comics is launching Doomsday Clock #1 by Geoff Johns and Gary Frank, the comic book that will tell the story of the characters and world of Watchmen meeting that of the DC Comics Universe. The writer, DC President and Chief Creative Officer of DC, Geoff Johns has, however, skipped the country for the release and has run up to Canada for the Tuesday at 11:57 p.m. release of the comic.
And yes, we will have all of the usual objections to a creator-owned series by Alan Moore and Dave Gibbons into being perpetually published, rebooted, revamped, recreated, and franchised by DC Comics against the spirit of the original contract by the stint of no one ever thinking a graphic novel would remain in print back in 1985 — in essence becoming a classic case of corporate creative theft. It was a lesson learned by creators who followed, who insisted on very different contracts.
But, yes, we are weak, foolish creatures, and we'll still read it.
Johns will be appearing at Gotham Central Comics and Collectibles in Mississauga, Ontario for their midnight release party of Doomsday Clock #1 in a variety of four different covers, as well as exclusive lithographs and pins for the occasion.
Oh, and they'll be serving coffee, pancakes, and Doomsday Clock pizzas — that's unless the great god Glycon crashes the place and burns the store to the ground with everyone in it.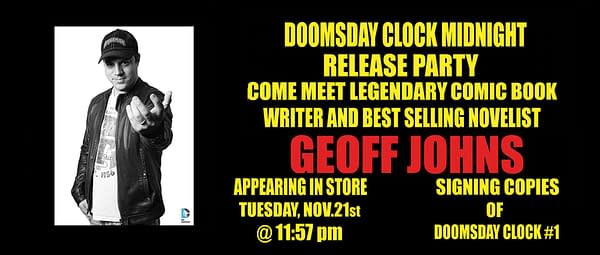 You never know.
Enjoyed this article? Share it!