Get Ready for Avengers vs. Eternals, True Believers
You haven't really made it in the Marvel superhero team business until you've had an "Avengers vs." crossover. Just look at how big the X-Men have become after that fateful 2012 super-mega-crossover event Avengers vs. X-Men that saw the two teams go to war over Captain America's desire to imprison a teenager on the moon for crimes she might commit in the future while under the influence of a bird-themed cosmic death god. As a result of The Avengers invasion of a sovereign mutant nation and bungled attempt at redirecting the power of the Phoenix Force into Iron Man, resulting in five X-Men getting the power instead and using it to turn the world into a perfect utopia, ending hunger, war, and other human problems, only for The Avengers to get super butthurt about that, all of this for the explicit purpose of turning Cyclops into a mustache-twirling villain for some reason, but we digress because we're not here to talk about Avengers vs. X-Men, we're here to talk about Avengers vs. Eternals, which will kick off in the upcoming Eternals #10, by Kieron Gillen and Esad Ribić, hitting stores in March and leading to "the biggest Marvel Comics storyline of 2022."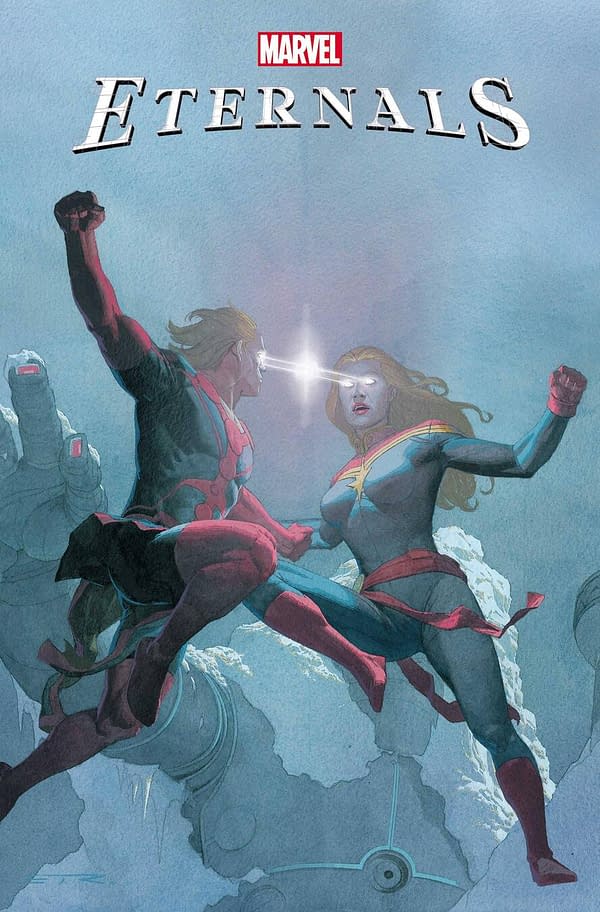 A press release from Marvel states:
Over the last year, writer Kieron Gillen and artist Esad Ribić have revolutionized the Eternals mythology in their acclaimed run on ETERNALS. Long-hidden truths about the nature of these god-like beings have been revealed, forever changing their role in the Marvel Universe, and this March, the Eternals may have brand-new enemies to contend with—THE AVENGERS!

The Eternals are on a pilgrimage together. Well, depends on who you ask — for it's not so much a pilgrimage…and more like breaking and entering into Avengers Mountain. But what the Avengers don't know won't hurt them…right?

Don't miss the lead-in to the biggest Marvel Comics storyline of 2022 when ETERNALS #10 hits stands on March 9!

ETERNALS #10
Written by KIERON GILLEN
Art and Cover by ESAD RIBIĆ
Run, Eternals! Run while you still can!