GLAAD 2023 Comics Award Nominations Name More Than Just the Writer
The GLAAD Media 2023 Award Nominations are out, and here are all the nominations for comic books, graphic novels and anthologies,
---
The 34th GLAAD Outstanding Award 2023 nominations are out, designed to recognise and honour media for their fair, accurate and inclusive representations of the lesbian, gay, bisexual, transgender and queer (LGBTQ) community and the issues that affect their lives. For the second year, they are giving two awards for the first time, one for single comic books and one for graphic novels/anthologies.
Last year, however, they continued their habit of only mentioning the writer. Things have really changed. Here are the 2023 nominations for outstanding comic book and outstanding graphic novel and they mention… everyone! Okay, almost everyone.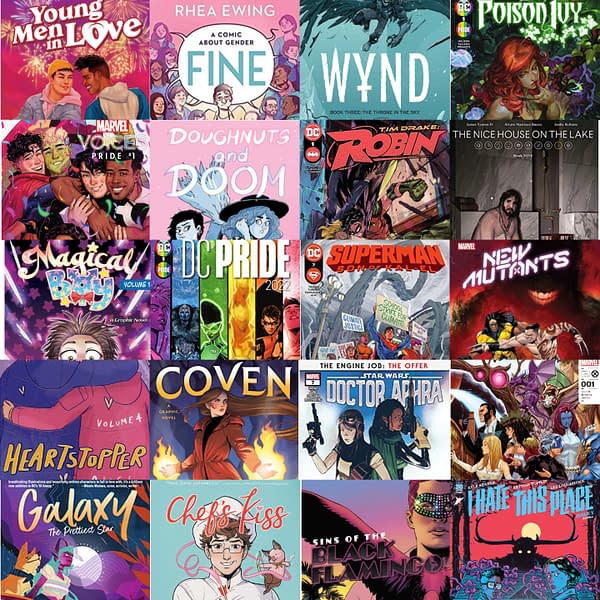 GLAAD 2023 Outstanding Comic Book
GLAAD 2023 Outstanding Original Graphic Novel/Anthology
Chef's Kiss, by Jarrett Melendez, Danica Brine, Hank Jones, Hassan Otsmane-Elhaou (Oni Press)
Coven, by Jennifer Dugan, Kit Seaton (Putnam)
DC Pride 2022 (DC Comics) [anthology]
Doughnuts and Doom, by Balazs Lorinczi (Top Shelf Productions)
Fine: A Comic About Gender, by Rhea Ewing (W.W. Norton & Company)
Galaxy: The Prettiest Star, by Jadzia Axelrod, Jess Taylor (DC Comics)
Heartstopper Volume 4, by Alice Oseman (Graphix)
Magical Boy, by The Kao (Graphix)
Marvel's Voices: Pride #1 (Marvel Comics) [anthology]
Young Men in Love (A Wave Blue World) [anthology]
DC Comics has six titles nominated, Marvel Comics has four and Image Comics has two. During a year when anti-transgender violence rose and lawmakers across the US introduced an unprecedented number of bills attempting to stop transgender youth from participating in sports and accessing gender-affirming healthcare, many of the nominees at the 34th Annual GLAAD Media Awards centred transgender people and issues with trans and nonbinary characters appearing in the nominated comic books and graphic novels New Mutants, The Nice House on the Lake, DC Pride 2022, Fine: A Comic About Gender, Galaxy: The Prettiest Star, Heartstopper Volume 4, Magical Boy, Marvel's Voices: Pride #1 and Young Men in Love.