Google Teams With Lucy Bellwood and Scott McCloud for Comic Explaining Federated Learning
Google wants to explain the concept of Federated Learning, an AI model designed to protect user privacy by keeping personal data on devices rather than on servers, and they've figured out the best way to illustrate a very complex concept: with comics!
Google has teamed with cartoonists Lucy Bellwood and Scott McCloud to create a comic about Federated Learning, posted on their website. Bellwood and McCloud wrote the script, with Bellwood providing the art.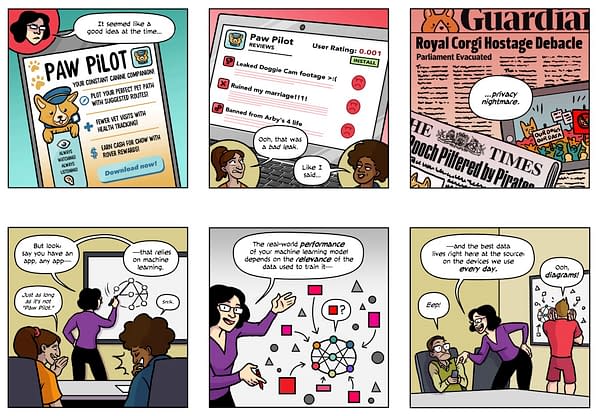 Federated Learning has been around for a while, and here's how Google tried to explain it back in 2017:
Standard machine learning approaches require centralizing the training data on one machine or in a datacenter. And Google has built one of the most secure and robust cloud infrastructures for processing this data to make our services better. Now for models trained from user interaction with mobile devices, we're introducing an additional approach: Federated Learning.

Federated Learning enables mobile phones to collaboratively learn a shared prediction model while keeping all the training data on device, decoupling the ability to do machine learning from the need to store the data in the cloud. This goes beyond the use of local models that make predictions on mobile devices (like the Mobile Vision API and On-Device Smart Reply) by bringing model training to the device as well.

It works like this: your device downloads the current model, improves it by learning from data on your phone, and then summarizes the changes as a small focused update. Only this update to the model is sent to the cloud, using encrypted communication, where it is immediately averaged with other user updates to improve the shared model. All the training data remains on your device, and no individual updates are stored in the cloud.
But that's a lot of words, and big ones at that. Pictures are better. And comics can be edumucational. So head over to Google's website if you want to learn about Federated Learning in less time than it takes to read an issue of Amazing Spider-Man.