Grant Morrison Had Ideas for 12 Issues of Green Lantern
This morning DC Comics went official with the Grant Morrison and Liam Sharp Green Lantern story we ran back in April. Another one on the checklist.
Dan DiDio has been doing his best impersonation of Grant Morrison, when DiDio approached him to write the stories of Hal Jordan, The Green Lantern. Who has worked for DC Comics for 30 years without writing the franchise.
Bleeding Cool's Marcos Salinas reported Dan's impression as "I can't be doing Green Lantern, there's just too much on my plate," and describing it as "law and order in space". He then told DiDio, "I have an idea for 12 issues already," and turned it in within a month.
DiDio talked about talking with Liam Sharp for hours during the Wonder Woman premiere, about originally planning to draw Hawkman begore suggesting Green Lantern.
This is going to be a space procedural comic book, dealing with a monster making a megastructure blocking a sun, causing tidal waves, with a Green Lantern there to say "Oi! You can't park this here."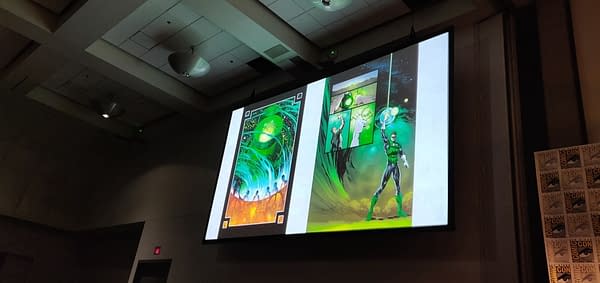 But the comic is meant to question the notion of justice in a universe with only two human Green Lanterns… hmm.
Hal is being redefined as a savant drifter prior to Green Lantern, and we will have Steve Oliff as colourist.