A young woman with mysterious powers rescues a shape-shifting loser in the first issue of Grumble, the latest comic from writer Rafer Roberts (Modern Fantasy) and illustrator Mike Norton (Battlepugs). Grumble is a title that defies description, as it deftly combines humor, horror, science fiction, and fantasy tropes into one story.
Tala is a young woman who needs help, and she finds it in the form of Eddie, a man who just got busted cheating at cards. Tala rescues Eddie from the clutches of the Imp, a gangster that runs the club Eddie was cheating in. Here's where things take a twist; Grumble is set in a world where two realities collided together during a celestial war, and creatures both mundane and fantastical co-exist. The Imp literally is an imp, and his bouncers are hulking ogres. Oh, and Tala is half-demon, and can lay a suggestive "whammy" on people she makes eye contact with.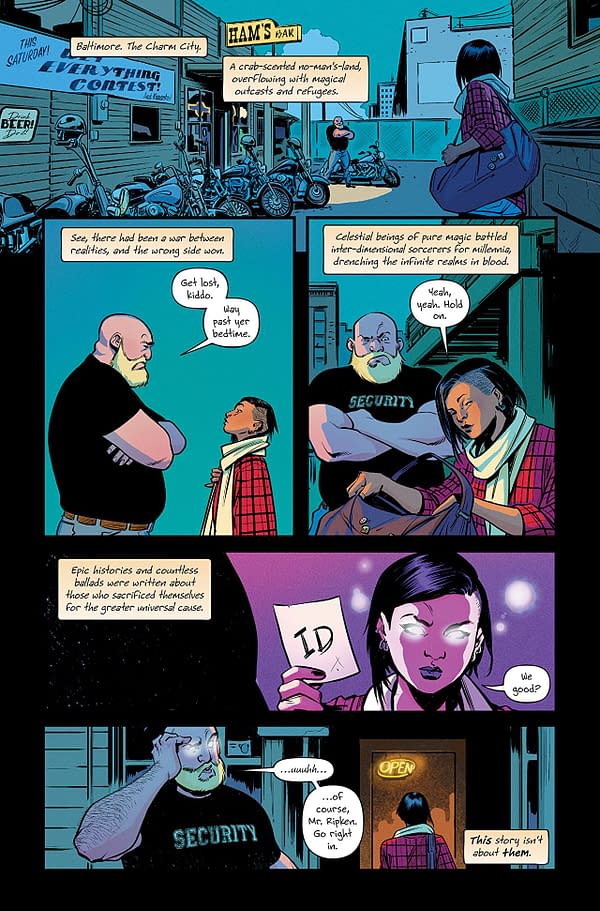 And did I mention that Eddie can turn into a dog? Because he can. And it's awesome.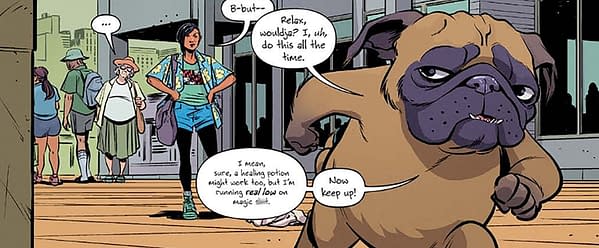 Right when things start to click between Tala and Eddie, the story shifts to deep space, where a bug is fighting a pitched battle against assassins. I like space bugs a lot, and if you throw a gigantic cannon on that space bug, I'm going to love your book in ways that are indecent in several states.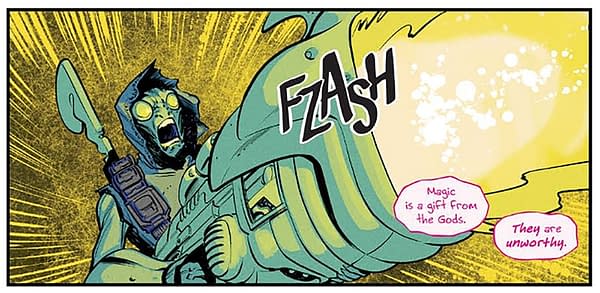 Sadly, things don't go well for my bug buddy, but his assassin has more important things to do, anyway. Tala is a fugitive from Space Law, and the assassin sets off to earth to bring her down.
Grumble is an entertaining read, and the characters are established nicely before the end of the first issue. Tala and Eddie have an easy chemistry, and they fall in to working cons together almost immediately. Rafer Roberts' dialogue is fun and punchy, and the story is clear enough to follow despite the extra-dimensional and interplanetary exploits going down.
Mike Norton's art is crisp, and he keeps the action flowing. Panels are clean, and the color palette from Marissa Louise accents the line art nicely. There is nothing revolutionary about the art in Grumble, but it fits the narrative well and gets the job done. One area that Norton really shines, though, is with Eddie in his dog form, which isn't surprising considering his work on Battlepugs. The aliens and monsters in Grumble are pretty fun, too.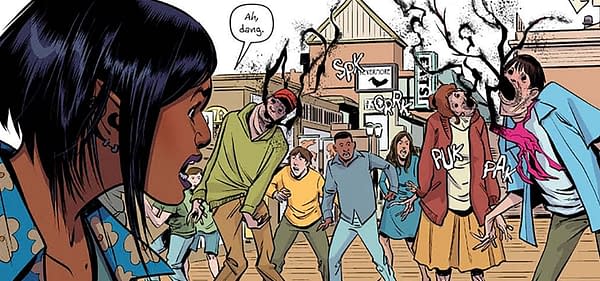 The lettering from Crank! is atypical of the overall comics tableau, with looser lines that convey the more conversational feeling of the book nicely.
It's much too early to tell where Grumble is going overall, but I'm entertained with it, even with just the first issue. There were a couple of good laughs, the story clips along at a good pace, and there's just enough weirdness to keep you guessing. There is a fair amount of violence and profanity, so if you're squeamish about either, this may not be the book for you.
SUMMARY: Writer: Rafer Roberts, Artist: Mike Norton, Colorist: Marissa Louise, Letterer: Crank!, Editor: Danny Khazem, Publisher: Albatross Funnybooks, Release Date: Out Now, Price: $3.99.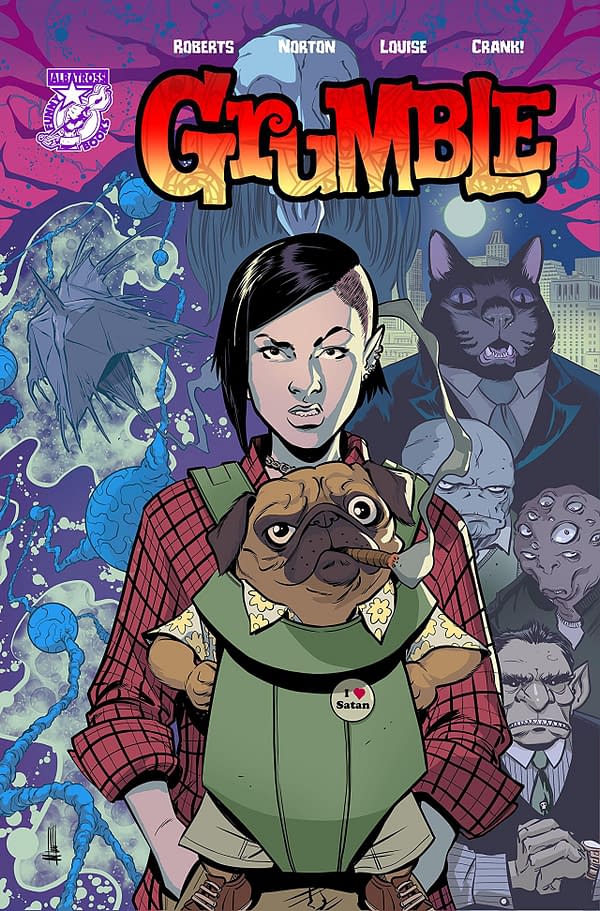 Enjoyed this article? Share it!