Guardian of Fukushima: Graphic Novel Launching Ahead of Anniversary
TOKYOPOP is releasing Guardian of Fukushima, a graphic novel about the man who stayed to protect the animals of Fukushima after the nuclear plant meltdown.
---
TOKYOPOP is publishing Guardian of Fukushima, a moving new graphic novel depicting the true story of the aftermath of the devastating 2011 earthquake and tsunami in Tohoku, Japan, from the perspective of Naoto Matsumura, an ordinary man who risked his life by remaining behind to care for animals left behind following the disastrous meltdown at the Fukushima Daiichi nuclear power plant.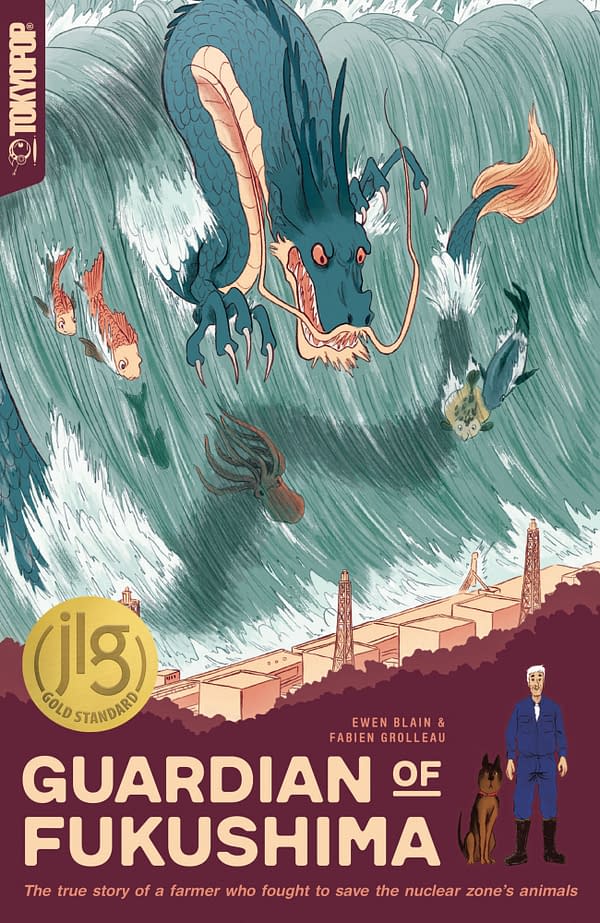 Guardian of Fukushima is part of TOKYOPOP's "Comics That Matter" initiative that utilizes the graphic novel medium to raise awareness about important causes and social issues. The graphic novel debuts in time for the March 11th anniversary of Japan's tsunami and follows on the heels of the company's heart-wrenching graphic novel collection, Victory for Ukraine, which featured nine stories by Ukrainian creators focusing on the heroism of the Ukrainian freedom fighters in the face of overwhelming forces.
GUARDIAN OF FUKUSHIMA
written by Fabien Grolleau, artwork by Ewen Blain · 144 Pages · Print MSRP: $19.99 · ISBN-13: 9781427871367 ·
On sale February 28th
Guardian of Fukushima is aimed at readers of all ages with its soft, expressive art style and impactful story and characters. The book, written by French author Fabien Grolleau and poignantly illustrated by Ewen Blain, blends European art style with Japanese aesthetics and characters while spotlighting key issues affected by the tragedy. The book features a forward written by Roland Kelts, Tokyo-based writer, journalist, scholar, and renowned authority on Japanese culture. Bonus content in TOKYOPOP's edition includes photographs of the disaster and its aftermath by acclaimed photographer and Fukushima resident Ko Sasaki, along with photography and information about the tragedy by TOKYOPOP founder and Pray for Japan filmmaker Stu Levy.
"I will never forget my experiences in Tohoku immediately after the tsunami, especially the
resilience and determination of the local people," says TOKYOPOP founder Stu Levy. "Naoto
Matsumura exemplifies this spirit – and his will to not only survive but also to ensure the survival of the creatures he loves. I am proud we can bring readers Fabien and Ewen's extraordinary work as part of our Comics That Matter initiative, and I invite readers of all ages to discover his mission and become inspired to find ways to make a difference in their own communities."
"When I discovered Matsumura-san's life in the forbidden zone of Fukushima, I immediately was in awe of this man's courage, modesty, and nobility," recalls Guardians of Fukushima author Fabien Grolleau. "His story is full of hope and resonated with themes I was keen to explore as an author, such as ecology and nature, and with the vision I had of Japanese myths that I wanted to share through comics."
"I am honored to contribute to this project, which is an artistic celebration of nobility and perseverance in the face of tragedy and incompetence," says Roland Kelts. "It's also beautiful, and I'm grateful that TOKYOPOP is publishing Guardian of Fukushima for English readers worldwide."
It was March 11, 2011, when a massive earthquake triggered a devastating tsunami, which, in turn, destroyed the cores of three reactors of the Fukushima nuclear power plant in Japan. This tragedy cost almost 20,000 lives and devastated countless more, including that of Naoto Matsumura, a farmer evacuated from the deadly radiation zone.
Unwilling to abandon his beloved animals, Naoto chooses to return home to his farm — and to fight for the beauty of life. This important graphic novel originating from France alludes to timeless Japanese legends as an ode to Mother Nature and human resilience. Guardian of Fukushima was originally released by the French publisher, Steinkis and has been licensed for English language release by TOKYOPOP.