Last week, Bleeding Cool let you know about a certain scene in the most recent issue of Catwoman. At the time, no one else seemed to have thought it worthy of commentary.
Afterwards, a few people did decide it was worthy of commentary. Like The Guardian, the Daily Mail, the BBC, the Verge, Washington Times, South China Morning Post, Boing Boing, CNN, Bustle, Blastr, and basically everyone else.
Well, today sees the publication of Harley Quinn. Starring a character who has certainly dabbled with same-sex attraction in the past. But today? I think Harley is a little jealous of those Catwoman headlines. Though I think HR might disapprove of such hiring techniques, as well as not running a felony check before hiring Poison Ivy for such a role. And the role of alcohol in such situations is also a controversial one of late.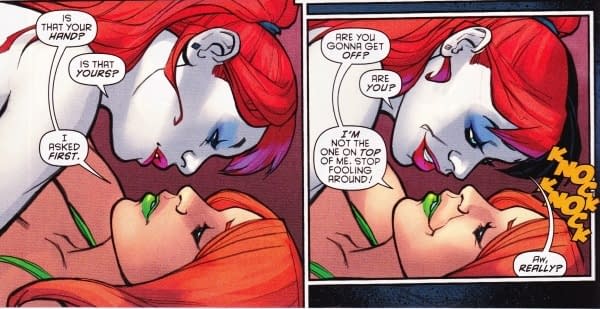 But they get interrupted just before the Guardian would be interested in running a headline. Thankfully, Bleeding Cool isn't that fussy… …and that should help define it as well.
Catwoman, Harley Quinn and Constantine – if the creators remember.
Find more coverage of comics published today right here.
Harley Quinn is published today by DC Comics. Comics courtesy of Orbital Comics, London. Who are welcoming Scott McCloud this Saturday for drinks and signing of his new graphic novel, The Sculptor…
Enjoyed this article? Share it!