Yesterday, it was announced that the three finalists for the Angoulême Grand Prix award, which celebrates a comic book creator's lifetime contributing to the form, were Alan Moore, Katsuhiro Otomo and Hermann.
Moore had previously declined the nomination. And yesterday, Hermann also declined the nomination. If Moore continues to reject this year's call, then it looks like it will be a lock for Otomo, the first Japanese comic creator to receive the honour.
And, unlike this year's winner Bill Watterson, Otomo does travel, tarvels abroad and has been to France. So can we expect Otomo as President of Angoulême in 2016?
UPDATE: Hermann has had a change of heart it seems….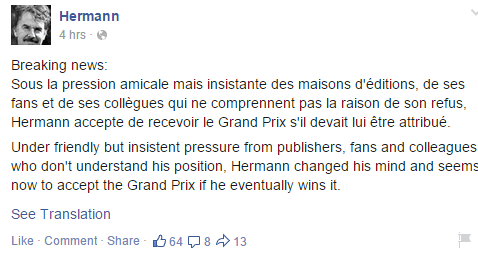 Enjoyed this article? Share it!