Holy Bat-Tynion! Something Is Killing The Children #1 Hits A Fifth Printing
Thanks to Richard Epstein and Sofia Annunziata, reporting for Bleeding Cool from the NYCC Diamond Retailer Breakfast.
James Tynion IV is having a very good year. And this morning at NYCC, it got even better thanks to BOOM! Studios.
We told you that he was becoming the new writer of Batman, before DC Comics probably wanted us to and we, as usual, got it bang-on.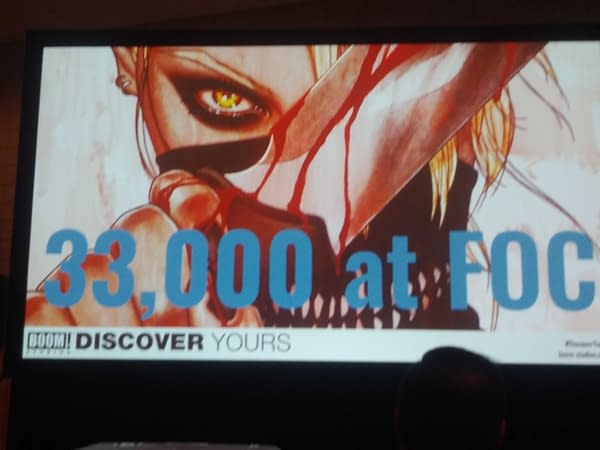 But his creator-owned series Something is Killing The Children has also been quite the hit this year, as I'm told executives at Marvel and DC have been chatting quite a bit about how the series got so quickly to a fourth printing and managed to crush that all-important 20,000 unit mark on the second issue.
Even Warren Ellis is singing his praises.
However, Boom Studios President of Publishing & Marketing Filip Sablik announced a bit of news this morning the Diamond Retailer breakfast – namely that Something is Killing The Children #1 has sold out of its fourth printing and is now going to a fifth printing.
This is after Sablik had to apologize for not printing enough of previous printings and then making sure every FOC order for the fourth printing was filled.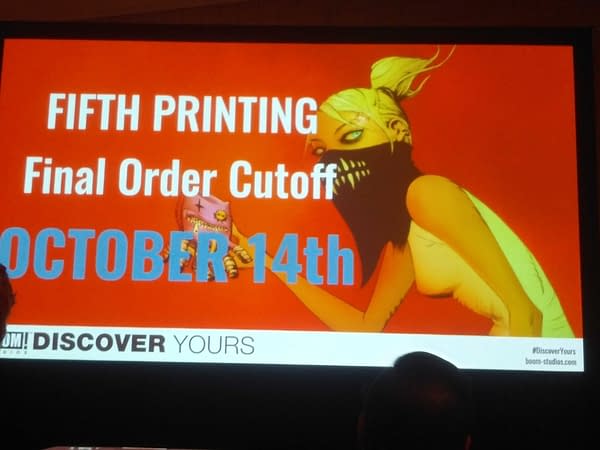 I'm told this will likely bring first issue sales over the 50,000 mark – which is a number those aforementioned DC and Marvel execs would love to see some of their launches hitting these days. Though it's safe to say DC is expecting Tynion's Batman to double those numbers – it is Batman after all.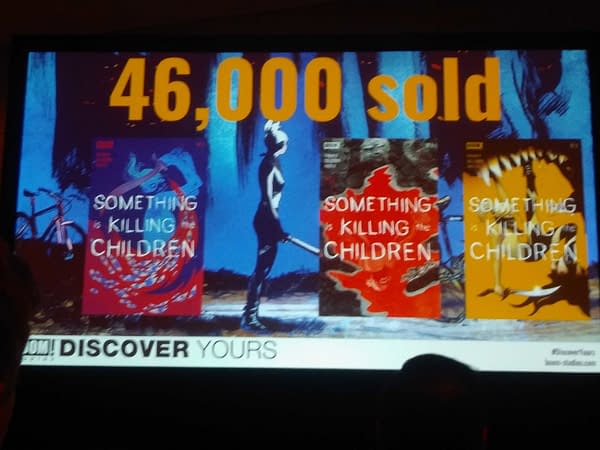 Horror has long been a strength of Boom Studios, from their hit series Faithless this year by Brian Azzarello and Maria Llovet to one of their earliest hits in Cullen Bunn's The Empty Man, which will be released as a feature film by Disney in 2020.
So while readers AND speculators are onboard the Something is Killing The Children train, they might want to turn their gaze towards December's The Red Mother. This is their next big series, but most importantly Boom's next big horror launch – and we've already noted their positioning it as one of their biggest books equal to their upcoming Power Rangers & Ninja Turtles crossover event.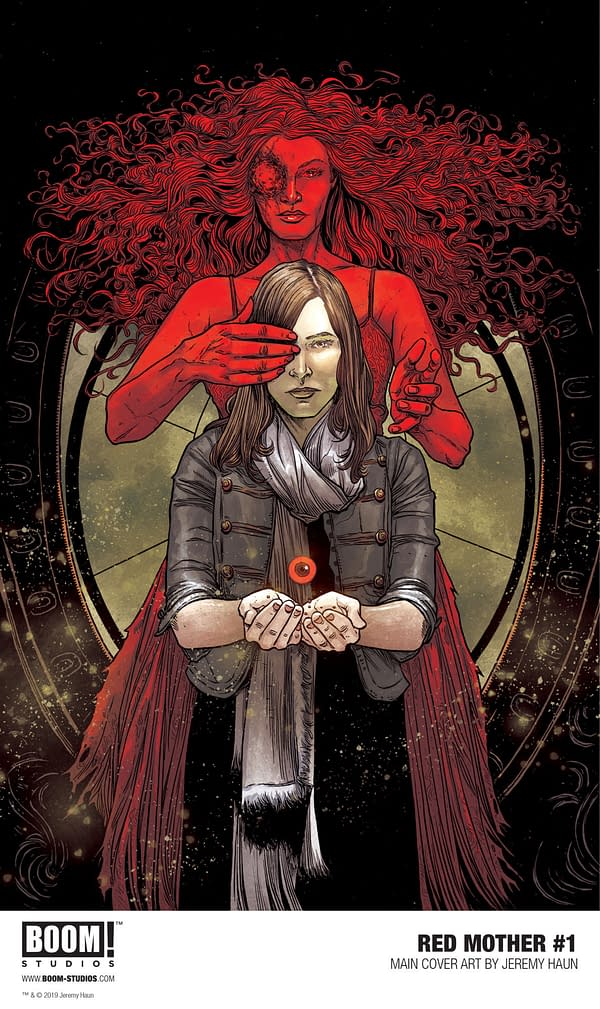 Writer Jeremy Haun is known for his hits as a writer and an artist – The Beauty and The Realm being two recent examples with Image Comics – but Boom is where talent like Kieron Gillen (Once & Future), Brian Azzarello (Faithless) and, as we mentioned, James Tynion IV are having some of the biggest hits of their careers, equaling or perhaps surpassing their success at Image Comics.
There's a lot of focus rightfully on Image Comics' recent record-breaking hit with Spawn #300 and their upcoming Scott Snyder/Charles Soule Undiscovered Country, so some retailers might just sleep on The Red Mother…and find themselves inundated with new readers & speculators on launch day just as with those aforementioned BOOM! hits.
With Something is Killing The Children #1 aiming to cross the 50,000 units threshold, horror has never been hotter for BOOM! – and they're certainly positioning The Red Mother #1 as the next hit series in that mold.
But will your retailer have enough copies on hand?
Something is Killing The Children #1 5th Printing is on sale November 6th.
The Red Mother #1 hits comic shops on December 11th.
Catch up with more of our Retailer Breakfast coverage today with this handy-dandy tag.