House Of X and… White Nationalism?
Last week saw the final issue of Powers of X #6 by Jonathan Hickman and RB Silva, and the conclusion of the weekly run for the last three months between that title and House Of X, setting up the new Dawn Of X titles. It saw Charles Xavier abandon his dream of integration of mutantkind and humanity in favour of, for want of a better phrase, a two-state solution. One for humanity, one for mutantity. Indeed, it seems that this was always his plan, after learning the truth about the future from Moira MacTaggert long before he even formed the X-Men. Which means he has been hiding it very well, since it goes against all he has previously said and, indeed, thought.

There have been all manner of reactions to the finale, but there's one that has been sent to me more than any other, by Brett Schenker for Graphic Policy. Who stated;
Hickman has positioned the future of the X-Men not as the allegorical representation of the struggling minority. Instead, Hickman's X-Men has taken on the role of nationalist. Specifically, the white nationalist raging against their inevitable loss to demographics and the future.
And concluding
While I'm excited as to where this all goes at the same time it feels like the heart of the X-Men has been ripped out from them. They have often reflected the socio-political reality of the time and here they take on the role of the bad guys, nationalists fighting for dominance due to a perceived superiority. And much like those nationalists in all reality they will lose… when Moira dies down the road and this is all rebooted again.
Which has gotten all sorts of people upset.
Awe, someone doesn't like my take on House of X and Powers of X… I'm heartbroken… Not really.

— Brett Schenker (@bhschenker) October 12, 2019
To what extent is Brett right? Well, the comic book storyline sees the characters come down entirely on the side of Magneto, who wanted mutants and humanity to live apart (ideally humanity ruled over by mutantkind) – which is pretty nationalistic and separatist, but also as a result of massive war against mutantkind by humanity, histories that Moira has lived through and now shared with Professor and Magneto. And in the series, we see humanity about to do exactly the same thing again, with a Mother Mold.
Rather than being a reflection of white nationalism, it smacks far more of Israel, Jewish settlers finding a homeland after the horrors they were subject to during the Second World War. Which, of course, has its own political controversies these days. Indeed, I don't think we are meant to find the events entirely palatable or settled. But it does mean that Charles has been lying to everyone forever. And arguing with Magneto all the time – now, what, revealed as play-acting? even when alone? Because from Charles' perspective, Magneto was always right.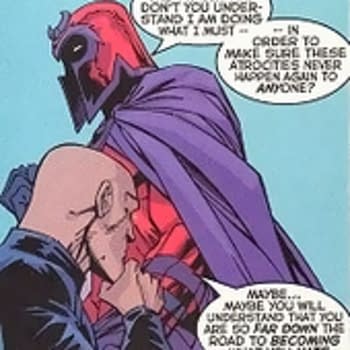 Anyway, I chatted with Brett about this online and in the comments, asking if it were better suited to an analogue of Zionism rather than white nationalism. He told me
Good question. It has aspects of both, especially when you look at the quasi-religious aspects of Krakoa/X-Men. But, they go beyond just the establishment of a homeland. No non-mutants are allowed to live, or really enter, their community. That's beyond Zionism. They also make numerous statements of their superiority of which the first issue has one of the most memorable stated by Magneto in the beginning with "we're your gods now."

If you want to go the Zionist route, the analogy gets more disturbing and borders anti-Semitic in that you have to factor in the manipulation with telepathy to gain recognition, Moira's manipulating history, and the use of drugs to gain recognition. It all echoes the idea of Jews manipulating the world so of which is in the shadows. That concept can also apply to white supremacy (the term for nationalism before it got a PR shift) then it's not as problematic and the analogy can still fit.
And he promises a longer, more incendiary piece will be coming. Well, um, I guess that will be fun. Let's check back, shall we?