The House Of X series came to a conclusion today with Powers Of X #6. Spoilers going forward of course. It's that kind of website. At least we wait till the comic is actually published. Mostly.
We looked at how the creative team got away with doing the exact same twist in the exact same way again. And no, I didn't see it. Earlier today, a Marvel executive caught me swearing at Jonathan Hickman via them. I understand I may not be alone in that simultaneous admiration/self-frustration.
And as this new reality threatens to spill out across the rest of the Marvel Universe, has it sowed the seeds of its own destruction in the final issue?
As the future is left wide open, Moira talks about not bringing back Destiny with the other mutants, brought back to life. Even though this was the price demanded by Mystique for participating with the Quiet Council of Krakoa. So that's something bound to burst at some point.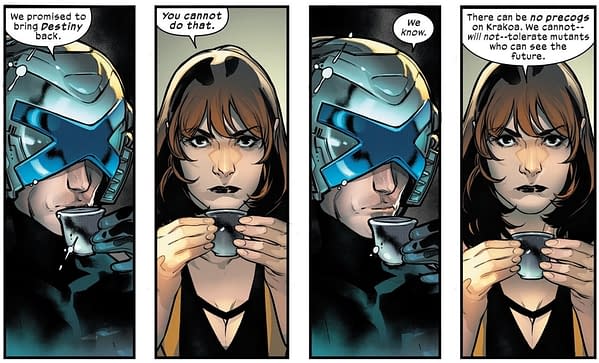 Moira talks about the danger of having anyone with time-travel precog powers who might be able to tell people about the various timelines, and all the ones that failed.
Is it worth reminding her that Eva Bell, is one of the five mutants central to reviving every mutant who died, using her time travel powers to speed up the gestation process? And has travelled to the future?
Throw in Kitty Pryde who is probably going to be the new Red King of the Hellfire Club and join the Quiet Council, with Emma Frost and Sebastian Shaw. And she has her own book, Marauders, as Captain Pryde. As she matures, her powers of intangibility may apply to time as well as space.
As for those with precog powers, that's Betsy Braddock, Psylocke, the new Captain Britain over in Excalibur. Layla Miller. Damian Tryp. It's not just Destiny…
Are they all potential threats to the current status quo?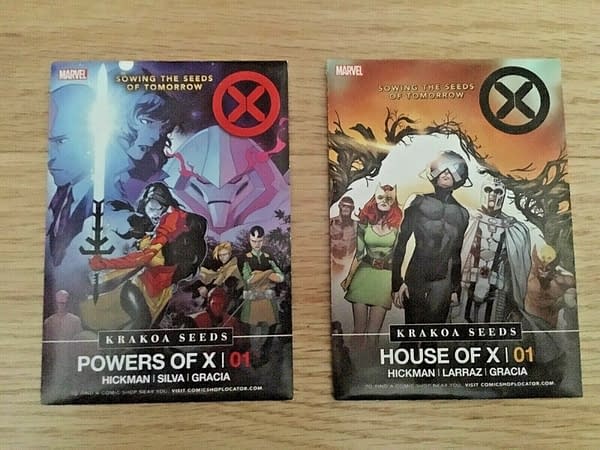 POWERS OF X #6 (OF 6)
(W) Jonathan Hickman (A/CA) R. B. Silva
THE INEVITABLE TRUTH.
The revelatory tale of Mutantkind's fall comes to a conclusion that will lay the groundwork of the X-Men's stories for years to come! Superstar writer Jonathan Hickman (NEW AVENGERS, FF, INFINITY) and rising star artist RB Silva (UNCANNY X-MEN) wrap the series that reveals everything!
Rated T+In Shops: Oct 09, 2019
SRP: $5.99
Enjoyed this article? Share it!