How Ironic Is The Title Of Batman & Robin Eternal? From Today's Batman Day Comic (SPOILERS) #BatmanDay
For Batman Day, DC Comics and retailers are giving away a Batman comic that reprints the first issue of the Batman: Endgame story.
It also has an eight page preview of the new Batman & Robin Eternal comic by James Tynion, Scott Snyder and Tony S Daniel, starting in a week-and-a-bit. And it looks like it may be as much of a gamechanger as this week's Gotham By Midnight was for The Spectre.
We think we know the story of Batman and Dick Grayson, Robin. But we've never actually seen it in the New 52, just referred to it. We have never had the Batman: Year Two story this time around. And this time, we are getting a twist.
The comic starts five years ago, with a computer file being read by Batman. And a voice speaking to him.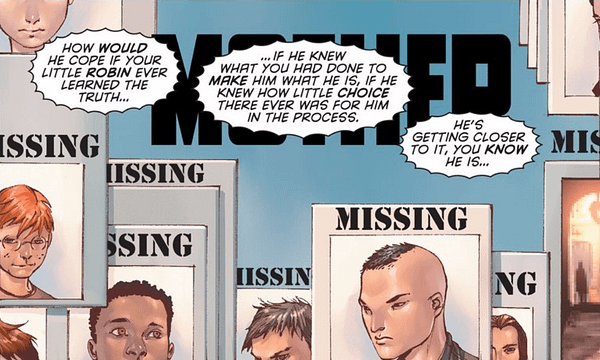 If Snyder's Superman Unchained was reminiscent of Rick Veitch's Maximortal then this is Rick Veitch's Bratpack.
A conspiracy over who Robin is – why he is – and why there seem to be so many of him? Missing children – how many of them could have been proto Robins?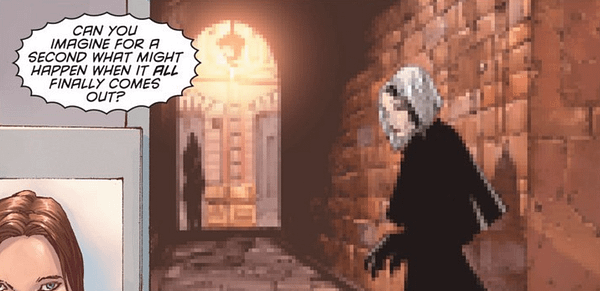 And a mysterious pixellated female figure… somehow involved in… whatever this conspiracy is…

Well that's a thing. Of course, right now, Bruce Wayne is no longer Batman, no longer remembers being Batman, no longer wants to be Batman, he is helping out in his own way. And the rest of the Batfamily is picking up the pieces.
There may well be a roadmap back to the Bat.
But Batman And Robin Eternal?

It's not looking good is it?
Batman: Endgame Special Edition #1 is free in comic stores today, for Batman Day, and free on ComiXology right now.