How Kang Got His Stripes (Kang The Conqueror #1 Spoilers)
Today sees the publication of Kang The Conqueror by Collin Kelly, Jackson Lanzing, and Carlos Magno from Marvel Comics, Kang's first comic book of his own, in the wake of the Loki TV series. And we get to see his origin. But because we are dealing with a Time Traveller, no matter where you start, you also start at the end. But he always has that specific look. The helmet, the blue mask, and the unexplained Jack Kirby lines from forehead to jaw through the eyes. They look like circuits, they look like stylised scars, they look like face painting with mercury. And in Kang The Conqueror #1 we learn more.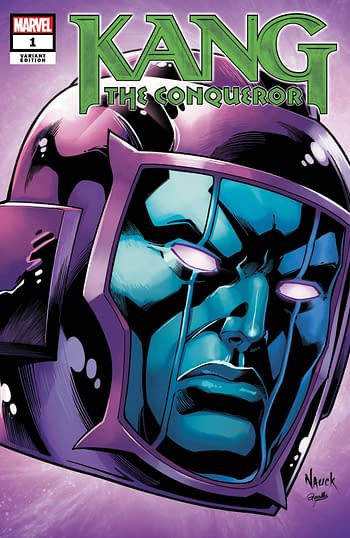 And as Kang, a boy from the future is taken to the prehistoric past, Kang meets a prehistoric race of humanity, who lived alongside the dinosaurs before the meteor would wipe out any trace they existed.
And Nathaniel Richards makes a connection from the far future to the far past.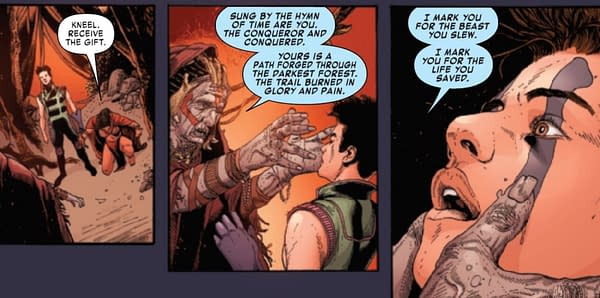 And the mark is made. So when his older self finally returns again, the young version knows just what to say.

His mask reflects the people he met when young and the mark they bestowed on him, but only because he took himself there. The eye-lines may be straight, but they actually form a Moebius loop through time and space…
KANG THE CONQUEROR #1 (OF 5)
MARVEL COMICS
JUN210542
(W) Collin Kelly, Jackson Lanzing (A) Carlos Magno (CA) Mike Del Mundo
THE ORIGIN OF KANG! The man called Kang the Conqueror has been a pharaoh, a villain, a warlord of the space ways and even, on rare occasions, a hero. Across all timelines, one fact seemed absolute: Time means nothing to Kang the Conqueror.
But the truth is more complex. Kang is caught in an endless cycle of creation and destruction dictated by time and previously unseen by any but the Conqueror himself. A cycle that could finally explain the enigma that is Kang. And a cycle that begins and ends with an old and broken Kang sending his younger self down a dark path… Rated T+In Shops: Aug 18, 2021 SRP: $4.99