Who is Hank Johnson, Agent Of Hydra?
When Marvel are collecting their Secret Wars spinoff series, some books will be shuffling up and making room for another in two-series-in-one collections. Such as E is for Extinction/X-Tinction Agenda and 1602 Witch Hunter/Siege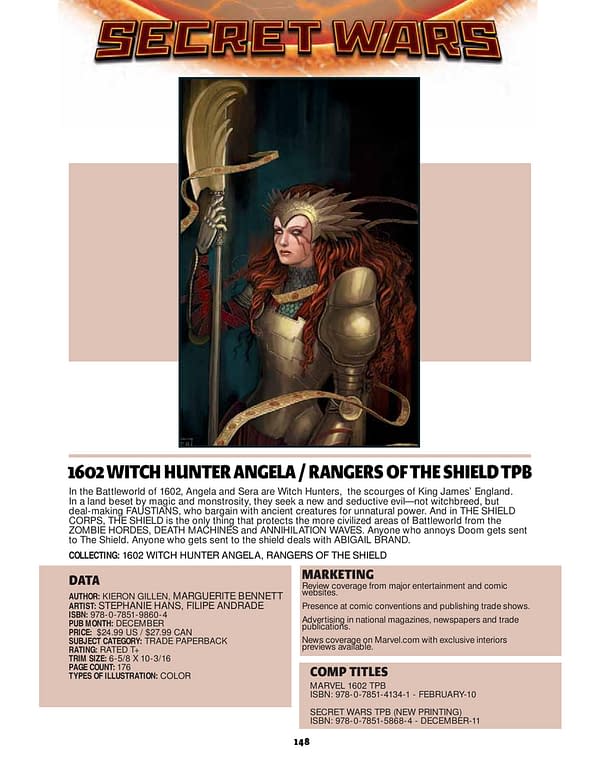 The 176 page count might suggest 160 pages of comics, eight issues worth of four issues a series.
It also looks like Siege has been renamed Rangers Of The Shield. Or maybe that's what it was originally called…
Amazon also lists Master of Kung Fu/Ghost Racers but book catalogues have them as two separate books.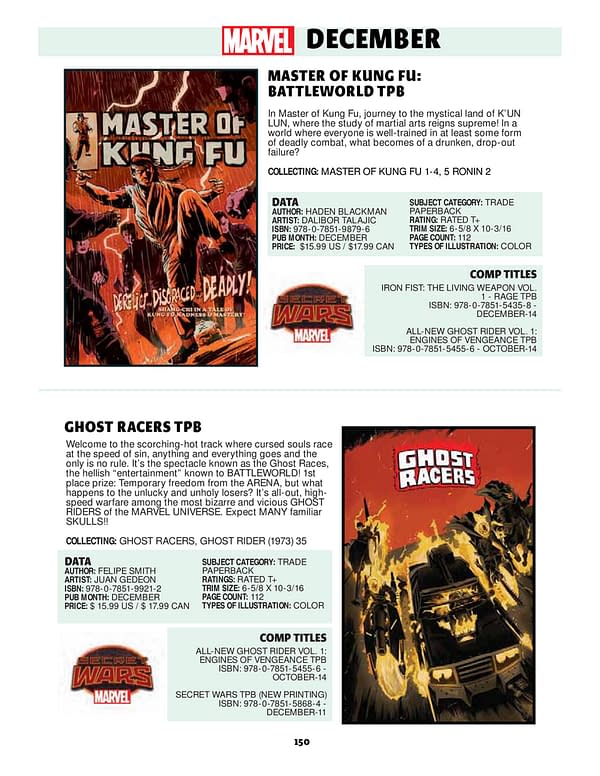 Note 112 page counts indicate around 100 pages of stories – 4 issues plus an extra issue from the past, 5 RONIN #2 and GHOST RIDER (1973) #35 respectively, possibly illustrating the reality being explored from the past. And this sees to be the rule for the rest of the collections. Four issues, plus a reprint from the past. Here's what extra you might be getting.
1872 (Warzones) – get extra AVENGERS (1963) 80, MATERIAL FROM MARVEL COMICS PRESENTS (1988) 170
Squadron Sinister (Warzones) – get extra AVENGERS (1963) #69-70
Guardians of Knowhere ( Warzones) – NEW AVENGERS: ILLUMINATI 3
House of M: Warzones – get extra HOUSE OF
M (2005) 1
Star Lord & Kitty Pryde – get extra More! (undetermined)
Red Skull – get extra More! (undetermined)
Deadpool's Secret Secret Wars – get extra SECRET WARS (1984) 1
Giant-Size Little Marvel: AVX – get extra A-BABIES VS. X-BABIES 1
Captain Marvel & the Carol Corps – Get extra CAPTAIN MARVEL (2012) 17
Age of Ultron vs. Marvel Zombies – get extra AGE OF ULTRON 1
Hail Hydra – Get extra HANK JOHNSON, AGENT OF HYDRA #1 (I wonder what that is?)
Korvac Saga: Battleworld – get extra GUARDIANS 3000 6-8,
Marvel Zombies: Battleworld – get extra MARVEL ZOMBIES (2006) #1
Runaways: Battleworld – get extra Runaways (2003) #1
Thors – Get extra Thor Corps #1-4
While Captain America & the Mighty Avengers Vol. 2: Last Days – adds to CAPTAIN AMERICA & THE MIGHTY AVENGERS #8-9, by adding the two-issue Secret Wars series CAPTAIN BRITAIN & THE MIGHTY DEFENDERS #1-2, and AVENGERS ASSEMBLE #15AU
And the other books only seem to have the main series materials, indicating five issues or more, or that extra material has yet to be determined. Some have been specified as having that many.
Mrs. Deadpool and the Howling Commandos (Warzones)
A-Force Vol. 0: Warzones – five issues definitely
X-Men: Years of Future Past (Warzones)
Where Monsters Dwell – five issues definitely.
Ultimate End – five issues definitely
Punisher Last Days: THE PUNISHER 13-20
Black Widow Vol. 3: Last Days – BLACK WIDOW #13-20
Silver Surfer Vol. 3: Last Days – SILVER SURFER #11-15
Magneto Vol. 4: Last Days – MAGNETO 18-21
Bucky Barnes: The Winter Soldier Vol. 2: Last Days
Enjoyed this article? Share it!