How To Draw A Horse's Emma Hunsinger's Graphic Novel, How It All Ends
How It All Ends is the middle-grade graphic novel debut of Emma Hunsinger, creator of the Eisner Award-nominated New Yorker comic How to Draw a Horse. Emma Hunsinger sold How It All Ends in a five-way auction between publishing houses and the successful publisher with the highest bid was Martha Mihalick at Greenwillow. How It All Ends tells a story of being both overwhelmed and awed at the discovery of who you are, who you might become, and all the possibilities in between. The book is planned for 2023, with a second, untitled graphic novel set for 2025. Emma Hunsinger's agent Molly O'Neill at Root Literary brokered the two-book deal for world English rights.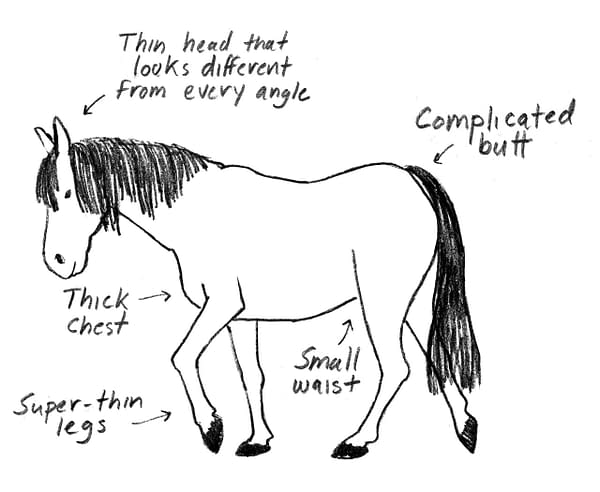 Martha Milhalick tweeted out the news, saying "Alert alert! You are going to NEED this book in your life! I am SO THRILLED to be working with @edhunsinger on it and can't wait till you all can read it, too. You are going to love it" followed by Emma Hunslinger adding "some choice pics from the draft…..we'll see if these get in………"
Since its inception in 1974, Greenwillow Books has been publishing books for children of every age. They state that they "hope that at the heart of each book there is honesty, emotion, and depth—conveyed by an author or an artist who has something that is worth saying to children and who says it in a way that is worth reading."
Molly O'Neill is a literary agent with Root Literary. Her client list is comprised of both emerging and award-winning authors, illustrators, and cartoonists/graphic novelists. She states "My illustrator clients work on a variety of formats, from jacket/cover illustrations, to spot art, to full picture books, to early readers/chapter books, to graphic novels and graphic hybrids. I'm drawn to a wide variety of illustration styles, but what most catches my eye is art with a distinctive narrative sensibility or point of view, the capturing of energy and movement and a creative use of panels and pages, a knack for visual storytelling, and the intelligent use of subtle-but-impactful visual details, whether poignant, humorous, or sweet, that add to the richness and complexity of a story's seemingly-simple layers. On a technical level, I'm open to any medium (traditional to digital to combos thereof), but am most keenly looking for illustrators whose art works well in both full color, and black/white/grayscale, as different bookmaking opportunities call for different palettes. Dexterity with shading, line work, and composition are all important, as is the ability to create vivid, specific characters with just a few lines, and I am always drawn to illustrators who have a knack for striking portrayals of light (and darkness)."