How To Write Comics And Graphic Novels by Dennis O'Neil #20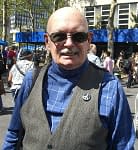 Dennis O'Neil, returns to New York University every Wednesday, for his evening class on writing comic books and graphic novels at the university's School of Continuing and Professional Studies.
He's already written a string of columns in line with his teaching on Bleeding Cool. And now he's going to write some more…
Lesson one: I can't teach you how to write comics. I've said it before and I'll say it again: I can't teach you how to write comics. So what am I doing teaching a course in a major university that's devoted to writing comics? Basically, throwing out a lot of information and answering questions and both encouraging my fledgling scribblers and maybe giving them a warning or two.
I can't do all of that here, in Bleeding Cool. To do so would require writing a book on the subject and I've already done that and I sure as hell don't feel like doing it again. What I can, and will do for the next 10 weeks, is extract kernels–call them pebbles if you will–from my lectures and present them for your inspection.
Let us begin.
Last year, in Bleeding Cool, I wrote the following:
Writing is self-taught. You acquire the skill by applying the seat of your pants to a flat object and moving a stylus across paper or tapping a keyboard, and you continue to do that until someone begins paying you to do it, and then you spend the rest of your life teaching yourself how to do what you're doing. It is often a lonely life–you can get help before and after, but not during–and if the notion of closing a door behind you and manipulating verbal and visual language for many hours every week is abhorrent to you, then perhaps you would be happy applying your skill and intelligence and enthusiasm elsewhere.
I happily stand by those words now.
But we're not quite done. We should agree on what, exactly. a story is. (I mean, after all…aren't we in the story telling business?) Here's a definition that I've used, hither and yon, for 20 years-plus:
A story is a structured narrative designed to achieve an emotional effect, demonstrate a proposition or reveal character.
That's the basic definition. Now add:
It must have conflict and there must be something at stake.
Action should rise and culminate in most powerful moment.
Everything should be presented with maximum clarity.
Every element of the strip–writing, art, coloring, lettering–should be aimed at achieving all of the above.
Have we all wrapped our heads around that? Excellent!
Next week, we'll look at some stuff you should read and–here's a surprise–
listen to.