Baptist pastor Jerrod Hugenot looks at DC's Walmart adventures,,
WalMart now has their first reality check about comic book distribution woes. The fourth issues of Batman and Superman related 100 page (minus ads) giants have appeared finally in the pop culture row near the check-outs two weeks later than expected.
Tom King and Andy Kubert's second part of their Superman story takes place on Rann. On the trail of an abducted child taken by aliens, Superman is desperate to follow leads no matter what it takes.
That determination was hard won. The inaugural chapter revolved around Superman's reticence to leave the many needs on Earth for this difficult task. Now Clark is ready to do anything, even hooking himself up to technology that may have the lead he's looking for that could outright kill him.
I realize it's early in the 10 part narrative and comic writer Tom King is dealing with slender page counts, yet chapter two left me a little let down after the storytelling tautness of chapter one. Here, I read the chapter a couple of times to get the sense of it more so than to marvel at a crisply told tale. Narrative strands seemed left more unraveled by chapter's end, though I concede it could make more sense to those reading via an eventual trade collection.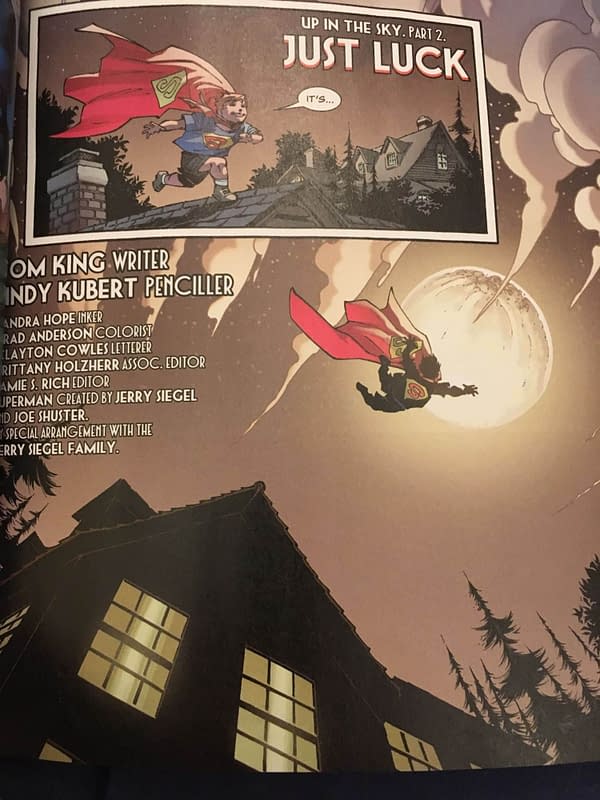 I admit a moment of heartburn, as we see a kid inspired by Superman jumping off his roof. Kids imitating that "up, up, and away" from printed page and films/TV has been known to happen in real life with tragic consequence, so it is not a moment I wanted to see referenced in an actual comic, especially in one mass marketed to attract a wider swath of readers. (As Supes checks in on the family around the hospital bed, the parents are praying part of Psalm 31, which echoes the angst of Superman taking on his interstellar pursuit.)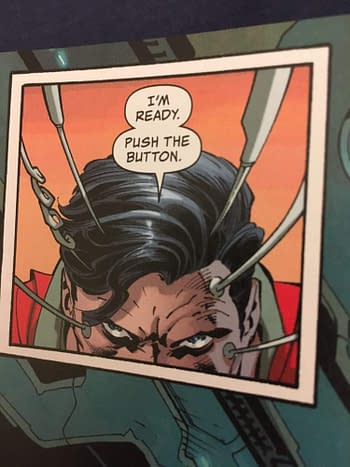 Perhaps as we get through more of the story, this second chapter will make more sense in context. For now, I await what comes next, hoping for more good storytelling that somehow incorporates this second chapter in a way that weaves in what seems more of a storytelling miss on its own this month.
Jerrod Hugenot is a Baptist pastor living in upstate New York. He considers Wednesdays as holy days indeed.
Enjoyed this article? Share it!