How Woodrow Phoenix Helped Turn Winston Rowntree's Watching From A Web Comic Into A Graphic Novel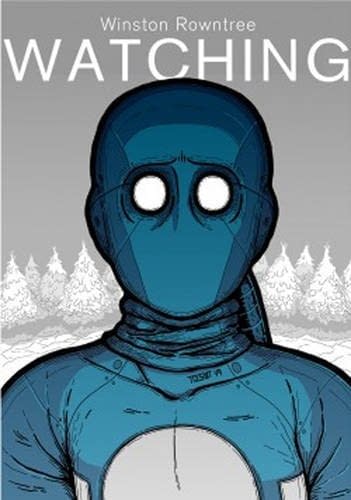 John Anderson of Soaring Penguin Press writes,
When Winston Rowntree's Watching was first brought to my attention by Nora (The Queen of Comics) Goldberg, it was as a web comic. The premise of Watching is that "we thought time travel was impossible, as we had never been visited by anyone from the future. What we didn't know is that they've always been here, now, invisible. Watching us. They watch because they do not understand."
Although it scrolled and scrolled, I sat reading, unable to break away. It was the web equivalent of "un-put-downable". (Un-look-away-able?) The story built and built as layer upon layer of emotional depth was added. When I finished, sometime later, I thought "This is what comics can do." (In fact, I may have Facebooked that very thought.)
And I wanted to see Watching in print. Not everyone likes reading web comics. I get that. But I thought that this was a story, a compelling, intelligent, thoughtful story that deserved a wider audience. It turned out that I wasn't the only one impressed with the story. Watching was the winner of the Slate Book Review and Center for Cartoon Studies Cartoonist Studio Prize for Best Web Comic 2015.
This was – this is – a story of intelligence and conflicting emotions. It's not about superpowers, or explosions, or unfeasibly large guns. It's about humanity, and loss and insight.
We contacted Winston, who was delighted with the prospect of having his story printed. A contract was produced and signed, and shortly thereafter, Winston provided a PDF of the story.
It was 25 pages long.
I wrote back, explaining that the story needed more room, more space to breath. I asked Winston to give some thought to the pacing and how it could be better presented. He was pleased. He himself had worried that the PDF was too cramped, but he was concerned on my behalf that the book would be too large.
A few weeks later, a second PDF arrived. It was 45 pages long. I thought it worked better, and set about working up how the book would appear.
There are a few double page spreads in the book, panels that take both pages to display. Necessary for the story but an issue regarding print. You see, the best way to present a dps is to print the book saddle-stitched. What you may think of as staples. They're not staples. The process is that the pages of the book are printed, collated, folded, then dropped onto a stand that's shaped much like a saddle. A vacuum pump is applied so that the pages don't move, and a metal thread is sewn into the spine of the book, in two places. Just punched up and brought back down. Stitched while in a saddle. Saddle-stitched. The advantages of saddle-stitching are that it's an inexpensive way to bind a comic, and allows dps to be presented without any of the page disappearing into the gutter. The disadvantage is that the book has no spine. It can only be seen if put on a shelf with the cover facing out. Which is fine(ish) for comic shops, but not great for bookstores. And since this was a book, we needed a spine.
There is also the issue of trying to get people to consider this a book when it looks like a comic. One possibility we considered was for the book to have a separate cover, one with a spine.
However, as I started to paste up the book, I came to the conclusion that it still wasn't doing justice to the source material. Something wasn't quite right about the book, but it was something I couldn't articulate, and certain couldn't fix. It was important that this version of Watching be a graphic novel in its own right; and not simply a print edition of a web comic.
I needed a book designer. So I called up the insanely talented Woodrow Phoenix. He immediately saw how the book needed better page structure and more of a grid. He and Winston worked through the book.
In the end, it came to 92 pages.
This new size brought with it a new set of problems, particularly with the double-page spreads. Yes, we could still saddle-stitch – just. Due to the mechanics of saddle-stitching, most machines don't go beyond about 48 pages. There are a few that could do a 92 page book, but we'd have problems with full bleed as the pages on the outside of the book would need more bleed than those closer to the centre. But also, even though the stitching machine could do 92 pages, the stitch wouldn't be as aesthetically pleasing.
If you look at a comic, you can see that the prongs of each stitch are very close to each other – almost touching. When you get up to 92 pages, there is more of a gap. They just don't look as good. And, of course, there was the entire issue of whether the staples would hold the pages in place as well as if they were closer together.
The other option was perfect binding. On the plus side, we'd have that spine I wanted. On the negative side, we'd lose some of the dps into the gutter. (Yes, we could cut those pages into two images and provide a bit of space between them. But then you could end up with a bit of white space in the middle of what was supposed to be a continuous panel.) It turns out there's another form of binding: soft-sewn. As I understand it, the book is printed as booklets, just the same as perfect binding. But each booklet is individually sewn with a strong thread before being glued into the cover. The result is a book that lies flatter. Printing this way would mean that there would be less of each page lost into the gutter. And I'd still have my spine!
This is what we went with. The print cost was a bit more expensive than perfect binding. But it was important that the book present the story in the best possible way. Which is something I think we've achieved.
Watching by Winston Rowntree, 92 pages colour, ISBN 9781908030238, £13.99 / $19.99. Available from all bookstores and comic shops from Amazon UK, Amazon US, Amazon Canada, or from the Soaring Penguin Press website