It looks like there's some more news out of IDW's Big Scoop panel at New York Comic Con after all! The publisher announced an expansion of its Marvel Action line with a Black Panther comic. Bleeding Cool Ace Reporter Octavio Karbank was on hand at the panel to capture shots of the screen, which show a Marvel Action Black Panther story by Kyle Baker coming in January, followed by one by Vita Ayala in April.
The Marvel Action Line, given that name just this week, already includes a Spider-Man and Avengers comic, all geared at targeting the next generation of readers just like the Star Wars Adventures line that IDW also publishes. Some might suggest that Disney farming out Marvel's own property to IDW shows a disturbing lack of faith in their in-house comic book publisher to make comics that appeal to kids. Of course, we're not making any such claims here in this article.
Check out the slides below, and look for a full panel report later.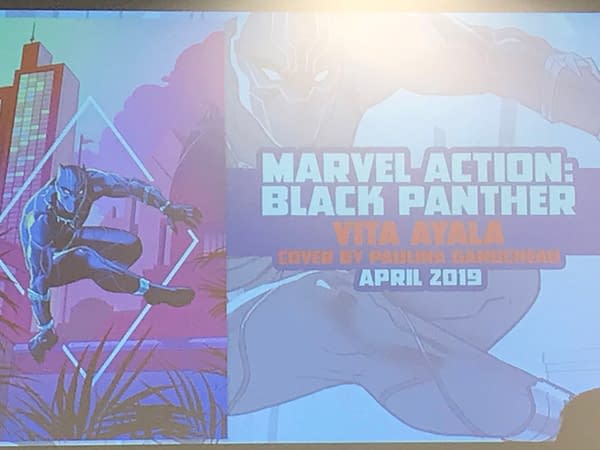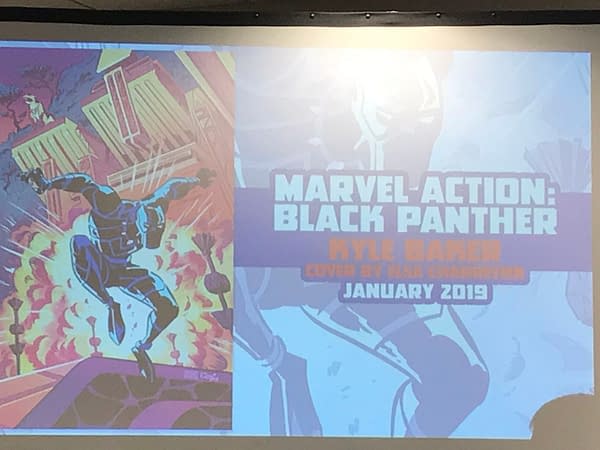 Enjoyed this article? Share it!